Busy New York professionals Dave and Ruth Cohen recently went fly camping on their second safari with Extraordinary Journeys. This time to Kenya. We asked why they love this pared-down, old-school take on the safari experience — and why you'll fall in love with it, too
.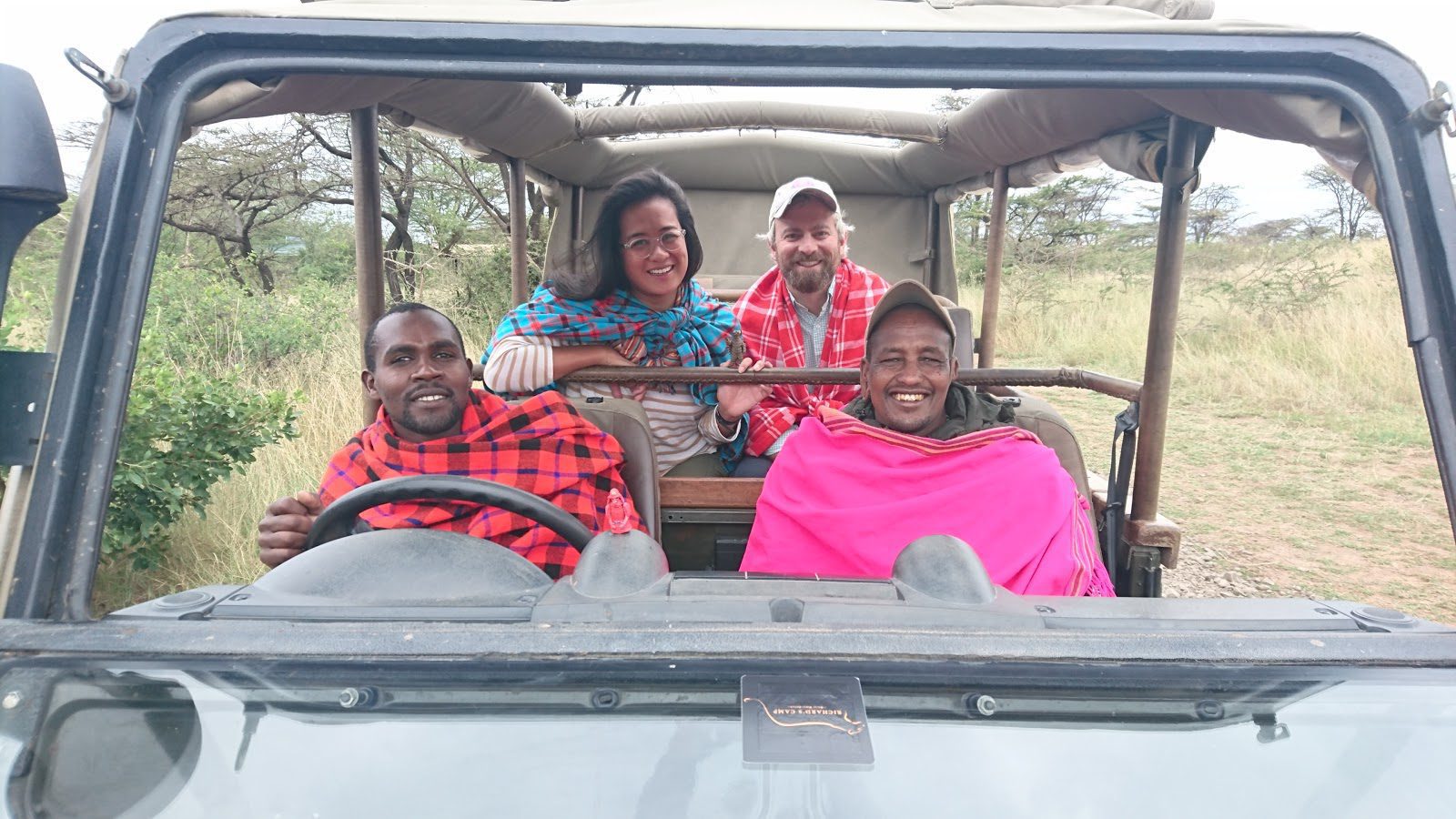 How & Why They Chose Fly Camping
Did you know anything about fly camping prior to deciding to work with Extraordinary Journeys?
R: Nothing! We worked with Extraordinary Journeys on our last safari in Zimbabwe, but I don't think we stayed at a camp that offered it.
Was your fly camping trip originally on your itinerary, or was it a spur-of-the-moment addition?
R: It was a spur-of-the-moment decision, but you can also book it ahead of time. It was an activity offered by Sarara Camp, so we asked about it. And they said yes.
Now that we've done it, we are looking for other places where we can fly camp again. We're even considering a longer, multi-night fly camp experience.
Did you have any reservations or concerns, especially since it was a pretty spontaneous decision to fly camp?
D: I didn't have any reservations. But I had no idea what it really meant or what it would be like. So when people mentioned fly camping, I was like, whatever. Then Ruth asked, "do you wanna do it?" And I was up for trying it. That may have been why I liked it so much — because I really had no preconceived ideas about it. I had no idea that it would be this whole romantic, awesome thing.
R: We asked about fly camping on our last full day at Sarara Camp. We assumed that they would say no because it would take too much time and planning. But they gave an enthusiastic "yes," and we did it!
We were a little worried that we'd miss out on some other activity if we opted to fly camp. We asked, does this mean we would have to skip a game drive or the village visit or something else wonderful? And the answer to all of that was no, we didn't miss anything other than another night in the main camp.
Where did you fly camp, and how did you get there?
R: We fly camped near Sarara Camp, maybe a 20- to 30-minute drive outside of camp.
D: The actual campsite itself was in a dry riverbed. From the Sarara main camp to the fly camp, we went out on an evening drive. And then, instead of going back to the lodge, we just drove to the campsite, which was a surprise.
R: Before we left for the evening game drive, we packed a very small overnight bag with basically just our toothbrushes. But we didn't even need that. Our guide showed us a tree that locals call a toothbrush tree, and he made a couple toothbrushes out of its fibery stem!
How many nights of fly camping would you recommend?
R: Most camps offer it once a stay. But Sarara, for instance, offers a longer trip where you hike all afternoon, fly camp at the top, and then come down. That sounds amazing. I would recommend trying fly camping at least once on your safari, especially if you're going to multiple camps.
If you love it, you can plan ahead for a longer fly camp experience in your itinerary. I think it would be great to combine a multi-night fly camp adventure with a stay at a more traditional, permanent camp.
Why Fly Camping Took Their Safari to the Next Level
What, in your mind, stands out as being particularly special about fly camping?
D: I could go on forever. The whole experience was such a surprise. We didn't know how incredibly romantic and beautiful it would be. They had a little bar set up and lanterns everywhere. They'd built a huge bonfire, too. It was just the two of us and our guide and spotter.
R: The tent itself was pretty amazing. It wasn't canvas-sided at the top, it was just a mosquito net screen. So we were just lying under the stars. The temperature was really comfortable too, it was breezy — and gorgeous.
The bed is also very comfortable. We had a real pillow and an amazing set of blankets on top. We were so cozy under the stars. And in the morning, they heat water over the fire so you can wash your face with warm water.
The other thing that I found really special — and this might be pretty specific to how magical Sarara Camp is — is how much our guide and our spotter seemed to enjoy the experience. You could hear our spotter, a pretty stoic guy, laughing the entire time, chatting with the Sarara staff making dinner. It was obvious that he and our guide were happy that we took them up on the offer of fly camping because they were sleeping out, too. I liked that they were also having fun.
This was your second safari. How would you compare it to your first one, if there is any comparison?
D: It's pretty hard to compare because the first one had a certain wow factor — we just had no idea what a safari would be like — you can do all the research you want, but you don't really appreciate how magical it is until you experience it firsthand. And on the first safari, we were in Zimbabwe, which has a very different feel to it than Kenya. Those were the obvious differences.
The fly camping aspect of it was such a highlight. It felt very Out of Africa. On the higher end of the spectrum of safari camps, we've stayed in relatively rustic mobile tents. And we've also stayed in more fixed, semi-permanent tent set-ups — but never anything as simple (yet luxurious) as fly camping.
R: For me, another difference between the first and the second is that the first time you go on safari, you're thinking, this is amazing, about everything. You're so impressed because you're doing things for the first time. You don't know what sundowners are until you're there, and then you realize that you get to watch this lion and have a beer! It is amazing!
But this second time, I was so impressed that at every camp there was still a surprise in one way or another that camp feel super special.
Fly camping was a great surprise at Sarara, of course. But at the camp before that, Lewa House, we stayed in a family home and got to know the family and how connected they are to the area.
At the last camp of that trip, Richard's River Camp in the Maasai Mara, they surprised us with a bush dinner. The entire camp essentially relocated to have dinner out in the bush. They didn't tell any of the guests that was what they were planning! Everyone just thought, Oh, we have a really special sundowner spot to go to! We all arrived at the "sundowner" spot, and they'd set up a bush kitchen and cooked an amazing dinner. And we had this incredible vista — again, in a dry riverbed — watching the sunset. It was a great surprise.
D: In retrospect, that bush dinner was a lot like fly camping — a sort of spontaneous luxury in a totally unspoiled, naked wilderness.
Considering your first safari was so amazing, were you at all concerned that the second one wouldn't quite top it?
R: No, no. The camps definitely found ways to deliver surprises. Now we want to try safari in every region because each area seems to offer something different and distinct.
What's great about going on a second safari with Extraordinary Journeys is that they got to know us. They knew the things we really liked about our safari in Zimbabwe, so when we were planning the second safari to Kenya, they said, "Oh, we have the perfect place. We know what you guys would like." We're in the very early stages of planning our next safari, and in our planning for it they say, "Here's an option. But I don't think it's the best one for you. I think this one is the best one for you." They know us better, and they've learned our style.
Why Fly Camping is Perfect for (Almost) Everyone, Including Kids
What sort of travelers would you recommend fly camping to? How about older travelers or families with kids?
R: I would say anyone. Families with kids would love it. We felt totally safe the entire time. We were in a dry riverbed, so it was clear what was around us. We had a guide and a spotter who were not too far away from us; we could see where their tents were. And our spotter was even up all night on watch.
D: I think anyone would like it. It's a harder sell for certain people, meaning people who might have some preconceived notion about what a luxury safari experience is supposed to look like. But I think even those people, who may have thought, "that's too rough for me," would ultimately be enamored by the experience. For people with mobility issues, it might not be the best. But that's true with a lot of safaris, in general.
R: It is probably self-selecting. If you like the camp that you're at and that camp offers fly camping, they'll offer it at a level that meets their guests' expectations. You can trust that the quality is going be the same. So if you are at a place that offers fly camping, do it!
Are there any other highlights you'd like to share?
D: That night, our spotter saw a genet cat. I could see its eyes throughout the whole night while we were sitting there. We could see it in a tree, its eyes glowing. And we heard a chorus of wildlife sounds emanating from along the edges of the riverbed. It was the perfect soundtrack to the experience.
R: For me, the highlight was that we happened to go on a very bright-moon night, close to a full moon. Falling asleep under that moonlight was a spiritual experience for me.
Next Stop: A Fly Camping-Inspired Sleep-Out in Botswana
Where do you hope to fly camp next? What's on your list?
R: We're looking at a trip to Botswana, but where we're going may not have proper fly camping. I joked with Emily, our coordinator at EJ, that we should create a Venn diagram of places we've never been, places that offer great safaris, and places that offer fly camping. Right now, we are looking at a camp in Botswana with a sleep-out deck. We can't wait to get back to that experience!
---
Fly Camping is for You, Too!
Whether this is your first safari or your fifth, we'd love to show you how fly camping can be a simple, no-hassle addition to your adventure, guaranteed to ground you and fill you with gratitude. If you're looking for solitude, authenticity, and a bit of magic under the African night sky, fly camping is the answer.
Plan Your Visit
Ready to start planning your own incredible African adventure, complete with a night or two of fly camping? We make the process stress-free and enjoyable. Call or email us today to explore your best options for a safari holiday you'll never forget!
Then, start packing that suitcase because we've got all the details covered.