We know what you're thinking… "How on Earth can I go on an African safari with kids?"
As travel planners, we're here to assure aspiring and seasoned globetrotting families that you can bring your littles on safari. We've heard all the objections: the flights, the time zones, picky eaters, "they won't remember it." It may take a moment for the idea to germinate into total enthusiasm. Still, with our guidance (we're parents, too!), we promise transformative experiences for curious kiddos—ranging from crawlers to teenagers— in accommodating destinations where children are not merely tolerated but adored and enriched.
Why a kid-friendly safari is a great idea
Obviously, your kids will love game drives for the wildlife they know from books and movies. Still, this experience also serves as an introduction to environmental stewardship and conservation. They'll meet new faces and cultures while learning how collaboration can lift communities. They'll view the natural world in real-time, learning the significance of biodiversity and how wild places can be rehabilitated. In our experience, kids go home as global citizens in the making. Their experiences make them more aware of the world (and their impact on it), inspiring them to care for the people and planet.
Safari also offers families quality time beyond the banality of a screen. Children (and parents) can slow their roll (ahem—scroll), relaxing around the dinner table or fire pit to recount the magical moments of the day. It's a welcome change of pace to reconnect, literally and figuratively, as a family.
What age can kids go on a safari?
There's a perception that you must be of a certain age to enjoy and remember travel. In our decade-plus of sending families to Africa, we can confidently debunk this myth. Safari is for everyone, infants and elders alike. The key is designing an itinerary to accommodate each stage of life. Extraordinary Journeys family safari experts live in the details, anticipating the necessary comforts from room configurations to baby gear to traveling at an appropriate pace. There are also great options for going on a safari with teenagers.
How to plan a safari with kids
When it comes to traveling to Africa with kids, we pay more mind to camps than countries. We know which lodges offer the best services to help with childcare, including babysitting. Some even have a playroom with games and activities, such as scavenger hunts and cooking classes, to occupy kids between game-viewing drives. Kwandwe Ecca Lodge, in South Africa, for instance, puts together treasure hunts across the reserve, which incorporate learning some basic compass navigation.
Choose camps over countries
We know that soaking in nature's serene ambiance at a rustic bush camp won't suit a rambunctious youngster needling mom or dad for "what's next?" every 15 minutes. Age-appropriate safaris demand kid-centric amenities and programming. Pools are a fun staple for burning off energy and cooling down midday. Playrooms, games, and guided activities round out the downtime between game drives. Visits to nearby communities offer experiences both cultural and social, often resulting in a lively game of soccer. Our travelers are often touched by the warmth that camp staff shows to their children— making it easy to trust a sitter with parenting duties so they can enjoy a well-deserved break.
Keep things private
…As in privately guided. Exceptional guides are a must-have because they are essentially traveling teachers. The personable guides in our carefully-curated roster can teach your children an array of age-appropriate skills, including how to safely throw spears, make bows and arrows, drive a car, go fishing, collect ancient stone tools, climb a hill or a tree, or stalk a zebra. We often hear that game viewing comes a distant second to these memorable, hands-on experiences. Private guides also breathe flexibility into an itinerary. Parents are relieved of the stress of timing the day around kid-free guests. Morning game drives start a little later, talented guides can intuit when kids' attention is waning or when a bout of crankiness can be resolved with a snack break.
Plan for flexibility
Who wants a rigidly scheduled safari where you have no say, especially when preferences will vary as widely as your ages? We recommend building wiggle room into an itinerary for a well-paced trip that fulfills everyone's needs. Hot tip: choosing a private conservancy means customizing just about every aspect of your trip. And also slow it down. Don't try to move around every two days. The longer you stay, the more you feel connected to the place, and everyone will feel like family around you. Make it a home away from home, especially if you are staying in private villas such as Segera in Laikipia, Kenya, Mkombe's House in Lamai, Tanzania, or Phinda Homestead in South Africa. Also, who wants to pack and unpack the whole time?
Best Safaris for Kids
We've sent families of all ages across Africa, but as a trend, a handful of countries are perennial favorites for kid-friendly safaris. Browse the areas below, or explore more ideas for safari with kids here.
South African safaris for kids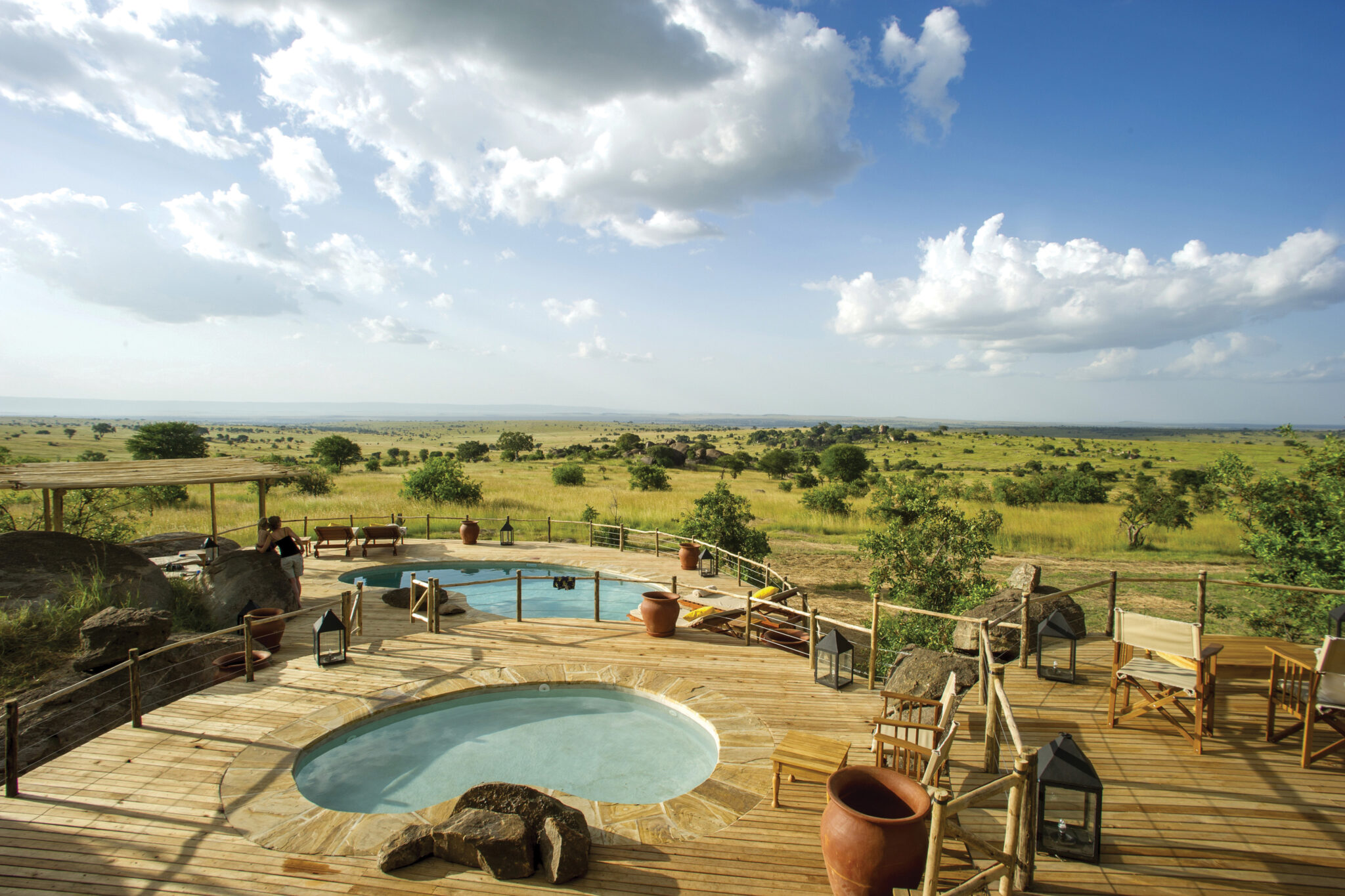 A classic safari go-to, South Africa is the perfect choice for Africa-first timers—especially if you are looking for a malaria-free destination (most parks here other than Kruger are malaria-free). In terms of wildlife, the Big Five can be spotted on private reserves from the Kalahari Desert in the north to southern tracts that kiss the coast. If convenience, familiarity, and English-speaking interactions are what your family craves, South Africa is a sure bet. Some of our favorite properties for families are Marataba Luxury Lodges, Singita Sabi Sands, and Phinda Homestead, which focus on families.
Kenya safaris for kids
A staple in our portfolio, Kenya holds a special place in the hearts of our founders and team. We love Kenya's private conservancy options, which can personalize the conventional bush experience to your family's needs. Unlike national parks, conservancies and privately-run camps and lodges don't operate with set itineraries. Some family members can go horseback riding one morning while the rest sleep in, with everyone reuniting at lunch. Or maybe you'd prefer a game drive—but only after grumpy pants takes their nap. Your schedule, your call. Activities run the gamut, from bush walks and safari drives to local village visits and scenic helicopter flights. We enjoy sending families to Kalepo Camp—a private-use, family-friendly, luxury tented camp. We also love Ol Malo Lodge, and Lewa Wilderness, where owners and managers are parents themselves, with their families living on site. Mara Nyika Camp offers two-bedroom family tents in a tree-filled valley raised above a stream.
Zimbabwe safaris for kids
Rife with natural wonders, Zimbabwe is home to five UNESCO World Heritage sites, including Mana Pools National Park and the Great Zimbabwe Ruins. Of course, thundering Victoria Falls is the star of any Zim itinerary. For kids and adults alike, the Elephant Express might just be a dream come true. If you have little ones who adore trains, this dual-engine single tram through Hwange National Park is a guaranteed delight. The ability to let your children roam about the train is an added bonus for little legs that need to move. In terms of lodging, all ages are welcome at Somalisa Acacia, and tailored nature walks around the camp are led by dedicated child specialist guides.
Zambia safaris for kids
Are your kids keen on intrepid adventures? Known as 'the original walking safari destination,' Zambia is a great choice for families ready to travel further afield—typically geared to kids ages 10 and older. We recommend Chinzombo in South Luangwa. The small camp has just six suites, including a beautiful family room complete with two bedrooms, two bathrooms, and plenty of family programming. The wildlife here is prolific, with plenty of opportunities to spot elephants, giraffes, lions, hippos, and leopards.
Botswana safaris for kids
From elephant to lion, and meerkat, Botswana is an excellent choice for family safaris, and many lodges have specialized family programming. Kids can learn bush skills with expert guides, basket weaving, animal tracking, and bird identification. Selinda Explorers Camp takes mobile safari to a whole new level. Private yet luxurious, this camp is perfect for families looking for a spellbinding experience in Botswana. Little Vumbura and Vumbura Plains are great home bases. Camp Kalahari is a wonderful spot in the heart of the great Kalahari, and there's a dedicated family suite and a fence around the camp, too. Family-friendly activities include quad biking, horseback riding, bushman walks, and traditional game drives.
Tanzania safaris for kids
Tanzania is a fantastic place for a family safari. With older kids, it has a lot to offer, from Maasai village visits to the teeming wildlife of the Ngorongoro Crater and Serengeti to the beaches on the coast in Zanzibar and Pemba Island. Singita Grumeti in Tanzania's Serengeti National Park offers a mini rangers program that teaches kids what it takes to guide in one of the world's greatest wildlife playgrounds. If you're interested in this area, read this blog post on a kid-friendly safari in the Selous.
Plan your trip
Connect
Ready to start planning your own incredible adventure? We make the process stress-free and enjoyable.
Lisa Newby-Fraser