Selinda Explorers Camp
Selinda Explorers Camp is the epitome of barefoot luxury. You will truly feel as if you've stepped back in time and are pioneering an expedition to the Selinda Reserve. This intimate and thoughtful camp boasts canvas tents, rug-covered earth, giant pillows instead of couches, bucket showers that are open to the sky, and it glitters with brass decor and lanters. The hammocks provide the perfect place to nap under jackalberry and mangosteen trees. The camp only has 4 tents, accommodating 8 guests. It can be booked exclusively, but if not, you're sure to make friends with your fellow guests in this casual and fun camp.
We love the style here, but the camp's best feature is really in its activities. Walking in the reserve is amazing, as is the canoeing. Game drives are exciting and promise excellent wildlife viewings. No matter what you're doing, you'll be accompanied by a private guide and they are great. They really make for a fun and adventurous stay.
Selinda Explorers Camp is located along the Selinda Spillway within the 320,000-acre private Selinda Reserve in Northern Botswana. The camp is closed from December thru February during their rainy season.
Summary
Room Type
Luxury Tented Camp (4)
Child Policy
Children Ages 10+
Facilities
Bar, Eco Friendly, Kiddies Club, Restaurant
Activities
Bush Walks & Walking Safaris, Game Drives, Canoeing
Our Favorite Linyanti Accommodations on a Map
Itineraries Featuring Selinda Explorers Camp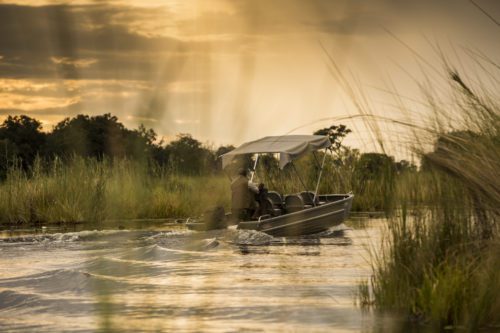 Incredible wildlife and plenty of adventure
9 Days | $9,300 per person
Plan your Trip
Ready to start planning your own incredible adventure? We make the process stress-free and enjoyable.