Impossibly vast and devastatingly beautiful at every turn, Patagonia is paradise for the adventurer at heart. The massive region, famed for its glaciers and jagged mountain peaks, sprawls across a 400,000-square-mile swath of Chile and Argentina. While Patagonia occupies about half the landmass of each country, it's one of the least densely populated regions on the planet. On safari here, you truly do feel like you're at "the end of the earth."
Since the region is so massive, this guide was designed to introduce you to Patagonia and focus on destinations in southern Patagonia which stretches from Tierra del Fuego in the south to the Southern Patagonia Ice Fields in the north.
Maybe you've traversed a good bit of Africa and are looking for a change of scenery. Maybe you're looking for a place to feel your feet on the ground and reconnect with the wild beauty of the natural world. Maybe you're looking for an adventure to surprise and delight your senses.
Whatever you're searching for, you'll find it in Patagonia.
7 Reasons you'll love southern Patagonia
Our clients come to us to plan their trips to Patagonia for a variety of reasons. Some have visited Africa several times and are looking for a similarly spectacular experience in South America. Others want access to the region's astonishing landscapes and outdoor activities.
Whatever your interests, Patagonia may be the perfect destination for your next far-flung adventure, especially if you place a higher premium on scenery and natural landscapes than wildlife—and if you're ready to get out of the game drive vehicle and do some hiking.
For starters, here are seven reasons why we love Patagonia and you will, too. 
1. Getting there is a breeze (compared to Africa and Asia)
If you're traveling from the United States, a jaunt to Argentina or Chile is quick and easy, especially compared to flights to points in Africa or Asia. Most flights are scheduled overnight, so you may even be able to sleep through your journey. Plus, you won't have to travel through multiple time zones (and tackle the accompanying jet lag). For most of our travelers, the time change is only a couple of hours, meaning you can be out and about exploring Patagonia right away with little disturbance to your internal clock.
Bonus: Traveling to Patagonia doesn't require any special vaccines (like the one for yellow fever), so you can skip that extra trip to the doctor. 
2. Outdoor Activities Abound
For active, intrepid travelers keen on stretching their legs instead of taking in the sights by car, Patagonia is an absolute paradise. Depending on your preferences, it's not uncommon to hike several miles per day for multiple days in a row 
Patagonia is a prime spot to trek across glaciers, climb mountains, fly fish, mountain bike, and ride on horseback. So go ahead—work up an appetite, feel the sun on your face and the wind in your hair, and then head back to your home base for a night of luxurious comfort and great food. 
3. It's one of the last, truly remote places
The entirety of Patagonia stretches across 400,000 square miles of Argentina and Chile (an area about four times the size of Colorado). Like parts of Africa, Patagonia is one of the few places on Earth that feels completely remote and untouched by humankind. It's often called "the end of the earth"—and with good reason.
There aren't major cities here. In fact, Patagonia is home to only 2 million people. With a population density of only one or two people per square kilometer, it's one of the most sparsely populated places in the world.
The wild, expansive stretches of land seem to go on forever. You'll love how small you feel in this place.
4. The scenery and vistas rival Africa (seriously)
It's not a stretch to say that Patagonia's natural landscapes and mind-boggling geography rival that of almost any place in Africa. This is especially true for travelers who put more emphasis on spectacular scenery than encounters with wildlife.
It's difficult to describe the astonishing topography of Patagonia. Suffice to say that during your stay here, it will change daily, if not hourly. From mountain peaks to valley floors, from glacial fields to pristine lakes, Patagonia is dazzling at every turn.
You could easily spend a month exploring this remarkable corner of the planet, but for a good overview, we recommend the following southern Patagonia sites:
Perito Moreno Glacier: Famous for an enormous glacial arch that collapses "like clockwork" every three to four years, this glacier in Los Glaciares National Park is a must-see for visitors to Patagonia. For a laid-back experience, you can opt for a glacier cruise or simply stroll along the catwalks to see the face of the glacier. More intrepid travelers can strap on a pair of crampons and take in the thrill of glacier trekking. Afterward, enjoy the reward of a post-hike scotch on "the glacial rocks."
El Chaltén and Mt. Fitz Roy: The village of El Chaltén is the gateway to a network of trails surrounding Mt. Fitz Roy and Cerro Torre, one of which leads to the gorgeous viewpoint at Laguna de los Tres.
Torres del Paine: The three distinctive granite peaks of the Torres del Paine massif are iconic to say the least, jutting up to 8,200 feet above sea level; and a hike up to the Base del Torres is a must if you have the boots and the gumption to do it. 
And there's still plenty of southern Patagonia to discover beyond Torres del Paine and Los Glaciares. 
Ushuaia and Tierra del Fuego: At the far end of southern Patagonia lies Ushuaia and Tierra del Fuego. Explore more glaciers, hike forest trails, and encounter a penguin colony on a cruise from Ushuaia to Puerto Natales. We can arrange extensions for 4-day or 8-day expeditions through the waters of Cape Horn, the Beagle Channel, and the Strait of Magellan. Truly an experience to remember. 
Pack your camera. Just know that even the best photos will never do this place justice.
5. You'll have total freedom and flexibility
If you've traveled to Africa before, you understand that, to a degree, your explorations are limited to a game drive vehicle for your safety. Patagonia, however, provides unrivaled freedom and flexibility to explore because you're not around big game.
That's not to say, however, that the wildlife in Patagonia is easily overlooked. Quite the opposite. The region is known for
Patagonia is a veritable playground for outdoor enthusiasts. You're free to wander wherever and whenever you like (within reason). Simply stated, excursions throughout Patagonia are highly flexible and customizable, much more so than in Africa.
6. Itineraries are remarkably diverse
In addition to the flexibility and freedom that make Patagonia so appealing, another perk to traveling here is the diversity we're able to build into your itinerary. And there truly is something here for everyone.
Northern Patagonia: Patagonia is an enormous region of startling contrasts. While you could easily spend weeks (or months) getting to know southern Patagonia, there's even more beauty to be discovered in Northern Patagonia.
This sometimes-overlooked region of Patagonia is home to the volcanic and serene Patagonian Lake District, the scenic Carretera Austral (a 770-mile stretch of highway that runs through rural Northern Patagonia from Puerto Montt to Villa O'Higgins), and the temperate rainforests of Futaleufu National Reserve.
Seeing southern Patagonia is amazing, but you should know that you've only scratched the surface there. 
Farther Afield: 
For adventures beyond Patagonia, we love designing extensions to the fertile valleys surrounding Santiago, known as the Chilean winelands. And in Argentina, we recommend you build in ample time to savor the culture and cuisine of Buenos Aires and sip world-class wines in Mendoza.
No matter your tastes, Chile and Argentina have plenty on offer besides southern Patagonia to make your journey to region all the more incredible.
7. Going unplugged is encouraged
As is the case at some of our favorite WiFi-free destinations in Africa, Patagonia provides a great opportunity for a digital detox. If unplugging from technology and disconnecting from "the real world" for a few days is a priority for you, we can help make that happen.
When to go to southern Patagonia
The shoulder seasons in southern Patagonia land in October, November, and March. Peak season runs from December through February (often referred to as Austral Summer), and certain areas can get quite crowded.
For the best experience of southern Patagonia (and other parts of Argentina and Chile, should you choose an extension), we highly recommend you travel during the shoulder seasons. The timing is fabulous, the days are gorgeous, and it's a lot less crowded. And while the weather is good overall, be sure to pack for a mix of weather (layers are your friends).
Click to read more about The Best Time to Visit Patagonia, including a month-by-month guide.
How to get to southern Patagonia
To get to southern Patagonia, you have to fly from one of the main international airports in Buenos Aires, Argentina or Santiago, Chile. From there, you take a connecting flight to one of the local airports. In southern Patagonia on the Chilean side, the local hubs are in Punta Arenas and Puerto Natales (flights into this airport operate a few days a week, during peak season only). In southern Patagonia on the Argentine side, the local hubs are in El Calafate and Ushuaia.
Once you land in your local airport, you'll transfer via car or shuttle to your hotel. Depending on where you stay in Chile, the drive can take 2.5 to 5 hours. On the Argentinian side, the transfer to El Chaltén is 3 hours, and to El Calafate, it's only 20 minutes. If you fly to Ushuaia, you will be just 10 minutes from the city.
Southern Argentina is easy to access, especially given the popularity of mini-treks to glaciers and such. Your daily activities can feel busy and full of people, so we make a point to have you stay off the beaten path for guaranteed quiet. The properties we partner with know how to help you avoid the crowds when possible and give you the exclusive experience you're looking for. For those looking for a little local flare, the towns of El Chaltén and El Calafate are easy to access and explore. 
Southern Chile, by contrast, feels more expansive and remote, with just a couple of towns (Puerto Natales and Punta Arenas). There are no towns or villages close to Torres del Paine, so in the right season and at the right property, you can find the solitude you're seeking.
Where to stay in southern Patagonia
For southern Patagonia explorations in and around Torres del Paine or Los Glaciares, there are five stand-out luxury properties we love recommending to our clients. These accommodations afford the same level of luxury you'd expect from a top-tier lodge in Africa: exceptional hospitality, great food, and world-class wine, even though the destinations are remote.
In Argentine southern Patagonia, we prefer Eolo Hotel and Estancia Cristina. For a luxurious home base for your Chilean southern Patagonia adventures, we recommend Awasi Patagonia, Tierra Patagonia, and Explora Patagonia.
Read more about all of these incredible properties in The 5 Best Luxury Properties for Your Patagonia Adventure.
Special mention: rusic-luxe glamping in southern Patagonia
If you're looking for more budget-conscious options in southern Patagonia, we love booking intrepid guests at EcoCamp Patagonia and Patagonia Camp. Both are ideally situated for access to Torres del Paine National Park and offer a laid-back, "glamping"-style experience.
EcoCamp Patagonia features geodesic dome tents, and all of the camp's energy comes from solar panels and a micro-hydro turbine. If you want to stay in Patagonia's most eco-friendly hotel, this is it. 
Patagonia Camp's yurts offer upgrades from the traditional Mongolian yurt design, including central heating, ensuite bathrooms, and views of starry night skies.
Both of these properties offer price points perfectly suited for more active, younger travelers, and they're very popular with honeymooners. If you like the vibe of a ski lodge, this is what you'll get at EcoCamp Patagonia and Patagonia Camp.
How to get around southern Patagonia
You can cover a ton of terrain in the span of two weeks, though if you can stay longer we certainly recommend it.
Argentine southern Patagonia tends to be a bit busier than Chilean southern Patagonia. To enjoy increasingly expansive vistas and greater solitude as you go, we recommend you start your journey in Buenos Aires and end in Santiago.
Here's our recommended route:
Fly into Buenos Aires and stay two nights
Transfer to to El Calafate, the gateway to Los Glaciares National Park
Stay two nights at Eolo Hotel
Stay one night at Estancia Cristina
Stay one additional night at Eolo Hotel
Transfer to Awasi, just outside Torres del Paine National Park, for a three-night stay
Fly north for three days in the Chilean Lake District (optional extension)
Stay two days in the Chilean winelands (optional extension)
End with a one- or two-night stay in Santiago (flights depart late at night, so even staying a single day will give you a full day's experience of the city)
Outdoor activities in Patagonia
You'll feel absolutely spoiled for choice when it comes to outdoor rec in Patagonia. Have your boots and a jacket handy, because there's something to explore at every turn.
In Torres Del Paine:
Trekking: For the super-adventurous traveler, we highly recommend a hike up to the base of The Towers. (Also known as Base de las Torres.)
Horseback rides
Puma tracking with the Awasi Foundation
Kayaking
Climbing
Fly fishing
In El Calafate & Los Glaciares:
Glacier treks
Minitrekking: Trek across a glacier with crampons for about 1.5 hours, taking in seracs, sinks, and small lakes.
Picnic "on the ice" atop a glacier
Hike up to Laguna de los Tres at the base of Mt. Fitz Roy
The hikes to Base de las Torres and Laguna de los Tres are each about 15 miles long. Sure, it's not for the faint of heart, but the views are spectacular and worth every ounce of effort. If you can make the trek, these are two not to be missed. 
One special thing to note about traveling with us in southern Patagonia is the exclusivity we deliver (even in some of the "busier" locales). The properties we partner with are exceptionally good at getting you away from the crowds. You'll have plenty of opportunities to be more off the beaten path, take in the sights in blissful solitude, and even enjoy lunch in a gorgeous setting outside the vehicle.
Cultural and historical activities in southern Patagonia
Patagonia is bursting with so much natural beauty that you likely won't miss the indoors too much (and besides, your hotel will be the perfect retreat when you need it).
But for those of you interested in bookending your journey to southern Patagonia with a bit of culture, food, city life, and the like, Buenos Aires and Santiago are perfect opportunities for all of that. Since you'll likely travel through each city, we recommend a small extension on either end of your journey (or both, if you have the time).
For an even richer experience, we recommend stays in the Chilean Winelands outside Santiago (we love Lapostolle Residence) and the breathtaking Patagonian Lake District. Read more about the best things to do in Chile. 
What to pack for a private luxury trip to southern Patagonia
Reliable hiking shoes or boots: Remember to break them in well before traveling. 
Layers for a variety of weather/climates: We suggest a down jacket and a windproof coat.
A Buff: This multifunctional piece of headwear works in a variety of climates and can be a lifesaver. 
Walking sticks: Some properties offer them (mostly in Chile), but if you have a pair of your own, we recommend packing them.
Sunscreen: Whether the skies are sunny or overcast, you'll be spending ample time outdoors, and UV protection is essential. 
Takeaways
Southern Patagonia awaits. You may not need convincing, but here are a few reminders of why this spectacular corner of the planet should be next on your list of travel adventures:
Getting there feels relatively easy, especially if you've traveled to Africa or Asia.
You're spoiled for choice with outdoor activities from hiking mountainsides and trekking on glaciers to horseback riding, kayaking, and fly fishing.
It's one of the last truly remote places on the planet and the perfect spot to be reminded of how grand this world really is.
The scenery and geography rival almost anywhere else, even Africa. 
You don't have to stick to a game drive vehicle and have tons of freedom and flexibility to explore.
Your itinerary can be as varied and chock-full of adventure as you like, even beyond southern Patagonia. 
Private, luxury southern Patagonia itineraries
Dramatic landscapes in Patagonia and the untouched Antarctic realm
20 Days | $23,800 per person
Glaciers in El Calafate, mountains in Torres del Paine, sophistication in Buenos Aires & Santiago
11 Days | $10,250 per person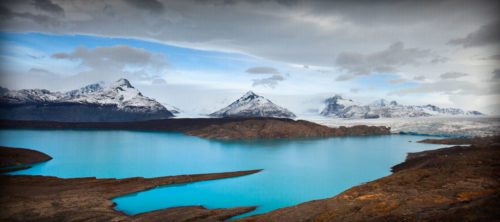 Glaciers, Lakes and Peaks Of Patagonia
10 Days | $8,200 per person
Plan your Trip
Ready to start planning your own incredible adventure? We make the process stress-free and enjoyable.