What is Africa's Great Migration?
Each year, the plains of East Africa host one of the world's greatest wildlife spectacles: the Great Migration, featuring some 1.4 million wildebeest and hundreds of thousands of zebras and gazelles. With prey, come predators: lions, hyenas and crocodiles fix a watchful gaze in hopes of catching a cheap dinner. For travelers, viewing the Great Migration is a unique opportunity to appreciate a dizzying scale of wildlife moving in lockstep across an iconic landscape. Scenes of unfiltered wildlife drama unfold along this perilous journey. Some are violent, some are tender, but all are assuredly memorable.
There's a widely held misconception that the Great Migration is the time when throngs of wildebeest gather on the riverbanks of northern Tanzania and the Masai Mara, finally erupting across the muddied waters in a harried, bottlenecked flow of beasts. Certainly, these are the Great Migration's most spectacular and widely marketed vignettes, but they are mere moments of what actually amounts to a year-long phenomenon. It's this narrow scope of what the Great Migration is—or rather, isn't—that performs a disservice to travelers who are new to safari.
In reality, the plains are vast and the animals are fickle; there is simply no way of knowing where and when the wildebeest will be at the time a traveler makes their booking—often months or years in advance. Any purported safari specialist who assures you otherwise, is one you should run away from. Will you see wildebeest during peak months? It's likely. Will you observe a dramatic river crossing? It is impossible to know until you're buckled in and rumbling across the plains. Should you have the good fortune of encountering a crowd of wildebeest assembling upon a riverbank, whether they cross while in your audience is entirely up to them. Spoiler alert: in some cases, they hang about for days before making the leap of faith.
Suffice it to say, the Great Migration should not, and need not be, the focal point of a safari. The Serengeti and Masai Mara are home to an abundance of resident game. Tempering expectations of the Great Migration doesn't mean missing out on the safari of a lifetime—it simply serves to remind you that the joy of your trip shouldn't hinge on witnessing a single, elusive Migration moment.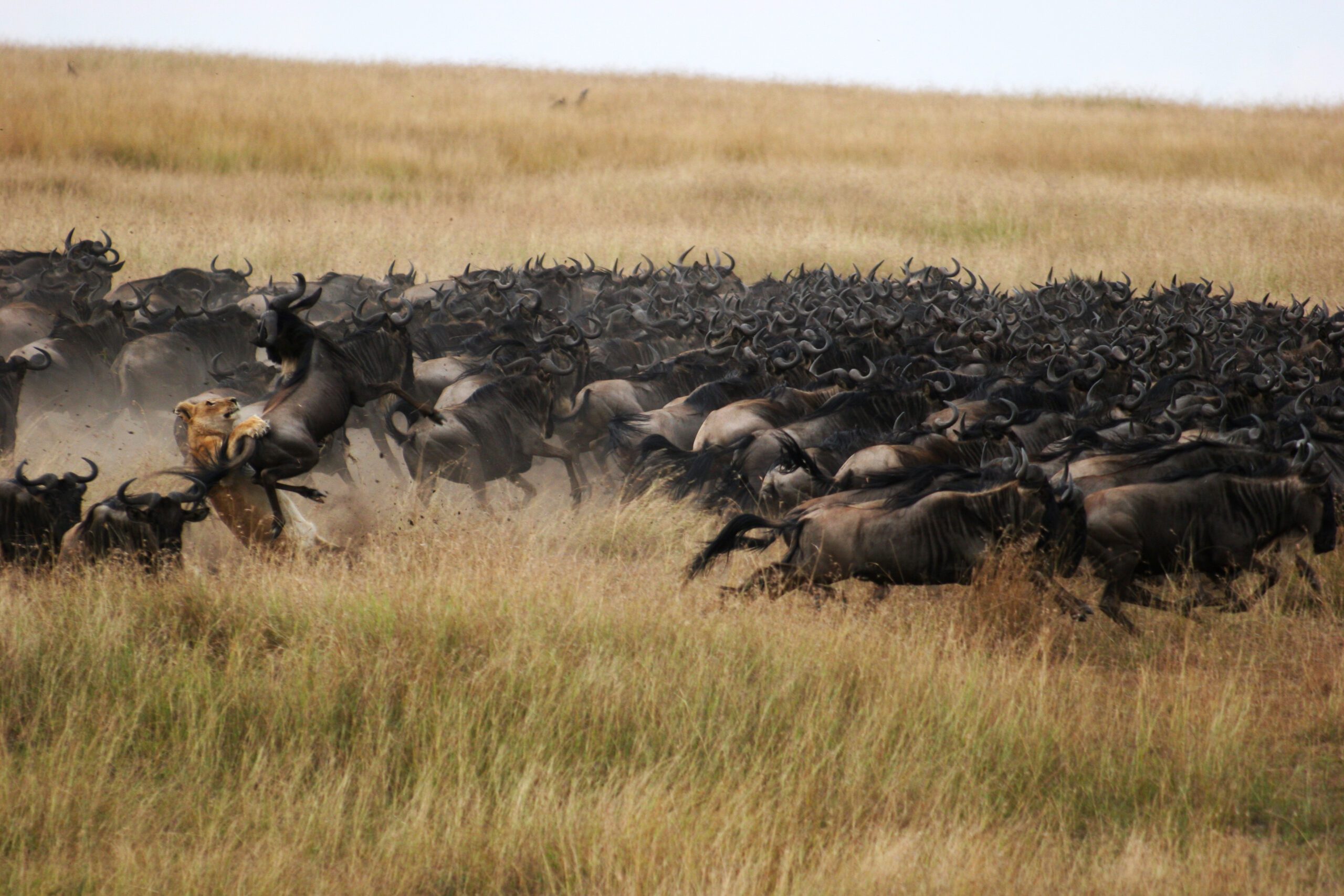 How does the Great Migration Work?
The Great Migration is often presented as a clockwise circuit with wildlife cycling between Tanzania's Serengeti in the south and Kenya's Maasai Mara in the north, and taking place between May and December. In reality, this illustration is an oversimplification of a complex phenomenon. As with anything that moves with the rhythms of nature, the Great Migration circuit should be interpreted as a pattern rather than gospel.
Still, there are some general guidelines for when and where to visit. Even if you attempt to see the migration when it isn't following its "normal" pattern due to an unusually dry or wet season, odds are high that you'll most likely see thousands of wildebeest, zebras, and gazelles in any given area.
"The Migration is not a continuously forward motion," explains Migration expert Richard Knocker, one of Nomad Tanzania's best private guides. "They go forward, backwards, and to the sides. They mill around, they split up, they join forces again. They walk in a line, spread out, or they hang around together. You can never predict with certainty where [wildlife] will be. The best you can do is suggest likely timing based on past experience, but you can never guarantee the Migration 100 per cent."
With expert knowledge gleaned from decades of firsthand experience, Extraordinary Journeys can help travelers navigate the challenge of being in the right place, at the right time.
Where to see the Great Migration
The Great Migration flows between Tanzania and Kenya, a distance of some 1,200 miles and is driven by the pursuit of plentiful grazing grounds and reliable water. Since this is a completely natural process that depends on weather, environmental factors and the animals themselves, the timing and route are more of an estimation than an itinerary.
"Disregard any pretty map you may have been shown that has a tidy flow of animals going round in an annual circle," cautions Richard. "The Migration does not work like this. It is driven entirely by standing water, grazing and created by local weather conditions."
Still, there are some guidelines for when and where to visit.
Generally speaking, the Migration is observed as moving from Tanzania's southern Serengeti, north through the Western Corridor and up to the Maasai Mara. The animals close the loop, arriving back at their southern Serengeti calving grounds via the Lobo Area or Loliondo Game Controlled Area in Tanzania.
That said, even if travelers observe the Migration when it isn't following the "normal" pattern (think: an unusually dry or unusually wet season), wildlife viewing in any given area—whether Kenya or Tanzania—is still abundant. Quite literally, millions of wildebeest, zebras and gazelles participate in the Great Migration—so you're sure to view a couple thousand making their way through this vast region.
What is the best time to view Africa's Great Wildebeest Migration?
As the grassy plains of the southern Serengeti begin to dry out, the animals move north in search of sustenance and reliable water sources.
"They will leave this area as late as possible and come back as soon as they can," Richard explains. "This means that every year is different. In fact, every week can be different."
Typically, the first animals start setting out in April. Over the following months, they'll navigate countless obstacles, from predators to river crossings. Here's a breakdown of their tentative travel schedule, so you can plan your own.
The Great Migration in December to April
From December to April, the wildebeest prefer the short, grassy plains of the southern Serengeti where the cropped vegetation offers predators less cover.
Depending on localized rainfall, herds can be seen anywhere from the Moru Kopjes of the Central Serengeti to the slopes of the Ngorongoro Crater in the south.
What's more, the volcanic soils that anchor these plains produce grass rich in minerals, formulating nutritious milk for the approximate 500,000 wildebeest and zebra born here each spring.
"Within a relatively short space of time, perhaps four to six weeks, several hundred thousand calves will be born," says Richard, "This is when we see much of the dramatic predator action."
Most of the calves arrive in February and March.
Fun Fact: Within 10 minutes of birth, wildebeest are standing on their feet. They may be wobbly, but they're born ready to run when the herd decides to head out.
If travelers are hoping to see newborn calves or if predatory action is a Migration priority, February and March are the recommended months of travel.
What's more, if you're keen on shirking the crowds of tourists that the Great Migration sometimes attracts and aren't fixated on a river crossing, visiting in January, February and March mean less people and more baby zebras and wildebeest.
The Great Migration in May and June
Once the rainy season is over, the south and east plains of the Serengeti dry out, prompting the beginning of the Migration. This usually starts in April or May when herds begin to move north and west, although not always as one cohesive group.
"Not all the wildebeest and zebra will follow the same route," Richard points out. "This means that whilst parts of the Migration will head to the Western Corridor and the Grumeti River before proceeding north, significant numbers may also go up through the Loliondo area or via Seronera and Lobo."
The Great Migration in July to November
July through November is traditionally considered the best time to view the Great Migration.
Between July and August, the wildebeest move en masse into Kenya's Maasai Mara, crossing the Mara River in staggering numbers. For travelers, river crossings rank among the most sought-after moments of the Great Migration.
"The wildebeest are easily spooked by real or imagined threats. They fear crossing the river, as they have an inkling that something lurks there," Richard describes. "Patiently waiting near a herd may only produce a puff of dust as they turn on their heels and run away. Or maybe the herd is not ready to cross the river and they are milling around contentedly. But if everything is right then there is utter and extraordinary chaos as the herd struggles to get to the other side of a major river filled with crocodiles."
In a dry year, the first wildebeest can reach the Mara River (the only decent, permanent source of water in the ecosystem) as soon as early July; in a wet year, it may be as late as mid-August. If conditions are very good—grass and water are plentiful—the herds will spread out all the way from Seronera to the Mara River.
If the cacophony of anxious wildebeest making a perilous river crossing tops your safari bucket list, plan your Great Migration trip for summer. However, it is important to acknowledge July, August and September represent peak travel season. In order to secure your preferred lodgings and operator, you will want to book 12 to 18 months out. If you can wait until October—when school aged kids are firmly back in class—you may encounter fewer crowds while saving up to 30 per cent on rates.
The Great Migration in October and November
It's not over yet! Remember, the Migration is fluid and enduring.
In fall, the Migration starts to work its way south into Tanzania, so there will be plenty of wildlife spotting in popular safari destinations like Kenya's southern Maasai Mara and in northern Tanzania.
"The Migration as a whole need not all pass into Kenya, and many stay behind or cross and re-cross the border areas. This carries on until October and November when they will start thinking of heading back. Again, this will be dependent on the rains," explains Richard.
How to experience the Great Migration
Anecdotally, it's a lot like watching your friend run a marathon: you either wait for them at mile 18 or follow them along the route, high fiving them every chance you get. In Africa, it's less about standing on a corner, and more about setting up camp—literally, at either a permanent or mobile property.
As implied, permanent camps remain a year-round fixture of the landscape while mobile ones move two or three times a year, based on the migration pattern. Each has its perks and drawbacks but choosing between the two typically involves weighing assured proximity to the animals against the sumptuous features and amenities of a lodge. It's a decision an Extraordinary Journeys Great Migration and Africa expert can help you make.
Great Migration luxury safari itineraries
Plan your Trip
Ready to start planning your own incredible adventure? We make the process stress-free and enjoyable.