A multi-day walk and self-drive expedition through Australia's little, quirky, island state
Step off the beaten path and breath some of the world's freshest air in Tasmania - Australia's smallest state with arguably the most pizzazz. Begin your Australia self-drive tour in Hobart, Tasmania's eccentric capital city. Embark on a 3-day guided walk through the dramatic Tasman Peninsula. Drive inland to Cradle Mountain and Lake St. Clair. Spend 2 days with a naturalist guide who will teach you all about Tasmania's unique wildlife. Finish your journey in pure luxury in Coles Bay experiencing the beauty of Freycinet National Park and the iconic Wineglass Bay.
Australia self-drive tour: 15 days / 14 nights
DAYS 4, 5 & 6:
Transfer by road to the Tasman Peninsula for a 3-day guided walk on the Three Capes Lodge Walk, Crescent Lodge & Cape Pillar Lodge
DAYS 10 & 11:
Self-drive to Scottsdale for a 2-day private wildlife excursion, Beulah Heritage B&B
Highlights
This 15-day Australia self-drive tour itinerary takes you on a journey across Australia's lesser known island state for a nature-rich and off the beaten path experience.

Hobart is a quirky little city situated between the towering Mt. Wellington and the vast Derwent River. While the food & drink and art scenes punch well above their weight for such a small city, the beauty of Hobart is its easy access to some of Australia's most beautiful and untouched wilderness. While in Hobart, we recommend visiting MONA (Museum of Old and New Art) and a seafood-centric tour of the nearby Bruny Island.

Continue to the Tasman Peninsula for a 4-Day/3-Night small-group guided walk on the Three Capes Track. The Three Capes Lodge Walk is one of the established Great Walks of Australia which guarantees natural beauty, excellent guides, comfortable and moderate-luxury accommodation, and outstanding local food and wine.

In the heart of Tasmania, and spend two nights at Lake St. Clair, neighboring the rugged Cradle Mountain National Park.

Explore northeast Tasmania over a 2-Day private Peppers Quoll Patrol & Canopy Capers tour. A naturalist guide will teach you all about Tasmania's native wildlife in this beautiful corner of the state.

In Coles Bay, finish your journey in total luxury. Explore the pristine beaches of Freycinet National Park and the iconic Wineglass Bay. Marvel at The Hazards mountain range, and indulge in one of Australia's finest Luxury Lodges.

Every stop on this Tasmanian journey includes all that the state is known for - fresh and locally sourced food (and wine, beer, and whiskey!), clean and crisp air, pristine wilderness that looks completely unique to the rest of the country, fewer crowds, and classic Tassie charm.
Price
Contact us for pricing and to connect with your personal travel expert
Easy Extensions
There are direct flights from Hobart to Melbourne and Sydney, gateways for exploring the rest of mainland Australia.
Itinerary Map
Other Australia itineraries to explore
Trendy Melbourne, wondrous Great Barrier Reef, sprawling Scenic Rim, and must-see Sydney
14 Days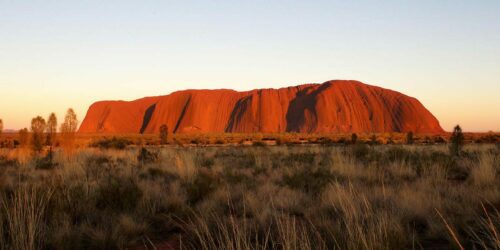 Sydney, Rock, and Reef…Australia's icons without the crowds
15 Days
Vibrant Sydney, stunning Kangaroo Island, rugged Outback, and the vineyards of the Barossa Valley
13 Days