Pumphouse Point
Pumphouse Point is an 18-room lodge on the southern end of Tasmania's Cradle Mountain-Lake St Clair National Park. It was originally constructed in the 1940s as a hydroelectric pumphouse and substation to harness the power of Australia's deepest lake (600 ft deep!), but has since been transformed into one of Tasmania's premier boutique wilderness lodges. Lake St Clair serves as the finish line for the 6-day trek from Cradle Mountain, known as the Overland Track, that runs through this massive national park in the center of the state. Aside from the 11-mile long lake, this picturesque region is covered in thick forests, rugged mountains, interesting shorelines, and plenty of endemic critters.
The lodge itself consists of the Pumphouse that sits 250 meters out into the middle of the lake (you'll use a golf cart or bike to get to and from the Pumphouse if you prefer not to walk). The Pumphouse has 12 rooms – 4 Ground Floor Rooms, 4 Middle Floor Rooms, and 4 Top Floor Rooms (2 have baths). The 4 Top Floor Rooms are the largest and the 2 without baths have beautiful sunken living rooms. There is a cozy lounge and fully stocked pantry and bar at your disposal. All of the rooms have incredible views over the lake surrounded by mountains. The Shorehouse (formerly the hydro substation) is located on the edge of the lake and boasts 6 rooms, the main lounge, and the lodge's dining room. We wouldn't recommend either of the Standard Rooms for their lack of lake views, but the Waterview Room, the 2 Waterview Bath Rooms, and especially the Panorama Room are great. Although the Shorehouse rooms don't have the appeal of being completely surrounded by water, they do have the added convenience of having the dining room in the same building. And in typical Tasmanian fashion, the food and wine is local and fabulous. The lodge is simple, contemporary, decorated with clean lines, and honors both the environment and a past industrial age with its range of woods and metals.
Pumphouse Point is a great location for exploring the wilderness. With numerous trails at your disposal, you are free to explore the scenic region with walks that range from 15 minutes to 7 hours. You can also go trout fishing, biking, or visit the nearby Wall in the Wilderness. We recommend visiting anytime from November to April when the days are longer, dryer, and warmer.
Pumphouse Point does not accept children under 15 years of age, which helps maintain a sophisticated and intimate environment.
Itineraries featuring Pumphouse Point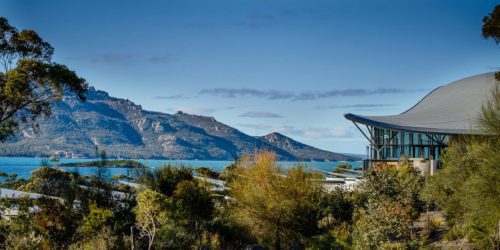 A multi-day walk and self-drive expedition through Australia's little, quirky, island state
15 Days
Our Favorite Tasmania Accommodation on a Map
Plan your Trip
Ready to start planning your own incredible adventure? We make the process stress-free and enjoyable.