Kasbah Bab Ourika
The Kasbah Bab Ourika stands on an exceptionally beautiful landscape in the Atlas Mountains, only 35 minutes from Marrakech's International Airport. On its hilltop, at the apex of the Ourika valley, it looks down to the river, green fields and groves of olives, oranges and lemons, and up to the dazzling snowy mountain peaks.
With 360 degree panoramic views, Kasbah Bab Ourika receives warm sunlight all day, ending in spectacular sunsets. Guests can relax in individually decorated rooms with their own terraces or unwind by the secluded swimming pool.Meals are served in the gardens or in the colonnaded restaurant or can be taken privately in the rooms or suites. The restaurant serves food that is freshly supplied daily from the surrounding villages. The chef specialises in traditional Berber recipes as well as international cuisine.Above all the Kasbah offers peace and relaxation in spectacular surroundings, a memorable escape from the hustle of the Western World.
The Kasbah has fifteen rooms. All are individually decorated and have stunning views of the Atlas and the Valley of Ourika.
Our Favorite Marrakech Accommodation on a Map
Itineraries Featuring Kasbah Bab Ourika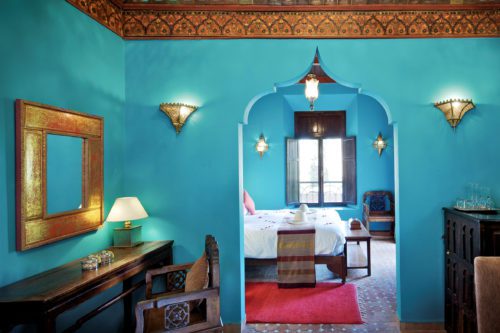 Explore Medinas, Gardens, Mosques, and the breathtaking High Atlas Mountains
9 Days | $5,800 per person
Plan your Trip
Ready to start planning your own incredible adventure? We make the process stress-free and enjoyable.