From the best time of year to visit to spotting the most elusive wildlife, here's everything travelers need to know when planning a Galápagos Islands expedition cruise.
Blue-footed boobies nesting on desolate volcanic bluffs, penguins darting through turquoise water, and marine iguanas marching along pristine beaches. While the otherworldly terrain of the Galápagos Islands is unlike traditional tropical destinations, for travelers who love wildlife and remote places, the archipelago's surreal moonscapes are a dream. The constellation of islands sits 600 miles off the Ecuadorian coast and is made up of 13 major islands, plus a smattering of smaller ones formed by repeated volcanic eruptions.
Because the islands developed in isolation for most of their history, conditions were ideal for a vast and unusual array of flora and fauna to emerge. The UNESCO World Heritage Site has preserved 95 percent of these endemic species, which has drawn travelers and explorers to the region for centuries (most famously, naturalist Charles Darwin). Traveling on a cruise ensures you'll get to experience the incredible biodiversity in the Galápagos, since different species and landscapes characterize each island.
The natural wonders of the Galápagos are endless, and the options for how to see them are almost as numerous: romantic yacht or family-friendly ship? Luxury cruise or small catamaran? A five-day cruise or a 14-night journey? Which is the best route, the western, eastern or southern route? Are you dreaming of an active adventure or laid-back luxury? However visitors envision their trip coming to life, here are some elements to keep in mind to get the most out of an Ecuadorian island adventure.
When to go to the Galapagos Islands
There really isn't a bad time of year to visit the Galápagos, as the archipelago sees a moderately warm climate year-round, but the weather and wildlife will shift subtly with the seasons. Although the archipelago sits on the equator, the cool Humboldt Current brings cold water into the region, and with it rainfall and cooler temperatures. Two seasons dominate the islands:
The Wet Season (December – May)
The wet season lasts from December through May, but the name is a bit of a misnomer because although there are short thunderstorms this time of year, the season also brings the warmest temperatures, plenty of sunshine, and most importantly for those prone to seasickness, the calmest waters. Marine iguanas are also the most active this time of year, as are green sea turtles. It's albatross mating season, and the best opportunity to see the birds.
The Dry Season (June – November)
The dry season, which runs from June to November brings cooler temperatures and stronger winds—be prepared to gear up in a wetsuit to go snorkeling. September to October can be tough for some travelers as this is when the water is the most choppy (some boats go to dry dock during this period). Although the arrival of the Humboldt current makes for cooler, rougher waters, it also brings an incredible array of marine life with it, making this the best time of year for diving, snorkeling, and spotting wildlife. Many bird species begin their hatching season, sea lion pups loll about on the beaches, and it's the best time of year to spot sharks and killer whales.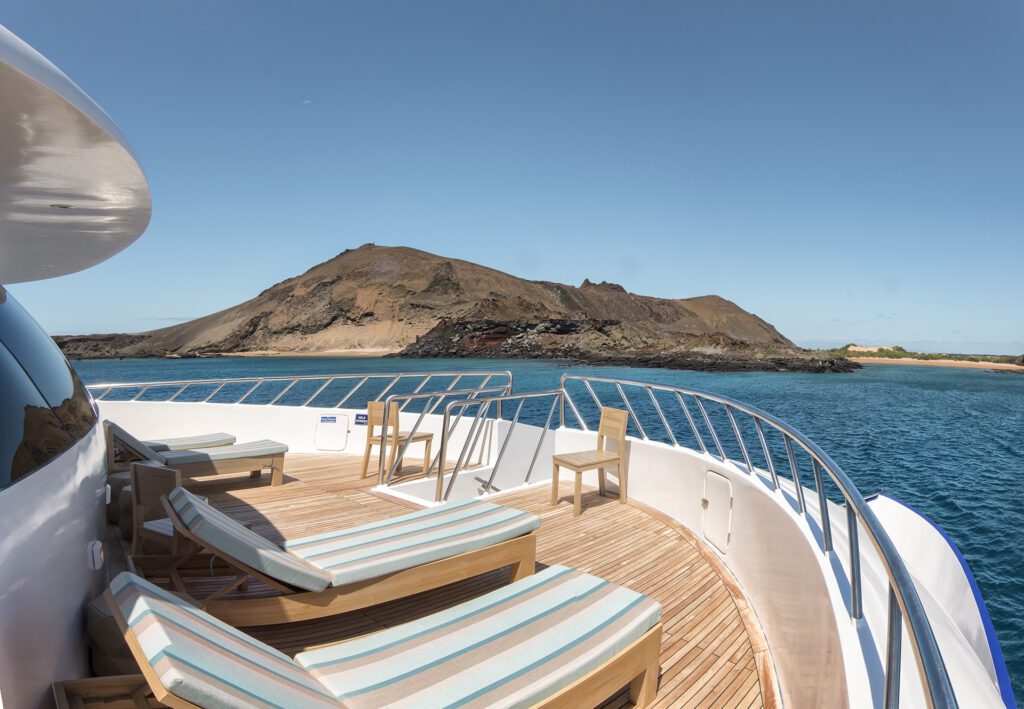 How long to spend sailing the Galapagos Islands?
At a most basic level, deciding how long to set sail for is simple: the longer travelers spend navigating the islands, the farther the ship reaches and the more stops it makes. This means the chance of spotting more endemic wildlife, which inhabit different areas, on an eight-day voyage than on a four-day jaunt. Five to six days on an expedition ship is usually the perfect amount of time for most people, especially if they're going on to explore other parts of Ecuador. It's enough time to see the most iconic species, experience activities from hiking to snorkeling, and enjoy everything on-board the ship. But there are other elements to consider, too.
If the thought of a week on a boat is stomach-churning, or one of the lodges on the main island of Santa Cruz beckons—Pikaia and Galápagos Safari Camp are two standouts—then travelers might opt for a shorter sailing combined with a land-based experience. (Here's how to choose a cruise versus a land-based trip.) If you're a diver, there are only a few cruises that go to the Darwin and Wolf dive sites, where diving is permitted, so it's important to keep this in mind when you start planning your trip to ensure you board the right boat.
Choosing the best route through the Galapagos Islands
No matter the length of your expedition cruise, there's always the choice between route A, B or C. That's because only a certain number of ships are able to visit each island in a given week to mitigate overtourism, limiting the impact of exploring these ecologically-sensitive islands. To operate ethically and sustainably, ships alternate between an itinerary of certain islands every two weeks.
Being flexible with travel dates will ensure securing a first choice of route, which varies by length and operator. Personal interests and a wildlife bucket list can act as a compass here. For instance, while blue-footed boobies and frigates can be spotted on most routes, other birds like red-footed boobies flock to Genovesa Island and albatross to Espanola, while your best chance of snorkeling with penguins will be in the waters around the islands of Fernandina and Isabela.
One itinerary might bring travelers to an island steeped in maritime history, while another might offer the opportunity to watch hammerhead and nurse sharks gliding through the ocean's sun-dappled depths. Deciding on an itinerary can be overwhelming, which is where our Extraordinary Journeys Galápagos experts can help to make sure nothing is overlooked. Want to read about the experience? Check out this story on wildlife biodiversity in Ecuador.
Deciding on a ship for the Galapagos Islands
While mega-ships aren't allowed in the fragile Galápagos, there's still a range of boats to choose from, ranging from 16-person luxury yachts to 100-passenger boats geared towards families. If the trip marks a special occasion as a couple, or people are embarking on a private, multi-gen journey, splurging on a week aboard a sleek, stylish mega-yacht like the Origin or Theory is once-in-a-lifetime. Think gourmet meals, an intimate sundeck serving craft cocktails, and chic lounge spaces. Typically, the smaller the operation, the more personalized the service. The more expensive cruises do tend to have the better guides and equipment.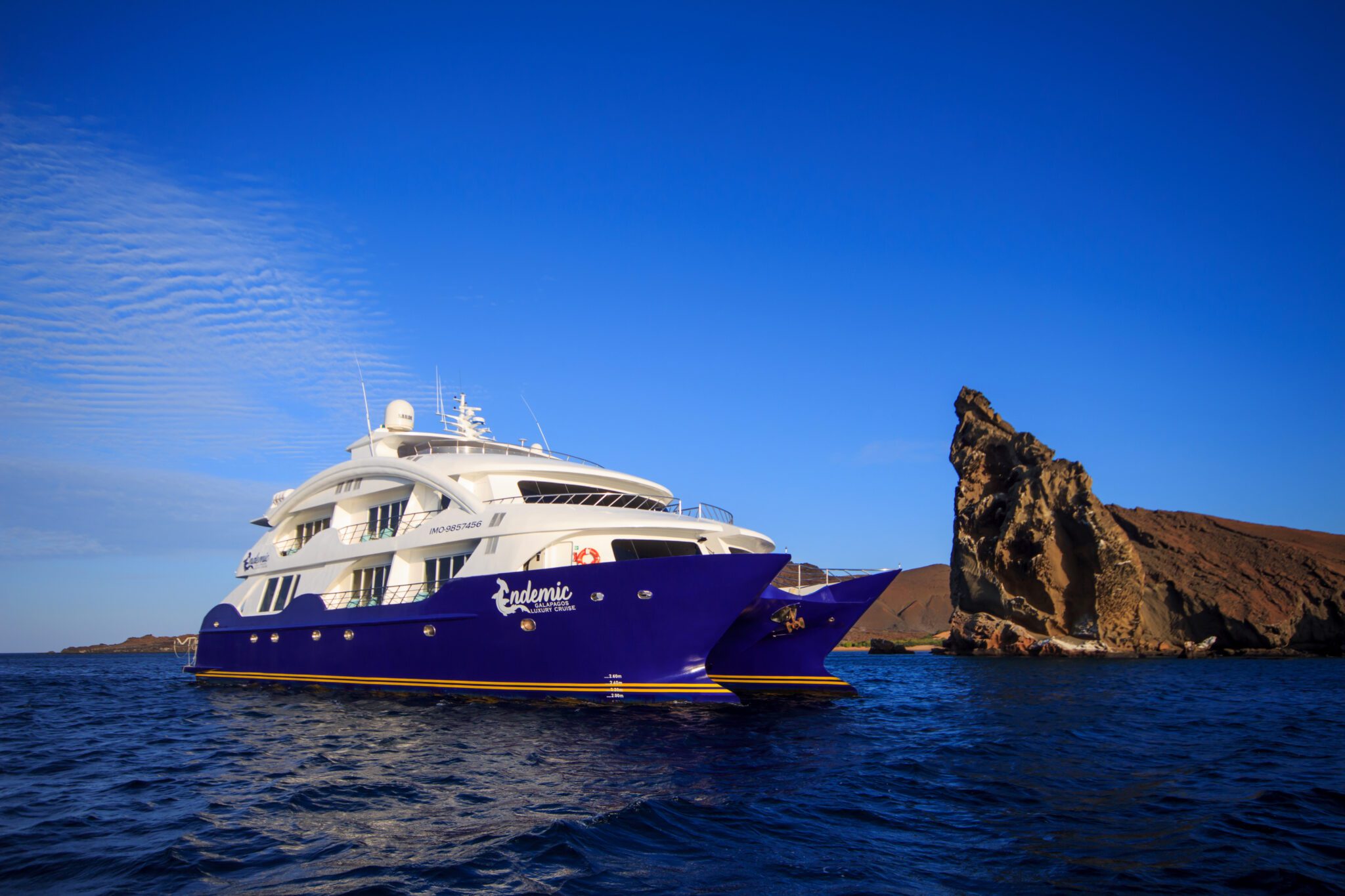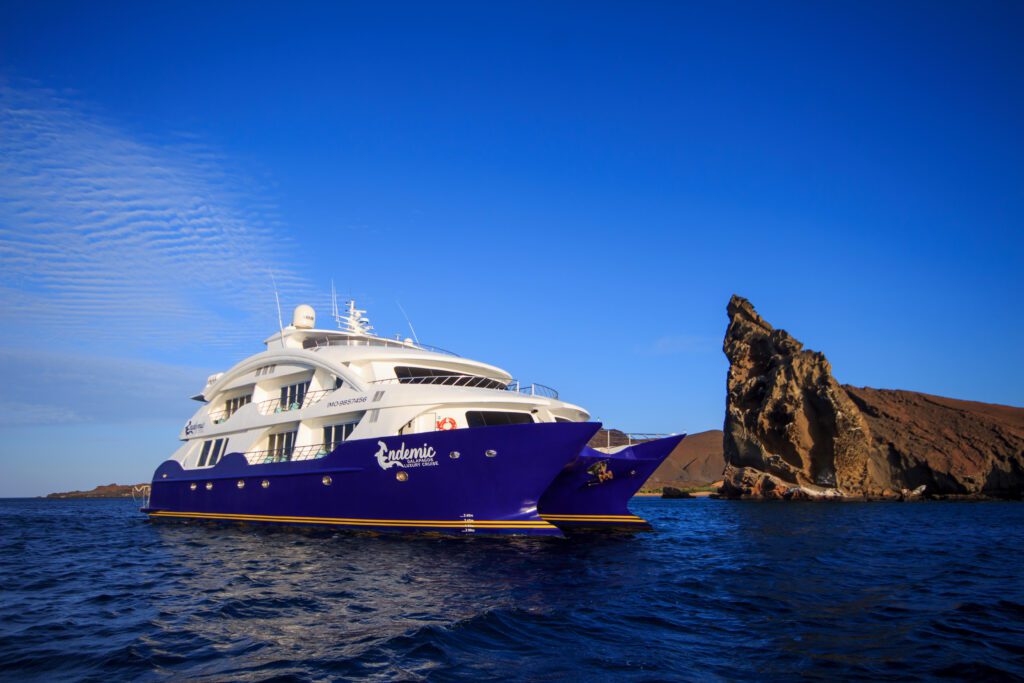 16-20-Person Luxury Yachts
Aqua Mare

Elite

Grace

Petrel

Cormorant II
Private Boats
Family-Friendly Boats
There are perks to sailing on a slightly larger boat, though. They're more affordable and great for families with young kids who might want a bit more space, or the option of meeting different groups of people on board. There's also likely to be more variety of activities offered each day, so if grandpa wants an interpretive nature walk while the kids would rather snorkel, both are doable. They are also more stable and better for people who are prone to seasickness.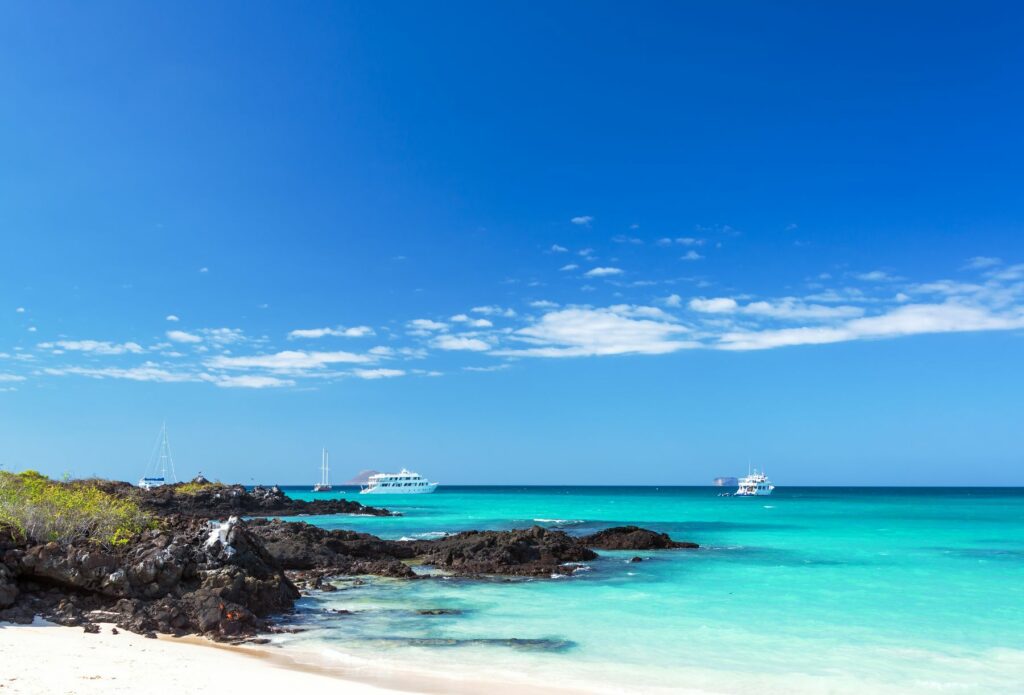 Letty

Santa Cruz II

Nemo (for a Catamaran adventure with a sail on a budget)

La Pinta yacht (which has interconnected and triple cabins)

Legend
No matter the boat or route, the magic of these enchanting islands, and the vibrant, fascinating wildlife that calls them home are unforgettable.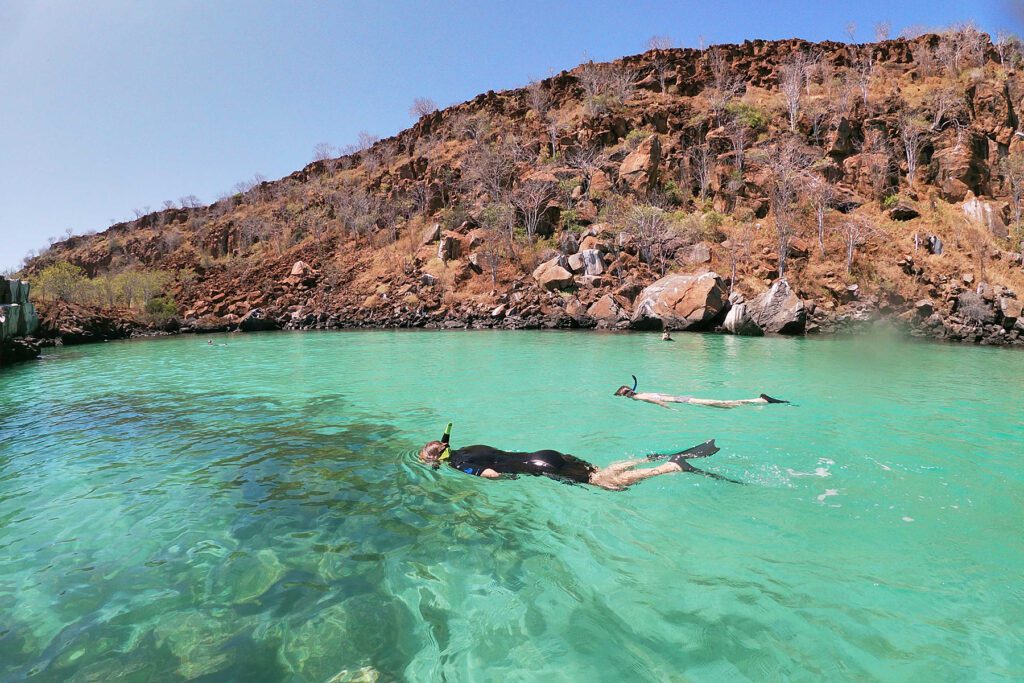 Here are a few of our expert tips and why you should book with Extraordinary Journeys:
Add a few days to explore Quito or the Ecuadorian Highlands at the beginning of your trip. If your flight is delayed you will have a buffer and won't miss the boat.
Combine the Galápagos with a trip to the Mainland in Ecuador or Peru.
Make sure to add a VIP meet and greet on arrival in the Galápagos to take any stress away.
Booking services with a company (like us!) versus a boat will ensure your arrival, transfers and flights all align with your cruise departure.
May is a great time to visit as it's the shoulder season.
Ecuador has access to the Amazon, so pairing a couple of days here pre Galapagos will add to your wildlife. Sacha Lodge is one of our favorites.
If there are specific animals or birds you want to see, let your specialist know during the planning phase. This way we can be sure you are going at the right time of year and to the right islands.Plus: If you love birds- consider a day trip to Mindo on the mainland of Ecuador.
Most every boat visits Darwin Research Center—be sure to leave time for a visit.
Want to extra add days in the islands before or after your trip, say to do some diving? EJ is able to coordinate this with your boat for the most seamless experience.
For surfers looking for waves, we know the best spots on San Cristobal island!
Get involved, there are many local projects that are going to be more than happy to show you their work and impact in the islands.
Family and multi-generational trips should be planned in advance, get the most of early planning and access to some good deals.
---
---
Looking for more inspiration? Check out these three itineraries…
Wilderness of the Galapagos and Cultural History of Machu Picchu
14 Days
Historic Quito, luxury Galapagos cruise, Amazon Jungle, and enchanting Cloud Forest
12 Days
Visit the Galapagos Islands, the Andean Highlands, and the Avenue of Volcanoes
12 Days