The Galápagos Islands, just 563 miles west of continental Ecuador, are a nature-lover's paradise. Geologically stunning and teeming with some of the most rare, exotic, and unusual wildlife on the planet, it's easy to see why the Galápagos is having a moment right now. Unfortunately, the region is a victim of its own success, and overtourism is a problem. As such, working with a professional is even more important than usual! Here, we share the best ways to discover this amazing region, whether on land or at sea. Plus we'll offer key tips and insights for a fulfilling, environmentally-conscious visit to this sensitive, important corner of the world.
Two Ways to Explore: Cruising Tours vs. Land-Based Tours
Depending on your preferences, time constraints, and propensity for sea sickness, you have two choices when visiting the Galápagos Islands: boat-based cruising tours or land-based tours. Here are a few pros and cons of each to help you make the best choice for your own Galápagos adventure.
Cruises
The main islands are currently experiencing the problem of overtourism; choosing a cruise helps mitigate your impact.
You'll have access to more remote places.
Because cruises are tightly regulated to manage crowding in the islands, it's very likely you won't see other people outside your cruising group.
Sea sickness can be an issue for some travelers (waters are usually choppiest from the end of August through September).
Cruises usually aren't a great choice for younger children.
You'll have less flexibility in your day-to-day activities.
*Important note about cruises: It's next to impossible to exit a boat cruise in the Galápagos unless you are docked at one of the main islands with an airport (St. Cristóbal or Santa Cruz). If you have any doubts and think you might want to alter your itinerary or cut your travel plans short, we recommend you caution on the side of a land-based tour.
Land-Based Tours
Pros to Land-Based Tours:
The ample space and freedom to come and go makes a land-based exploration of the islands ideal for families.
You'll have more flexibility in your days.
A land-based tour is the best option if you're worried about sea sickness.
Cons to Land-Based Tours:
The main islands are suffering from overtourism. You'll see more crowds on a land-based tour than while on a cruising tour.
The islands with the properties where you'll stay are inhabited and can feel overpopulated (though there are still a few places we partner with and highly recommend).
What You Need to Know About Cruises in the Galápagos
On a cruising tour of the islands, you'll spend several nights aboard your boat, traveling between a number of locations, many of them only accessible through a multi-day cruise. Your itinerary will include shore excursions to explore the region's incredible geography and wildlife.
If a cruise of the Galápagos Islands is the right choice for you, there are a few things you should know to make the most of your trip. Boat size, tour route, and the timing of your trip are all important factors to consider.
What Size Boat is Best?
The two main types of boats for Galápagos cruises are mono-hull vessels and catamarans (plus a few sailboat-style options). There are advantages and disadvantages to each, depending on what you're looking for.
Generally speaking, smaller boats are more intimate and fun. While we love the personal touches and convivial environment of a smaller vessel, but they do rock more. If you don't mind being rocked to sleep by the ocean, we highly recommend a smaller vessel.
If you're prone to sea sickness, however, a larger boat is the smarter choice. A 45- to 50-passenger vessel is less intimate than a smaller boat, but it's a good compromise between size and stability—and a happier stomach!
As mentioned earlier, however, if you have serious concerns about feeling unwell on a boat of any size, we highly recommend you choose a land-based tour.
When choosing specific cabins, it should be noted that the lower ones are more stable but louder. Those higher up on the vessel are quieter, but they do experience more rocking. It really comes down to personal preference.
Our Favorite Boats
We partner with a number of preferred vessels, varying in size, style, and interest-focus. There's a perfect boat for almost every traveler. Here are our favorites:
Name
Category
Nights
Number
of Cabins
Max
Number of
Passengers
Size
Type
La Pinta
1st Class
4, 5 or 6
24
48
Medium
Motor Vessel
Isabela
1st Class
4, 5 or 6
24
48
Medium
Motor Vessel
Integrity
1st Class
4, 5 or 6
9
16
Small
Motor Yacht
Grace
1st Class
7
9
18
Small
Motor Yacht
Evolution
1st Class
7
16
32
Medium
Motor Vessel
Theory
Luxury
7
10
20
Small
Motor Vessel
Origin
Luxury
7
10
20
Small
Motor Vessel
Ocean Spray
1st Class
3, 4, 5 or 7
9
16
Small
Mega Catamaran
Petrel
Luxury
3, 4, 5 or 7
9
16
Small
Mega Catamaran
Endemic
Luxury
3, 4, 5 or 7
8
16
Small
Catamaran
Elite
Luxury
3, 4, 5 or 7
8
16
Small
Catamaran
Endemic and Elite are our favorite choices for catamarans. They have huge windows, well-appointed bathrooms, and all the little details you'd look for in a luxury vessel.
Origin and Theory are our favorite yachts. (Bonus: the Origin is extra fuel-efficient and built to have a lower impact on the marine ecosystem!)
Grace and Evolution are good choices for a bit of old-world style and a romantic touch.
La Pinta and Isabela are always a great choice for medium-size vessels, and we love their special family departures.
While all of the above boats have a naturalist focus, we can also book you on one of several diving-focused vessels if that's of particular interest to you. And if you're traveling with a group of friends or family, you do have the option to charter a private cruise. Ask us how here!
How Long Should My Tour Be?
In terms of length, we've found that a five- to six-day tour is the perfect amount of time for most travelers to get their fill of the Galápagos. Anything longer can start to feel a bit repetitive unless you're a serious wildlife buff.
What Time of Year Should I Visit?
For cruises, the ideal time of year is January through June or October through December. The absolute best times are in June and October.
For diving, July and August are the best. The marine life is teeming, but it will be cold (so count on that wetsuit!).
How Should I Choose My Route?
The cruises in the Galápagos are highly regulated, and boats must follow specific itineraries pre-approved by the national park. The most popular routes tend to focus on the newer islands in the west, thanks to the dramatic lava formations there.
In order to select the perfect route for your exploration of the islands, you'll need to answer three questions:
1. Are there specific species of wildlife you'd like to see?
The habitats of certain species of wildlife are limited to specific islands. For instance, the critically endangered waved albatross (pictured above) can only be found on Isla Española. If you have your heart set on seeing particular types of wildlife, please let us know!
2. Do you need to travel on specific dates, or is your timing flexible?
Each vessel has its assigned schedule. If you have fixed travel dates, this will determine which routes you can choose from. Galápagos regulations stipulate that a given boat cannot visit the same area more than once every two weeks, so a flexible schedule will give you more options.
3. Do you want to cruise on a luxury boat?
Amenities and service aside, the best boats have the best naturalist guides. So if you're eager for an education on your Galápagos journey, it's best to book a luxury vessel.
Other considerations include how many passengers you want to share the boat with, your budget, and the length of your trip.
4. Do you want to dive on your cruise?
There is no diving from most Galápagos cruises, except off the coral. If you have your heart set on diving, we can arrange a dive from Santa Cruz in advance. Diving in the Galápagos generally requires different routes and boats altogether; the "standard" cruises are not the right choice for experienced divers. If you're a serious diver looking for lots of dive time, you'll need to opt for a two-week trip on a larger vessel to Darwin Island or Wolf Island.
What You Need to Know About Land-Based Tours in the Galápagos
While cruises are our favorite way to introduce travelers to the Galápagos, a land-based tour may be the perfect option for you, especially if you have issues with sea sickness.
Where Should I Stay on a Land-Based Tour?
On a land-based tour, you'll spend time exploring the area around where you're staying. You'll also go on day trips to surrounding islands.
Santa Cruz is a great option for your home base because it's in the center of all the islands, making access to other islands a breeze.
Unfortunately, overtourism is a very real thing in the Galápagos, so it can feel a bit disappointing to so many inhabitants, especially on Santa Cruz Island. Nevertheless, we partner with some wonderful properties to show you the best of the islands with the least of the crowds.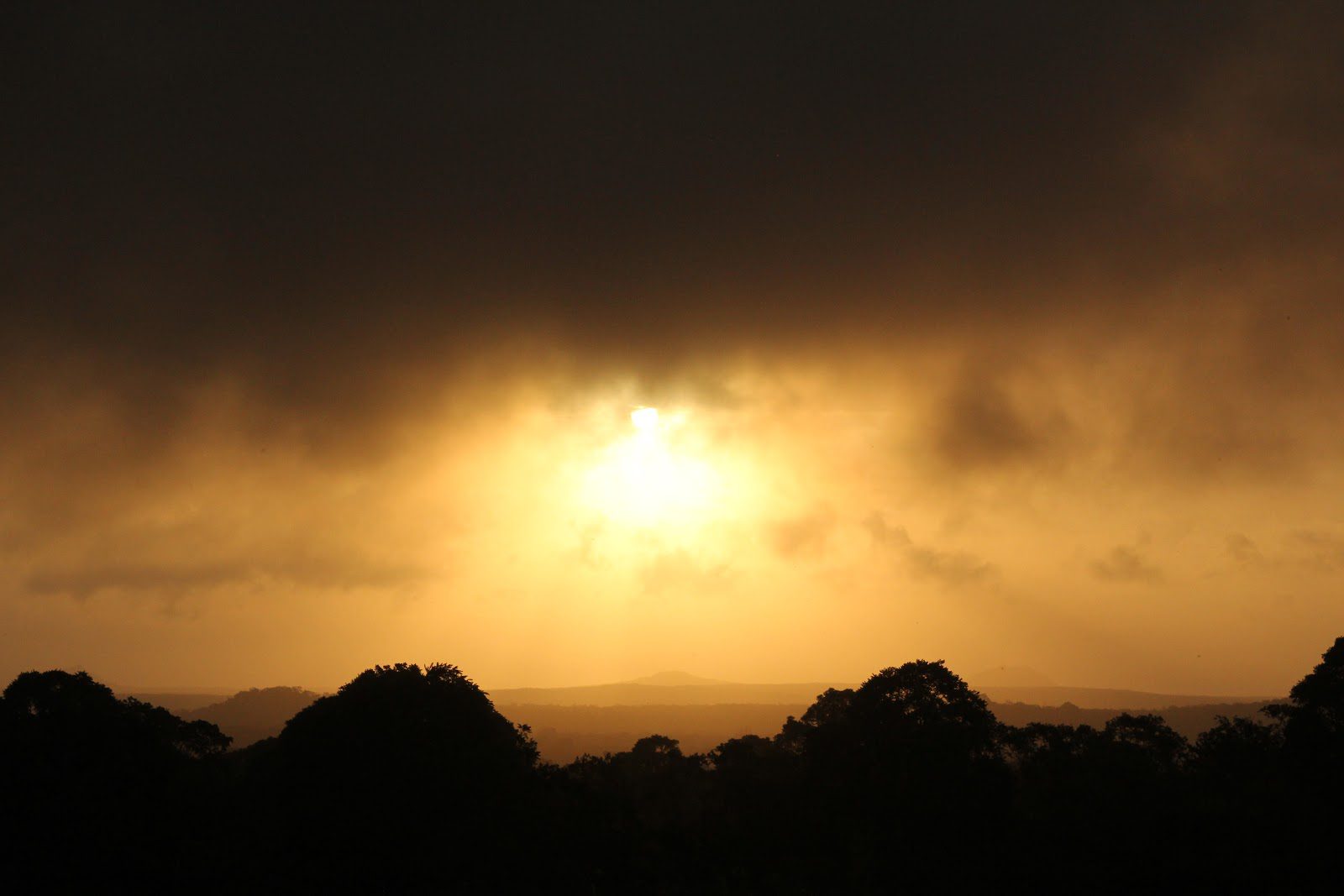 Two of our favorites are Galápagos Safari Camp and Pikaia Lodge on Santa Cruz Island. Check out this piece for EJ co-founder Elizabeth Gordon's firsthand impressions of both.
These properties are situated in more remote areas of Santa Cruz Island, so you'll still get that feeling of isolation you're looking for. Another property, Finch Bay, is on a beautiful stretch of beach very close to the main city of Puerto Ayora. This unfortunately means that outside guests can walk in front of your hotel.
Pikaia is the most high-end of the properties, and it has the best yacht for day trips, complete with cabins with beds (hello, naptime!), showers, and more.
Galápagos Safari Camp is a luxury mid-range property and a wonderful option for families. We especially love how a stay here offers the feel and pace of a safari, even outside of Africa (the Meru-style tents were designed in Kenya).
While Santa Cruz is an obvious choice for a land-based tour, we especially love combining a stay there with one on the "newer" Isabela Island. The latter is, in our opinion, the best island for land-based itineraries at the moment. It's more remote and less populated—a perfect balance to the busier Santa Cruz.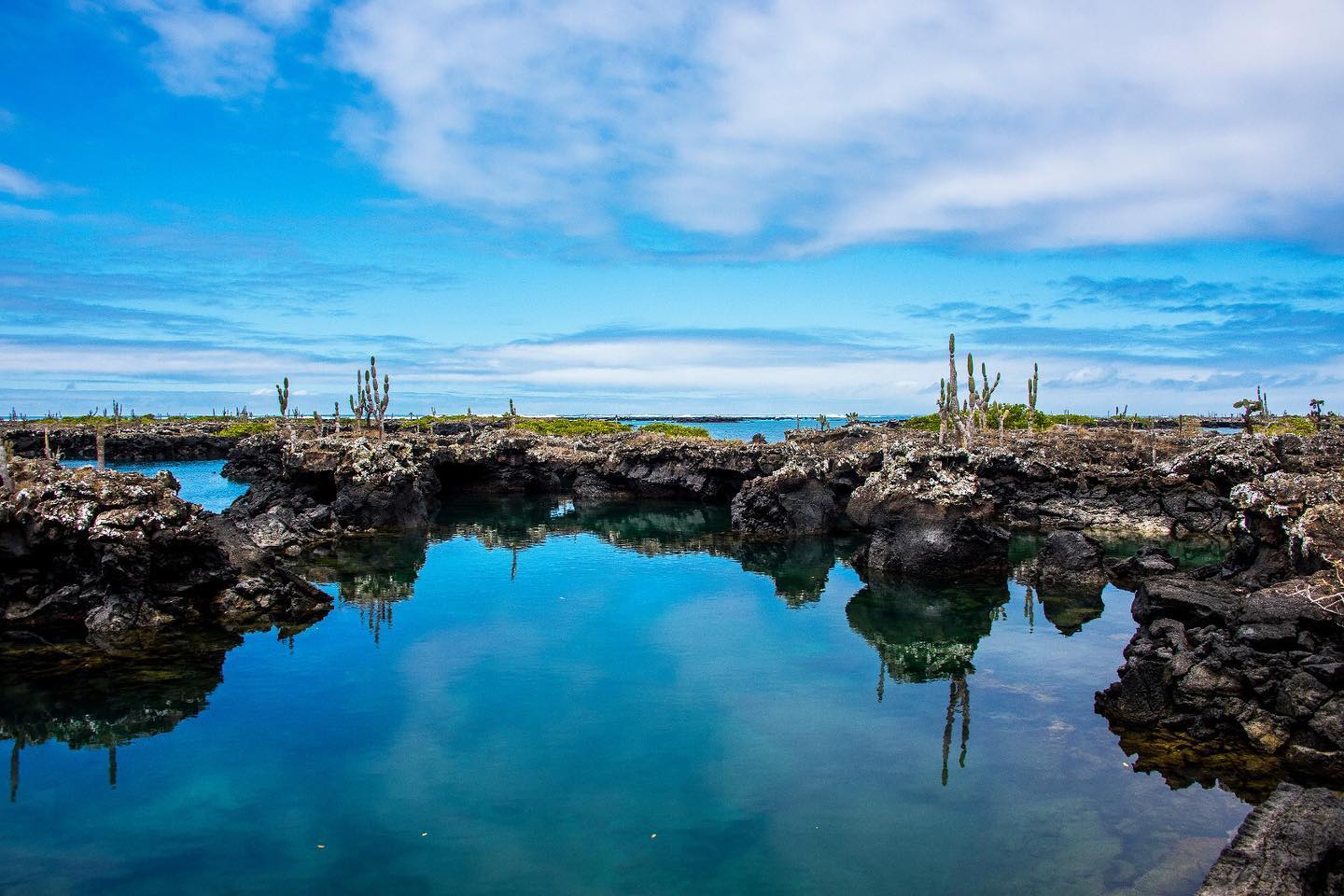 Three nights on Santa Cruz and two nights on Isabel would be ideal.
For a stay on Isabela Island, whether alone or in combination with a stay on Santa Cruz Island, we recommend Scalesia Lodge, a tented camp similar to Galápagos Safari Camp. The service is very good but not quite as good as you'll find on Santa Cruz.
Another option on Isabela Island is the boutique hotel, Iguana Crossing, which is ideally located right on the beach. The hotel itself is simple but tasteful.
Guides in the Galápagos Islands
Each of the land-based properties provides guides. It should be noted that the guides at Scalesia are from Isabela Island, not Santa Cruz Island. Their English is good, and they're very knowledgeable. But for the highest standard of guides, Galápagos Safari Camp and Pikaia are the better choices. Alternatively, we can also recommend several different specialist guides for you to hire to make the most of a stay at Scalesia.
While on a cruise, you're limited to the guides provided by the cruise. As mentioned earlier, this is why opting for a luxury cruise over something more economical is a worthwhile choice.
Activities in the Galápagos Islands
The activities available to you during your stay will depend on your itinerary and the particular cruise or property you choose. Some of our favorites (all of which were included on a recent cruise aboard the Origin) include:
Guided nature walks
Beach strolls (look out for crabs and marine iguanas!)
Snorkel excursions
Zodiac jaunts
Kayak trips
Stand-up paddleboarding
Educational, engaging presentations by naturalist guides over pre-dinner drinks
It's important to remember the rules and regulations in place for protecting the Galápagos Islands. These parameters mean that all activities will be accompanied by a guide. Any walks on the islands must be accompanied by a registered naturalist guide, and you'll need to walk on specific pathways.
Wildlife Viewing: Timing & Location are Key
It bears repeating that specific islands are known for certain species, and there are different things happening with different animals year-round. For example, the red footed booby is found on Genovesa Island. Penguins are found mostly on Fernandina and Isabela Islands.
If you have your heart set on seeing something specific, please let us know so we can double-check those details before you book!
How to Get to the Galápagos Islands
There are two airports in the Galápagos, one on Baltra Island (and one on San Cristóbal Island, both of which offer connections to Guayaquil and Quito on Ecuador's mainland.
If the Galápagos Islands is your first (or only) destination in Ecuador, Guayaquil is the closest international airport to the Islands. From there, it's an easy 1-hour and 50-minute flight to either Baltra or San Cristóbal.
Another option is to fly in from Ecuador's capital, Quito. A direct flight from Quito to Baltra or San Cristóbal is 2 hours and 15 minutes. However, most flights to the Galápagos include a connection through Guayaquil, making the total flight time from Quito over 3 hours.
Getting to Santa Cruz Island
From the airport on Baltra Island, it's just a quick transfer to Santa Cruz Island via ferry, then a road transfer to your destination. Both Galápagos Safari Camp and Pikaia Lodge are within about 45 minutes of the airport.
Getting to Isabela Island
You'll need to fly into Baltra. From there, you can either take a 30-minute transfer to Isabela (offered daily) via small aircraft, then transfer to the lodge, or you can travel to Isabel via speedboat. This route takes about two hours and can be quite bumpy.
Bonus: Consider an Extension to Your Stay in the Galápagos
Bookending your trip to the Galápagos with an extension on Ecuador's mainland is a simple, terrific way to see even more of this beautiful country. Check out all there is to see, from the Amazon or Cloud Forest to Quito and the Andean Highlands, in this piece.
Pro tip: we recommend you spend a few days at Hacienda Danesa, just one hour from Guayaquil, to experience the natural scenery of the tropical lowlands while also learning more about a traditional private coastal hacienda.
Alternatively, you can continue on to Peru. There are direct flights from Guayaquil to Lima—and plenty more adventures beyond!
8 Key Takeaways for Your Galápagos Adventure
Whether you choose a land-based exploration or a cruise, you're sure to have an incredible time exploring all the wild and wonderful surprises the Galápagos Islands have to offer.
As a reminder, here are some of our top tips when planning your trip:
Choose between a cruise and a land-based tour based on your specific needs
The ideal length for most travelers is a five to six days in the Islands
The best times to visit are June and October
Routes should be planned according to the wildlife you'd like to see, whether you want to dive, and whether you can only travel on certain dates
We recommend staying on two islands instead of one for your land-based tour
Remember that the quality of your guides is usually dependent on the quality of your cruise or property
The activities and adventures available have something everyone will enjoy—ask us about any favorites you'd like to include in your trip
Consider bookending your trip with a stay on Ecuador's mainland—we love Quito, the Andean Highlands, the Cloud Forest, and so much more!
All things considered, planning a trip to the Galápagos is complicated. Check your stress at the door and talk to us instead!
Itineraries to explore
Wilderness of the Galapagos and Cultural History of Machu Picchu
14 Days
Historic Quito, luxury Galapagos cruise, Amazon Jungle, and enchanting Cloud Forest
12 Days
Visit the Galapagos Islands, the Andean Highlands, and the Avenue of Volcanoes
12 Days
Book Your Galápagos Islands Vacation Now!
Ready to start planning your own spectacular exploration of the wild and wonderful Galápagos Islands? We make the process stress-free and enjoyable. Call or email us today to explore your best options for an adventure you'll never forget!
Then, start packing that suitcase because we've got all the details covered.