Luxury Iguazú Falls vacation
Behold one of Mother Nature's most exquisite works of art: Iguazú Falls. Seated on the border of Argentina and Brazil, this awe-inspiring collection of 275 thundering cascades is a UNESCO World Heritage Site and one of the New 7 Wonders of Nature.
Why visit Iguazú Falls?
There's nothing like standing, humbled, at the foot of one of the planet's most powerful waterfalls. Travelers can hike along the Iguazú National Park's winding walkways to witness the cascade of Garganta del Diablo ("Devil's Mouth"), which plunges 269 feet into a barely visible pool. Animal lovers will delight while spotting capuchin monkeys, tapirs, and caymans in the surrounding subtropical rainforest; and thrill-seekers will jump at the opportunity to get soaked to the skin as they zoom beneath the falls in a speedboat. In short, if you're yearning to experience Mother Nature at her wildest, purest, and most exciting, an Iguazú Falls trip should be written into your extraordinary South America journey.
What to do in Iguazú Falls
One trip, two countries: Iguazú Falls straddles the Argentina-Brazil border. We recommend touring both the Argentinian and Brazilian sides for opposing vantage points: up close and then zoomed out.

Walk the system of catwalks to cross gorges next to bursting water.

Board a boat to get your adrenaline pumping during an exhilarating ride beneath the falls.

Track wildlife in the jungle that envelopes the falls; it teems with species like white-eyed parakeets, giant anteaters, howler monkeys, and elusive jaguars.

Kayak down the Paraná River, one of the fastest and longest-running rivers in the world.

Chat with locals over a gourd or two of traditional yerba mate tea—a social ceremony that's an integral part of everyday life in this part of the world.

Learn how to whip up local specialties like empanadas or alfajores during a cooking class in Puerto Iguazú.
Key travel info for Iguazú Falls
When is the best time to visit Iguazú Falls?
Any time of year is a great time for an Iguazú Falls trip. Water levels do fluctuate, but the weather tends not to impact the overall viewing experience and you're likely to get a little wet no matter the month, thanks to the misty spray and subtropical surrounds.
When planning your trip, it's worth taking the following into consideration:
Water levels are at their highest in the summer (November to February). Iguazú Falls weather is hot, humid, and rainy at this time.

Iguazú Falls weather during dry season (March to June) is sunnier but not as humid.

The temperatures are very comfortable in the winter (July to October). The falls have less volume at this time, but they are still an incredible sight to behold, so this is arguably the best time to take an Iguazú Falls tour.
Where to stay in Iguazú Falls
There are two upscale Iguazú Falls hotels located within the national parks: the Gran Meliá Iguazú on the Argentine side and the Belmond Hotel das Cataratas on the Brazilian side. Both properties boast fabulous views from the common areas and from many guest rooms. Staying at either property affords you a major advantage: you can explore crowd-free before and after the national park's official visiting hours.
If you're open to staying beyond park boundaries, a lodge like Awasi Iguazú offers Relais & Châteaux luxury and exceptional guiding in a sublime Atlantic rainforest setting.
Iguazu Falls FAQs
Luxury Iguazú Falls trip itineraries
Wine tasting in Mendoza, natural wonders at Iguazu Falls, urban charms in Buenos Aires
8 Days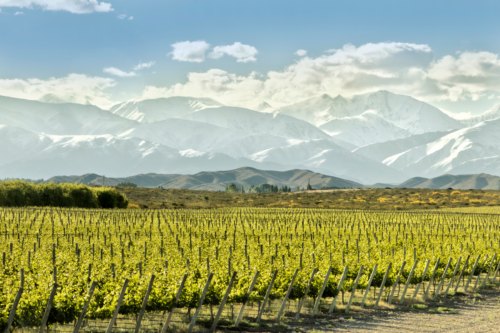 Argentine lakes, glaciers, waterfalls and wine-tasting
15 Days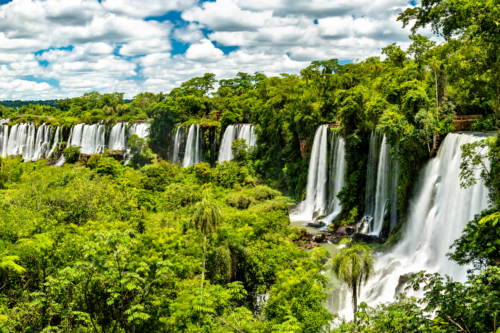 Luxury lodges and top experiences across South America's most iconic regions
15 Days | $18,550 per person
Iguazú Falls hotels
Accommodation
Iguazu Falls | Argentina
Awasi Iguazu in Iguazu Falls, Argentina is a luxury and privately tailored lodge geared toward the traveler looking for an active and upscale experience.
Accommodation
Iguazu Falls | Iguazu Falls
Grand hotel overlooking Iguazu Falls in Brazil
Other destinations to add to your Iguazú Falls trip
Plan your Trip
Ready to start planning your own incredible adventure? We make the process stress-free and enjoyable.