Although many people put travel on a pandemic pause, plenty of hotels and resorts used the time to complete renovations or expand existing portfolios. With a bloom of (re)openings in the past year—and some soon-to-debut ones, too—we're keen to dust off the passport for some revenge travel. From a reclusive safari camp in the Kalahari Desert to a neighborhood-defining Auckland hotel, these are the new properties in hot destinations we're most excited to send clients to in 2023.
Waterside at Royal Malewane, Greater Kruger National Park, South Africa
A family homestead-turned-luxury lodge collection, Royal Malewane has been inviting guests to Thornybush Private Game Reserve in Greater Kruger National Park since 1999. The Collection is praised for its outstanding guides, employing two of only seven living Master Trackers in the world. Malewane Lodge is the original installation, later joined by The Farmstead and most recently (July 2022), Waterside.
Constructed using glass, steel and thatch, and maximizing the view of a large waterhole, Waterside is a departure from Malewane Lodge's more traditional, elegant aesthetic. Instead, bright, punchy colors splash across the suites, enlivened by accent furnishings in contrasting patterns, textures and hues. Waterside offers four one-bedroom Luxury Suites, two one-bedroom Aloe Rooms, a two-bedroom Baobab Suite, and the exclusive-use, four-bedroom Waterside House. Each suite boasts a private deck with a heated plunge pool enveloped by a grove of fever trees. (Prepare to greet wildlife visitors—elephants are no strangers!) Each of Waterside's freestanding suites link up to the lodge's reception, dining areas, library, and spa via paths that are illuminated at night. Children of all ages are welcome.
Loapi Tented Camp, Tswalu Kalahari Game Reserve, South Africa
Slated to open in early July, Loapi Tented Camp will join the nine-suite Motse and exclusive-use Tarkuni homestead in the 247,000-acre wilderness of Tswalu Kalahari Game Reserve. A remote outpost and exclusive-by-design, the arrival of Loapi will excite reclusive vacation-goers who prefer wildlife for company and sand in the desert rather than the beach.
Translating from Setswana to the space below the clouds, Loapi will be made up of six safari homes designed as contemporary glass and steel pavilions, subtly tucked into the contours of a valley snug between the Korannaberg Mountains. Bedrooms are described as "cocoon-like sanctuaries under canvas, connecting guests to the sights and sounds of nature." Each generously sized safari home (measuring upwards of 3,000 square feet) is operated as a mini camp and distanced at least 165 feet from neighboring pavilions. This means there are no communal dining areas or shared services—assuring guests complete privacy. Instead, private service is offered by a dedicated butler, spa treatments are taken in-room, and all meals are prepared by a private chef in the fully stocked kitchen. Between private vehicle game drives (spot desert black rhino, black-maned Kalahari lions, habituated meerkat—and more), lounge on the day beds under deep, shaded decks, dip into a private plunge pool, and take sundowners or morning coffee at the firepit.
North Island Okavango, Okavango Delta, Botswana
In Botswana's Okavango Delta, transient islands are laced together by waterways that ebb and flow with the arrival of seasonal flood waters rolling off the Angolan Highlands. Equal parts aquatic labyrinth, woodland, and savannah, it's a dynamic ecosystem teeming with wildlife as diverse as its flora. And in June 2023, safari-goers will have a new, tantalizing lodging option. On a private upstream concession, Natural Selection's new North Island Okavango camp will host guests in three oversize tents. Lagoon-facing and shaded by ebony, mangosteen and wild fig trees, the luxury pavilions are influenced by bold shapes balanced with contemporary African design features. Each tent will sit upon a raised wooden deck cradling a sunken lounge and plunge pool. From this vantage point, guests might spy hippos languishing in the lagoon. After dark, a chorus of bell frogs sings while fireflies wink across the water. North Island Okavango will operate year-round (cozy up to a fireplace in winter; sleep cool in summer thanks to an environmentally-friendly, over-the-bed A/C system) and amenities will include an outdoor gym, library, communal dining, a stargazing deck, and crackling fire pit. By day, safari three different ways: on land, on water, or by air. Whether it's by balloon, mokoro or 4×4, this small island haven offers a pampered wilderness adventure.
Ishara, Maasai Mara National Reserve, Kenya
In a place where whimsical safari camps are the norm, it can be difficult to stand out in the crowd. And yet, from the moment Ishara Masaai Mara rolled out its welcome mat, this gem has shined. The camp is the vision of Azhar Madhani, a newcomer to hospitality, whose unique take on a safari camp is expressed in aspects, big, small, and sublime. One of Ishara's distinguishing design elements are distinctive, elevated foot bridges. Practical as they are, they also represent the spirit of oneness that interconnects all life within the universe. Another unmissable feature? A private observation deck overlooking a canopy of fig trees backdropped by a wide-open plains view. Here, a star bed sends dreamers into slumber beneath an inky sky punctuated by blinking stars. At ground-level, there are nine River Suites and two Family Suites, situated at the wilderness' edge. (We love the vintage copper tubs.) Alternatively, four Safari Suite canvas tents usher guests into the bush for an unfettered wilderness stay. Dining is described as "a journey," where ingredients are pulled fresh from the garden's solar powered, aeroponic tower farms. And through a collaboration with Canon, guests can borrow high-end cameras and lenses, and get access to a suite of professional editing software and a printer.
Kalepo Camp, Samburu, Kenya
Snug in a shady grove of acacia trees within a 390,000-acre private conservancy and backdropped by the cedar carpeted Matthews Mountains, Kalepo Camp lies in the heart of Samburuland. Officially open to guests in 2020, this exclusive-use safari camp features three ensuite tents and one family tent (comprising two, adjoining tents) to accommodate up to 10 adults and additional children on cots. Situated on a lugga (a sandy, perennially flowing riverbed) this remote outpost is best suited to dry season visits and most easily accessed via charter flight. Upon arrival, guests are warmly greeted by Storm and Rob Mason—Kalepo's owner-operators—their pups, and if elementary school is out, their son Angus. By day, guests take bush walks with Samburu guides or join in on Warrior Games. Trails lace the property, suited to mountain biking, hiking and birding. In the kitchen, meals are made with garden-grown herbs and produce, and dinners are hosted by the Masons. Dishes are served family-style, further lending to the camp's feeling of staying with friends.
Far and away, Kalepo's irresistibility is its cultural connection. Located beyond the well-trodden tourist trails, it's hard to overstate the authenticity of engaging with the Samburu. The traditional custodians of these lands, village visits aren't scrubbed and sanitized for consumption, and the 40-plus camp staff are all Samburu—and visits are richer for it. This serene, laid-back setting is a fantastic alternative to a post-safari beach trip. We feel a three-night stay hits just the right note.
Hotel Britomart, Auckland, New Zealand
Hotel Britomart has been a handsome fixture on the Auckland waterfront for two years now, but thanks to its pandemic premiere, only welcomed its first international visitors in March of 2022. Boasting a resume's length of eco-credentials and oozing cool, Hotel Britomart has been laden with global attention, earning countless awards and accolades. The project involved refurbishing three adjacent heritage buildings and building out a pedestrian-friendly laneway to connect two adjoining streets, between which, shoppers peruse tony boutiques and take lunch. Inside Hotel Britomart, the 99 rooms and five penthouse Landing Suites feel like softly lit timber cabins. Every inch of the unit feels considered—from the driftwood door handles dipped in brass to minibars lined with custom wallpaper commissioned from a local tattoo artist. Built to 5 Green Star standards—a New Zealand first and only—windows are undersize to better regulate temperature, linens are organic and complimentary slippers are compostable. Sustainability follows through to kingi, Hotel Britomart's brick-clad restaurant, where the dining philosophy is driven by ethically sourced seafood.
Usangu Expedition Camp, southern Tanzania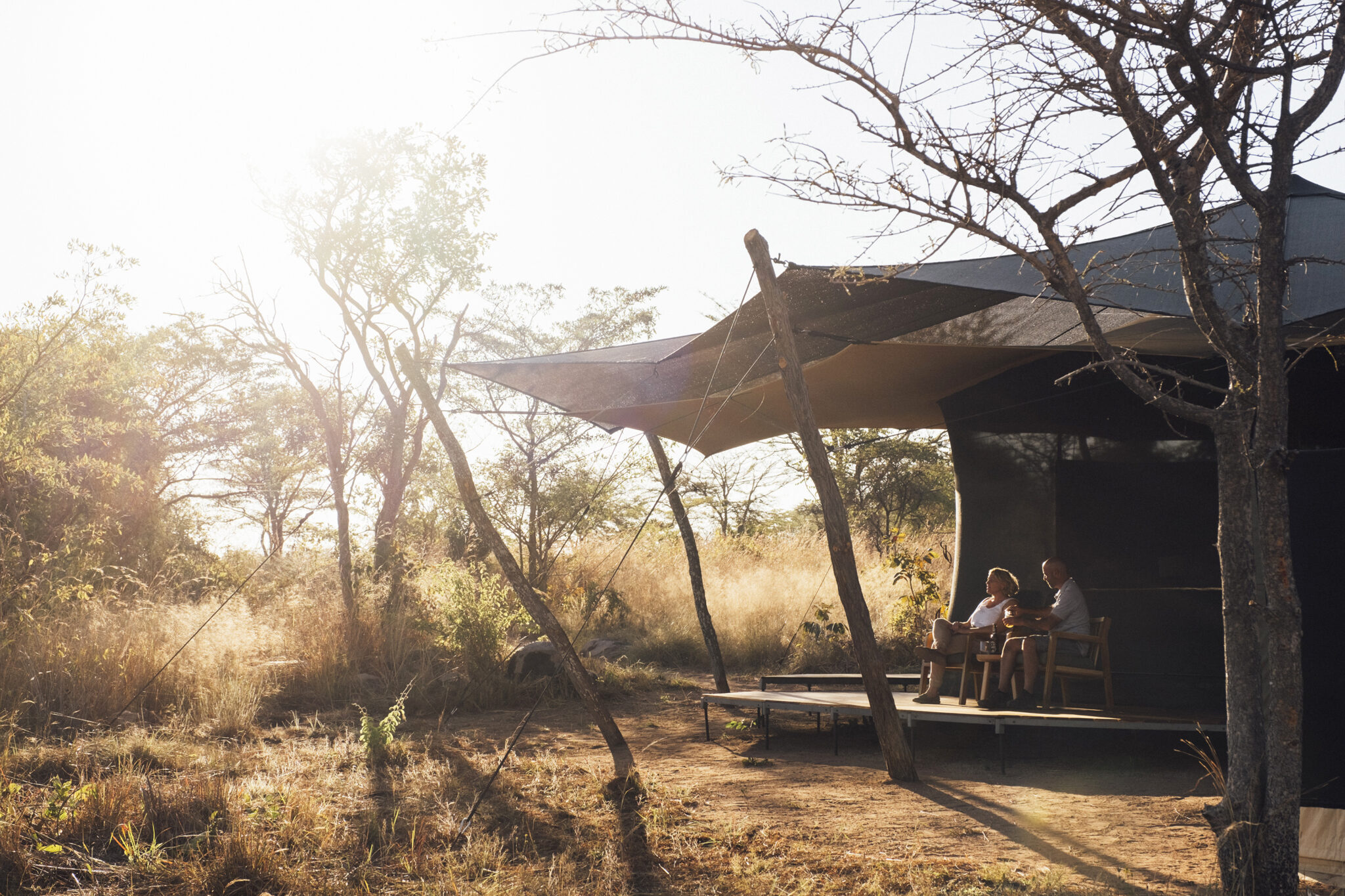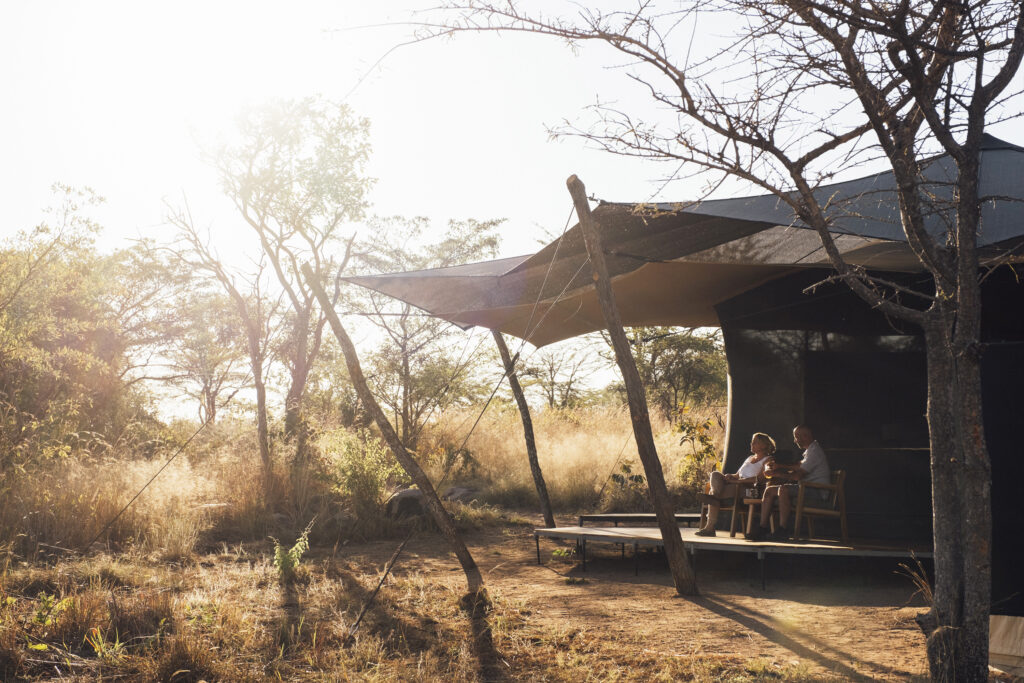 Conservation-minded intrepid travelers will be excited about Usangu Expedition Camp, a four-tent camp located in the wild and uncharted Usangu wetlands of Ruaha National Park—a pocket of Tanzania that receives far less visitors than its famous northern parks. The camp, which opened in June 2022, is part of an ambitious program to understand the health of the Usangu eco-system and what lives there. The result is a uniquely research-integrated safari where guests collaborate with local conservation efforts to discourage poaching, uplift local communities, and assist in collecting meaningful scientific data via biodiversity audits. In this game-rich wilderness the size of Luxembourg, game drives and water-based safaris afford glimpses of roan and sable antelope, wild dogs, yet-to-be-identified-and-cataloged amphibians, thousands of migratory birds and eye-popping congregations of ostrich that number in the hundreds. The opportunity to join resident researchers at the nearby Douglas Bell Eco Research Station as they track, dart and collar lions, leopards, elephants, and wild dogs is a highlight add-on. Back at camp, lodgings are rustic-refined. Each spacious, timber-accented suite features a private deck and an ensuite with a flush toilet and bucket-fed shower. In the common area, hearty meals are cooked over a fire and served open-air. For an ethereal night under the African stars, sleep out in the Usangu Star Cubes—a fly camping experience located at the more remote "Trails Camp" that offers 270-degree sky views from bed. Usangu Expedition Camp is open from June to November and requires a minimum three-night stay.
Banyan Tree Ilha Caldeira, Mozambique
Strewn along the Mozambique coast, a chain of 10 sparsely habited islands hems the continental shelf, peeking out above the waterline. Hugged by pristine coral reefs and teeming with sea life, it's nothing short of a veritable marine Eden—albeit a fragile one. In a conservation model observed across Africa, the pending debut of Banyan Tree Ilha Caldeira represents a joint conservation and development project made possible through collaborative private, public, and NGO efforts. The ultra-luxury, solar-powered private island resort will feature 40 sea-facing pool villas, making it a romantic destination that will undoubtedly beckon to honeymooners or make for a splendid, post-safari beach escape. Accommodations will range from villa suites to four-bedroom villas. Naturally, days will revolve around the marine environs. Adventure invites guests to pick up a paddle, bait a hook or hang ten. Offshore, divers might spot dugongs (imagine a manatee with a dolphin-like tail) bedding down in the seagrass, endangered green and hawksbill turtles, humpback whales and giant groupers. A full-time conservationist will head up research into the island's terrestrial biomes and the fauna and flora that call them home. Banyan Tree Ilha Caldeira is slated to open in early 2024 though enquiries and bookings are already being fielded.
Mukwa River Lodge, Livingstone, Zambia
Set on the banks of the mighty Zambezi, 14 miles upstream of Victoria Falls, the opening of Mukwa River Lodge brings an exciting new accommodation to the region. Family-owned and Residence Portfolio-affiliated, the low-profile lodge's mixed medium materials and decor give it a fresh, hip vibe. Austere steel and glass mingle with warm timber accents, cane pendant lights, stone-hewn vessel sinks, punchy green subway tiles and rustic stock tank plunge pools. Local art and hand-crafted décor give a distinct sense of place. Suspended hanging nest chairs, lofty hammocks, and Acapulco chairs invite guests to (literally) hang out after ambitious activities like river rafting, kayaking, or bungee jumping. The luxurious lodge offers just six suites in two room categories: four River Facing Suites frame the Zambezi River while two Island Suites sit hinter, hugged by a private garden overlooking an island waterway. A sprawling riverside deck beneath a shade-giving indigenous tree strung with lights is an open invitation to gather, sip, and savor a menu that will delight gourmands. Always creative and artfully plated, sample speciality delights like house-cured warthog prosciutto and milk bread baked in a baobab tree seed.
Kokomea PurePod, Te Horo, Kāpiti Coast, New Zealand
As luxury safari experts, we see a lot of open-air lodgings and al fresco dining, but perhaps nothing quite as unique as New Zealand's adult-only PurePods. First, the precise location is a secret. Each PurePod is snug in a reclusive, off-grid setting immersed in nature for total seclusion. There are no signs and absent a cell signal, you'll rely on a set of instructions to follow a trail (up to a half-mile long) in order to reach the eco-cabin. Upon arrival, you're greeted by a dwelling that looks like a tiny home—but that's where the resemblance ends. Save for the floor, the entire PurePod is made of panes of glass framed in steel—even the roof. Once daylight fades into dusk, the night sky illuminates with stars and transforms the PurePod into a star bed (albeit, a covered one). The effect is a deeply personal experience of nature's show, utilizing all the senses whilst sheltered in luxury. Naturally, first-timers question the privacy of PurePods where even the shower is ensconced in glass. Blinds and shower curtains can be retracted but guests soon come to truly realize and appreciate the isolation they're swathed in.
The March 2022 debut of Kokomea PurePod on the Kāpiti Coast brings the franchise's total pod count to nine, and is currently the only North Island offering.
Explora Lodge, Patagonia National Park, Chile
In 2018, Chile gazetted 10 million acres of Patagonian wilderness into five new national parks. The act, which expanded the country's national parklands by nearly 40 per cent, would not have been possible without the donation of 480,000 privately-owned acres endowed by Kristine Tompkins, co-founder of Tompkins Conservation and widow of Douglas Tompkins (founder of The North Face apparel company). From this gifted parcel, and in combination with additional reserves and land acquisitions, Patagonia National Park was born. In December 2021, Explora—a travel outfit with 25 year's experience creating journeys in South America's most remote pockets, thread together with luxury lodges as base camps—officially debuted its handsome, stone-clad property in Patagonia National Park. Counting just 10 TV-free rooms with suites dressed in timber and offering views of the Tamango Hills, the lodge is an intimate one. Guests are invited to participate in full or half-day "explorations" (aka: excursions) that include hiking, mountain biking, horseback riding, peak bagging, and overlanding through the region by van. Keep a watchful eye for pumas, condors, guanaco and flamingos. After a day of adventure, restore strained muscles in a bubbling Jacuzzi or with a relaxing massage before tucking into a gourmet meal that shifts with the availability and seasonality of locally sourced ingredients. Guests can stay as a one-off destination or as a part of a longer, lodge-to-lodge Patagonia itinerary ("Explora Journeys") where transfers are made via exclusive Explora aircraft and vehicles.

The dramatic Kaikōura coastline is an internationally-renowned ecotourism destination,…
Whether it's through investing in conservation initiatives, operating with a light…
Plan your 2023 adventure with us!
Ready to start planning your own incredible adventure? We make the process stress-free and enjoyable.