Turquoise lakes, rolling hills blanketed in swaying pampas, snow-veined mountains, and an open dirt road running towards the horizon. Chilean Patagonia is one of the world's most remote regions, and its least-populated quarter, Aysen, feels like the final frontier. Although a lack of infrastructure—and paved roads—means it attracts a more intrepid type of traveler, the natural beauty and development of beautiful ecolodges make the bumpy drive worth it.
When Tompkins Conservation, the non-profit founded by retail moguls-turned-conservationists Douglas and Kristine Tompkins, opened Patagonia National Park in 2018, it put the region on the map. Now, luxury South American ecotourism company Explora is drawing more visitors to Aysen with its new lodge, opened in late 2021, the only property inside the park. Because tourism is still developing in this area, local tour companies and lodges have the opportunity to grow and operate sustainably.
Whether it's through investing in conservation initiatives, operating with a light carbon footprint, or most importantly, investing in local communities, these three eco-lodges set the standard for sustainable luxury in Chile's Aysen region of Northern Patagonia.
1. Mallin Colorado, Lake General Carrera
Perched on a hillside above Lake General Carrera's striking aquamarine water encircled by snow-capped mountains, family-owned Mallin Colorado Ecolodge offers the most beautiful views in the region. Four standalone cabins and six private rooms in an intimate lodge were constructed using locally-salvaged wood and designed in a way that doesn't disturb the surrounding forest. The lodge also undertakes ongoing reforestation work and so far, they've planted over 500 trees on the property and surrounding trails.
Guests will be treated to exceptional farm-to-table cuisine during three-course dinners, made using ingredients sourced locally or grown on-site in the greenhouse. It's the people that really make this spot special, however. After a couple of days here, the staff feel like family, so it's no surprise that it's a small, family-run enterprise. Manager Paula Christensen and her family opened the lodge 30 years ago after visiting from Santiago on a family camping trip and falling in love with the landscape. Since then, they've continued to employ the local community at the lodge and collaborate with local operators.
Mallin Colorado partners with small guiding companies to create bespoke trips in the area, taking travelers to the Marbles Caves by kayak, or trekking across Exploradores Glacier. Staying at a locally-owned lodge that invests in the community is crucial in ensuring tourism dollars benefit the development of a sustainable tourism-based economy in an emerging destination.
2. BordeBaker, Puerto Bertrand
Continuing south along the Aysen region's main highway, the Carretera Austral, travelers will reach the small town of Puerto Bertrand on the shores of the shockingly turquoise Baker River. On the village's main beach, rafting operators set up shop, taking adventures out on the river's class III rapids for an exhilarating paddle. Lodging options in this area are peppered along the river's edge south of the town itself, including BordeBaker Lodge.
At BordeBaker, seven private cabins designed to integrate seamlessly into the surrounding landscape are made from native wood and connected by a cypress walkway which branches out from the Main House, or Casona. The rooms' floor-to-ceiling windows frame views of the rushing river and lush nirre forest, while leafy balconies offer a secluded rest spot after a day of exploring. LED lighting, as well as robust recycling and water treatment systems reduce waste and eliminate single-use plastic.
The restaurant in the main house is anchored by a central hearth, and plates like fresh vegetable soups and sirloin steak sourced from local gardens and farms draw diners from around the region. While there's plenty to enjoy at the lodge and along the Baker River—road trippers shouldn't miss a picnic lunch at the confluence of the Baker and Nef Rivers—guests at BordeBaker will want to make the drive down to Patagonia National Park to hike its extensive trail system.
3. Explora, Patagonia National Park
For travelers who want a full immersion into this new national park, a stay at the Explora Patagonia National Park lodge right inside the parkland is a must. Opened in October 2021, Explora works with non-profit Rewilding Chile, the offspring of Tompkins Conservation, to support the ongoing ecosystem restoration happening in the park. On guided hiking, kayaking, and bike riding, guests get an inside look at a landscape that's been rewilded over the last decade to reintroduce endemic species like rhea, condors, and pumas. A portion of proceeds from each guest's stay supports this continued conservation work.
Visitors might be hard-pressed to drag themselves away from the dreamy lodge itself, though. The spacious rooms take a cue from a traditional Patagonian ranch, or estancia, design, decorated with locally-crafted wood furniture, stone fireplaces, and interesting details like sliding wood doors emblazoned with relief sculptures of local wildlife. The restaurant in the main lodge serves up sustainable meat and seafood, fluffy house-made bread, and maybe the best pisco sour in the region. The local guanacos — wild Patagonian llamas — often gather on the lawn at breakfast, welcoming guests to a new day in this wilderness paradise.
Plan Your Trip
Talk to one of our travel specialists to plan a journey through southern Chilean Patagonia, whether that's riding horseback though the national park, sipping Chilean wines, planning a multi-day trek, embarking on incredible day hikes, fishing, and more, or team of South American specialists have got you covered. Two of our favorite adventures in the Aysen region are whitewater rafting on Rio Baker and kayaking the Marble Caves.
Want to explore this region further? Take a deeper dive into Chilean Patagonia with us on these three great itineraries: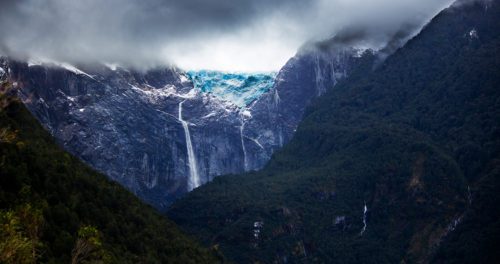 Remote and Rugged Patagonia Adventure
12 Days | $9,350 per person
Wild Patagonia meets the lunar landscapes of the Atacama and lush wine valley of Millahue
11 Days | $9,600 per person
Glaciers in El Calafate, mountains in Torres del Paine, sophistication in Buenos Aires & Santiago
11 Days | $8,750 per person
---
Plan your Trip
Ready to start planning your own incredible adventure? We make the process stress-free and enjoyable.
---