Explore Cartagena from the city to the sea—the perfect (extra) long weekend break
The city of Cartagena—Colombia's glittering star—embodies so much of what makes Colombia the vibrant, diverse country that it is. Take time to explore the colorful history of the city's Old Town, a UNESCO World Heritage Site, and discover its contemporary art, food, and culture scene on two expert-led walking tours. End your days of exploring with a sunset cocktail overlooking the sea at a café perched on the walls of the Old Town.
Situated on the Caribbean coast, a stay here isn't complete without escaping the city for some time out on the water. When you check in to one of Cartagena's most luxurious heritage hotels, you'll have access to a private white sand beach on the coastal island of Barú. Get a taste for the best of Cartagena, and then continue on with the rest of your Colombia adventures.
Day-to-day itinerary
DAY 2:
Explore the city on a private walking tour
DAY 3:
Head to Acasi private beach for the day
DAY 4:
Tour the cultural hub of Getsemani on a private walking tour
Short Break to Beaches, Culture, and Sunsets trip highlights
Arrive in Cartagena and enjoy a private transfer to your home for the next four nights, Casa San Agustin. Nestled in the heart of the UNESCO World Heritage Old Town, the historic boutique hotel preserves its colonial heritage with original frescos and vaulted ceilings, while offering modern luxuries. With live salsa music, a rooftop bar, and cruiser bikes, it's not short on fun, either.

Savor a cocktail or glass of wine with a view of the sea from high above Old Town at Cafe Del Mar. The bar's outdoor terrace is located on top of the city's historic stone walls.

Explore two different sides of Cartagena on privately guided walking tours. One day will take you into the heart of the Old Town to unearth its rich history and colonial architecture, and on the second day, you'll discover the vibrant neighborhood of Getsemani. The street art haven is home to some of the city's best bars, restaurants, and galleries.

Escape the buzz of the city for the day by hiring a boat (just a 45-minute ride) to whisk you to Acasi, a private beach on the island of Barú. Reserved exclusively for guests of Casa San Agustin, Acasi allows you to immerse yourself in the serenity of nature for the day on a sandy beach complete with a shaded cabana and loungers, a full kitchen, outdoor showers, and hammocks in the trees. You'll also enjoy Cartagena's classic cuisine such as fresh fruit, lobster empanadas, and seafood paella next to turquoise water while sipping on sparkling wine or local beers (the hotel will pre-pack the cooler with your drink of choice). Feel like getting active? There's snorkeling gear and kayaks too.
Price
Starting at $2975 per person traveling in 2024. Contact us for pricing and to connect with your personal travel expert
Itinerary Map
Other South American itineraries to explore
Explore the dynamic culture of Colombia's cities and unwind on pristine beaches.
12 Days | $6,050 per person
Discover two of Colombia's iconic cities and natural beauty of the coffee region.
9 Days | $4,800 per person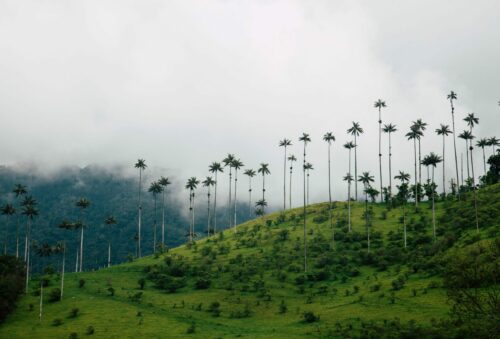 Savor culture, coffee, and nature on this trip covering Colombia's major cities, a beach break,...
13 Days | $7,400 per person