The Andes Mountains don't always get the kind of fame and glory bestowed upon the Himalayas. Yet, not only do they have the tallest peaks in the Western Hemisphere; they make up the longest mountain range in the world, spanning the length of South America from Colombia all the way down to Chile and Argentina. These massive mountains hold over 200 active volcanoes, thousands of glaciers and some of Earth's largest nonpolar ice fields–not to mention the planet's largest salt flat, highest navigable lake and most diverse national park. The Andes are, in short, the ultimate playground for all levels of hikers, home to some of the best hikes in South America.
Where you trek depends on the sort of adventure you prefer. The Andes start out lush and tropical in Colombia, morph into grassy highlands filled with ancient ruins in Ecuador and Peru, and soar into giant peaks along the Chile-Argentina border. Down in Patagonia, they hold rainforests and fjords on one side, and glaciers and steppes on the other. The opportunities for adventure are endless, which is why we've helped to narrow things down. Below are six of the best places to hike in South America.
The Best Hike in Argentina
Laguna de los Tres: El Chaltén, Mount Fitz Roy, Argentina
If you've ever shopped for gear at outdoor retailer Patagonia, then you're already familiar with Mount Fitz Roy, the toothy granite peak that inspired its logo. The journey to view Fitz Roy's milky moraine lakes is one of the most spectacular day hikes in South America. Not only do you get a chance to view this castle-like massif up close; you also get a highlights reel of Argentina's famed Los Glaciares National Park. The 15.5-mile out-and-back journey begins in the small resort town of El Chaltén, which is such a new village (built in the 1980s) that it didn't even need a cemetery until 2021. A gentle climb from town leads to an overlook of the braided De las Vueltas River, which leads you to a large meadow with Fitz Roy looming in the backdrop. The final stretch is a demanding 1,400-foot ascent, zigzagging above the tree line to a rocky perch atop twin lagoons. Plan to stay at the newly opened Explora El Chaltén, which has the region's best guides, who'll set out a picnic for you at the top and have a cooler of local craft beer on hand for the ride home. The property itself overlooks the verdant Electric Valley and its Marconi Glacier, which glistens on the far side of your window.
Length: 12.9-miles out-and-back
Elevation gain: 3326 feet (1,014 meters)
Difficulty: Hard
Best nearby accommodations: Explora El Chaltén
The Best Hike in Chile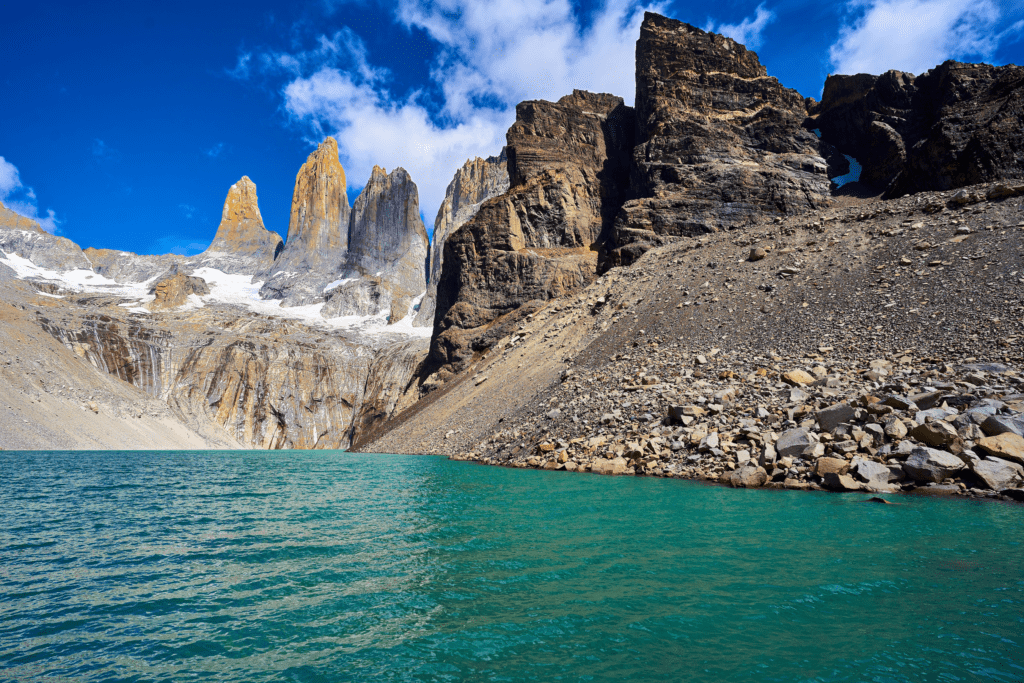 Mirador Las Torres, Torres del Paine, Patagonia, Chile
Few national parks in South America are as iconic as Chile's Torres del Paine. And nowhere will you find a panorama as dramatic as the one at the base of Las Torres, where three granite peaks of the Paine Massif rise 8,200 feet toward the southern skies. The hike to reach this Patagonian lodestone begins near Hotel Las Torres and ascends from there into the stark wilderness of the Ascencio Valley. The big uphill push begins soon after you pass Refugio Chileno campground, where you'll have to cross a few streams before climbing up to the foot of Las Torres. The hike is only 11 miles out and back, but there's a substantial elevation gain of nearly 3,000 feet. Plus, you should expect four seasons of weather along the way—all accompanied by the region's notorious winds—making layers essential. Luckily, visitors are spoiled for options when it comes to a comfy base camp for hiking in Torres del Paine. On the higher end, Tierra Patagonia is a design hotel that completely blends into the landscape, offering lake views, guided excursions and loads of Patagonian character. Meanwhile, sustainability-minded EcoCamp Patagonia houses guests in plush Geodesic domes connected by raised walkways to minimize the environmental impact. This camp is located right next to the trailhead, making it super easy to access.
Hanging Glacier (Mirador Ventisquero Colgante): Queulat National Park, Northern Patagonia, Chile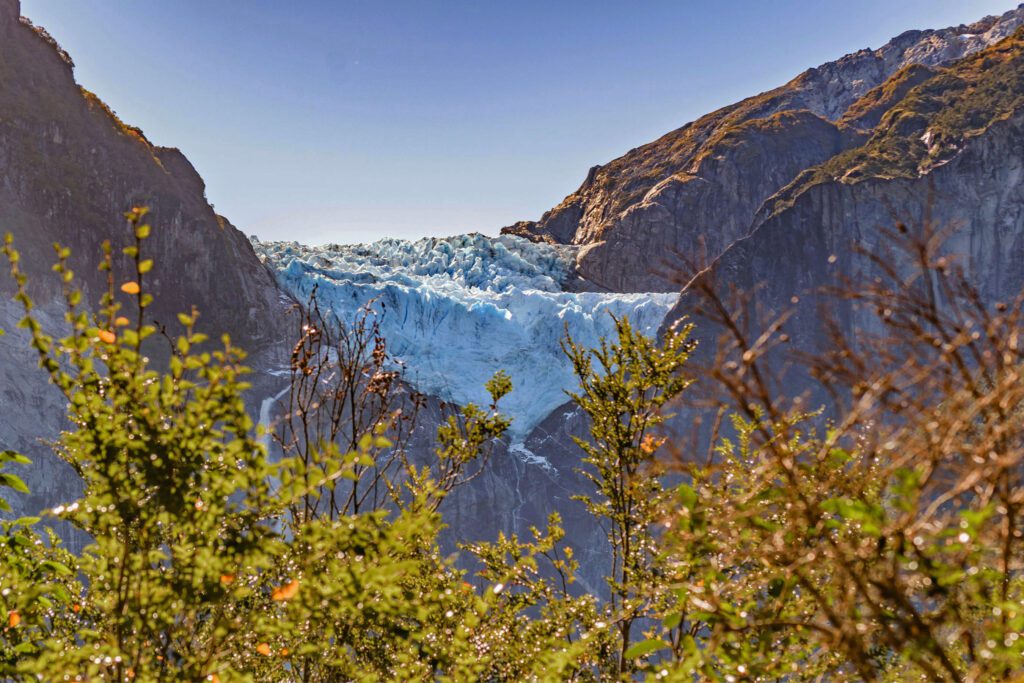 The Carretera Austral (or Southern Highway) is the only artery snaking through the gurgling volcanoes, vast ice fields and temperate rainforests of Northern Chilean Patagonia. Best of all, it's blessed with an array of spectacularly remote hikes just a quick detour away. Among the most scenic is the Ventisquero Colgante ("hanging glacier") of Queulat National Park, which tumbles down the Andes before spilling into its moraine lake in ribbons of cascading water. The relatively easy hike to reach it traverses a lush, fern-filled forest out to the powder-blue Laguna Tempanos. After enjoying the glacier from afar, you can continue up the four-mile out-and-back Moraine Trail to get a close-up of the strikingly blue ice. The full experience shouldn't last more than a few hours, so after hiking, pop over to Puyuhuapi to soak in a natural hot spring while watching dolphins flitter across an emerald green fjord. The nearby Melimoyu Lodge, built of stone and rough-hewn wood, is the area's most alluring adventure-based retreat. Guests sleep amid local textiles in the rooms, gather for pisco sours by the fire-heated lounge, or in the hot tubs next to the rushing river, and peruse the large list of Chilean wines at the restaurant—all, of course, when not enjoying onsite activities, such as kayaking, hiking and fly fishing.
Length: 3.4 miles out and back
Elevation gain: 997 feet (304 meters)
Difficulty: Hard
Best nearby accommodations: Melimoyu Lodge
The Best Hike in Peru
Salkantay Trek: Lodge to Lodge Trek, Cusco, Peru
Multi-day lodge-to-lodge journeys are not nearly as common in the Andes as they are in the Alps, which is what makes the Salkantay Trek such an appealing proposal. This six-day, 46-mile hike (one of the best hikes in Peru) takes you along a historic stretch of Inca trails, passing more than a dozen different ecosystems (from barren mountaintops to dense forests) before you end at the famed 15th-century Inca citadel Machu Picchu, a Unesco World Heritage Site and one of the New Seven Wonders of the World. Along the way, you learn about local agricultural practices, visit an organic coffee plantation, discover ancient ruins, traverse a 15,000-foot mountain pass, and explore villages whose residents proudly maintain Indigenous Quechua traditions. Of course, the benefit of doing this trail is that you can spend each night in lodges that, while remote, offer sweeping Andean views, snug beds and first-class Peruvian meals (think: energy-boosting quinoa bowls, colorful potato dishes, and fresh ceviches). There are even Jacuzzis and spas where you can soothe sore muscles and rest weary bones. Hiking doesn't get more comfortable than this.
The Best Hike in Ecuador
Cotopaxi Volcano: Quito, Ecuador
It's hard to walk down the cobblestoned streets of Historic Quito and not dream about that distant volcano looming on the horizon. At 19,350ft, Cotopaxi dominates the skyline and is among the highest active volcanoes in the world. In fact, it's erupted 87 times in recorded history, including most recently in 2016. So, naturally, people keep their distance… right? Wrong! Climbing this nearly symmetrical cone is one of Ecuador's greatest adventures, as Cotopaxi is home to one of the only equatorial glaciers in the world. That means you'll need crampons, ice axes and ropes—all after completing a six-hour scramble on the lower slopes (the trail begins at around 14,800ft, cutting out several days of climbing). Most aspiring volcano summiteers begin their journey at midnight to arrive at the top in time for sunrise. The ascent is not highly technical, but it does require proper acclimatization. Hacienda San Agustin de Callo, one hour south of Quito in the Avenue of the Volcanoes, makes an ideal base camp for that. Its buildings have served as both an Inca fortress and Augustinian monastery, with the character and quiet charm to prove it.
Length: 4.5 miles out and back (7.4 kilometers)
Elevation gain: 4058 feet (1,237 meters)
Difficulty: Hard
Best nearby accommodation: Hacienda San Agustin de Callo
The Best Hike in Colombia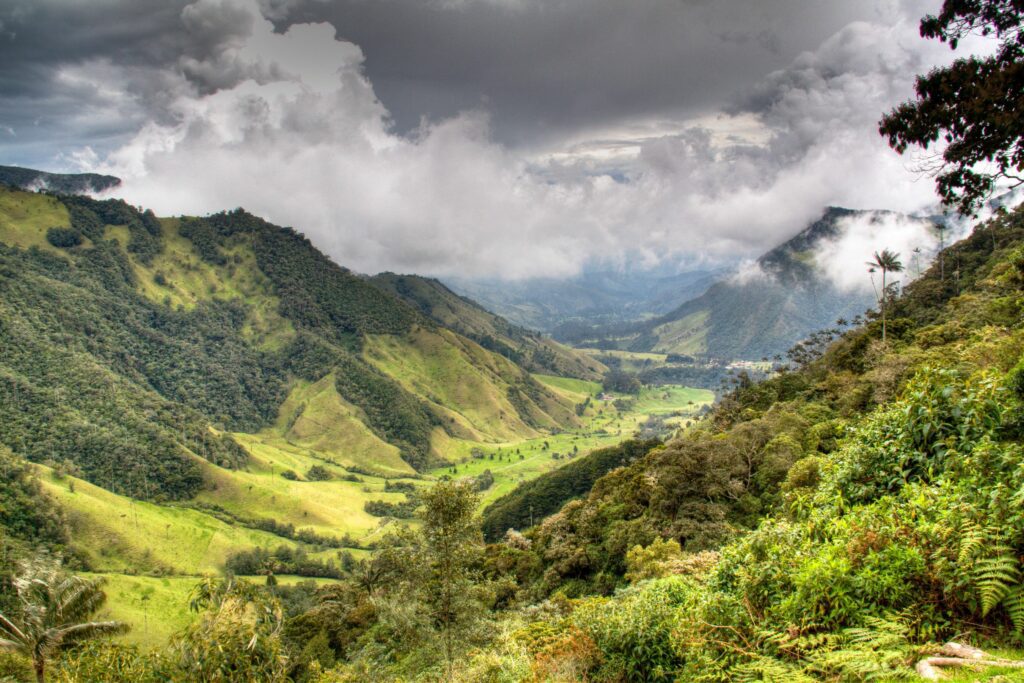 Cocora Valley, Eje Cafetero, Colombia
Colombia is the birthplace of magic realism—and nowhere is the scenery as enchanting as in the Eje Cafetero, epicenter of the nation's booming coffee industry. All hikes here begin with a strong caffeine fix at hotels like Hacienda Bambusa, a sprawling estate (made of bamboo and clay) on a working coffee and cacao farm. As the inspiration for Casa Madrigal in Disney's Oscar-winning film Encanto, magic is all but guaranteed! The most dreamlike hike in the Eje Cafetero lies in the Cocora Valley, which is home to the tallest palm tree on earth: the Quindío wax palm (Colombia's national tree). This lush valley has palms rising up to 200 feet and lies within the Los Nevados National Natural Park, which also boasts misty cloud forests, dense jungle, snow-capped volcanoes and a patchwork of historic farmlands. You can hike the Cocora Valley in a handful of different ways, depending on your mood or fitness. The most common is a 6.5-mile circuit (go counter-clockwise) crossing several suspension bridges and entering into thick forests brimming with birdlife. A sanctuary for hummingbirds, you'll also find everything from Andean condors to yellow-eared parrots. Bring boots; it can get muddy!
Length: 6.4 mile loop (10.3 kilometers)
Elevation gain: 33.8 feet (760 meters)
Difficulty: Hard
Best nearby accommodations: Hacienda Bambusa
Check out these itineraries featuring the best hikes in South America: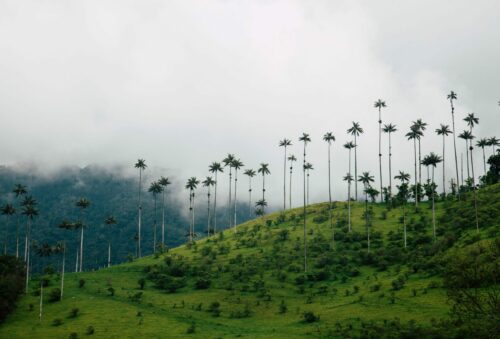 Journey Deep Into Colombia Savor culture, coffee, and nature on this two-week trip covering…
14 Days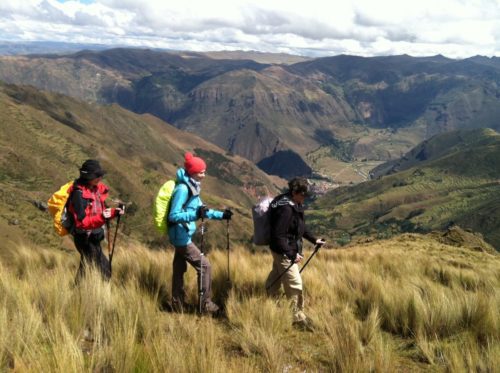 The Salkantay Trek takes you to Machu Picchu in style; cultural highlights await at Lake Titicaca
13 Days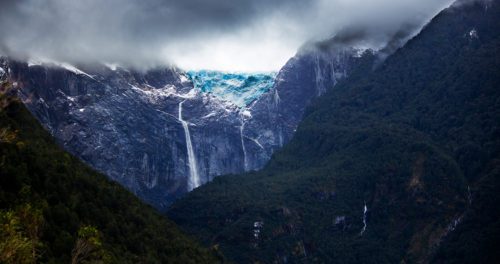 Remote and Rugged Patagonia Adventure
12 Days
Connect
Let Emily help you plan the hiking trip of a lifetime for you.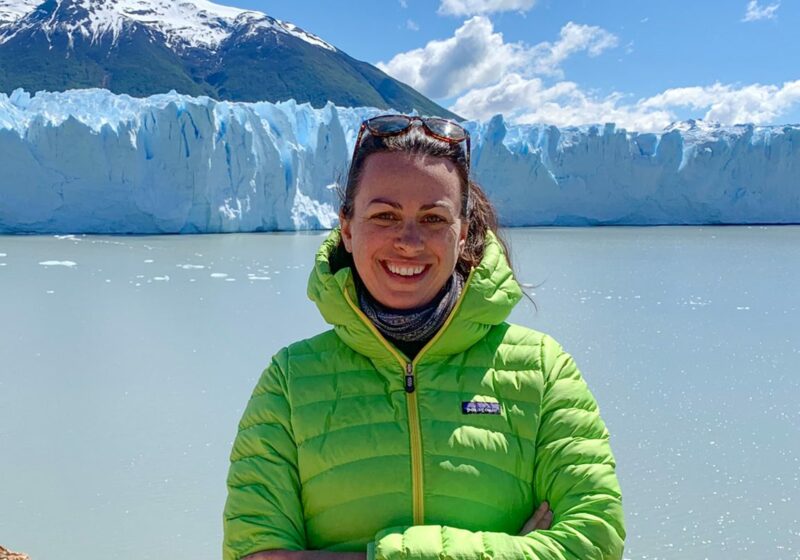 Emily Cottingham