Marrakech is the kind of place that travel dreams are made of—a city full of winding streets and secret passageways, where half the fun of visiting lies in getting lost and stumbling upon something unexpected. With a population of almost one million people, Marrakech is the fourth-largest city in Morocco. But the tourist-friendly Medina—a car-free warren of markets, pathways, squares, and hidden riads—is easily navigable and full of charming surprises. Here, we've outlined the 10 must-do activities in Marrakech, in the Medina and beyond. Here's the Extraordinary Guide to Marrakesh.
1. See Yves Saint Laurent's Majorelle Garden and Visit the Yves Saint Laurent Museum
1920's French artist Jacques Majorelle moved to Marrakech and over the next two decades, he transformed his property into a lush botanical garden, Jardin Majorelle. The fashion designer Yves Saint Laurent purchased the property in the 1980s and preserved the oasis, including the iconic blue residence. Today, it's open for visitors to stroll through the grounds and tour the house for a fee, while fashionistas will want to visit the Musee Yves Saint Laurent next door, showcasing a collection of couture fashion and rotating exhibits.
2. Marvel at the Ornate Bahia Palace
Built in the 19th century, the extravagant Bahia Palace is one of the most interesting sites in Marrakech. Used as a royal residence until 1956, the palace once housed Grand Vizier Bou Ahmed, along with his four wives and 24 concubines. While there's plenty to explore, the courtyard might be the star of the show, made from Carrara marble and designed with intricate tile mosaics surrounding a series of fountains.
Images from left: Vendor selling food by Kasia Gatkowska Courtesy of El Fenn, Courtyard at Villa des Orangers Image by Villa des Orangers, Aloe Vera thriving in Jardin Majorelle Image by Elizabeth Gordon, Tannery in Fez Image by Daniel Viero, Pomegranate stand in Marrakesh Image by Mitchell van Voorbergen Courtesy of El Fenn, Dining Area at Villa Des Orangers Image by Villa des Orangers.
3. Shop 'Til You Drop in the Medina Marketplace
Those who love finding the perfect souvenir will be overcome by the riches for sale in the various markets of the Medina. You can easily spend an entire day wandering through the markets, oohing and aahing over lamps, rugs, spices, and more, all for a fraction of what they might cost in a boutique shop at home. Items like leather slippers, inlay backgammon sets, unique glassware, spices, and soaps will be easy to bring home on your luggage, while you might have to plan ahead for larger items like lamps, rugs, furniture, and more. The Marrakech airport has a service that will box and wrap your items in protective plastic for a small fee.
4. Stay in a Glamorous Hidden Hotel
To truly experience life in the Medina, book a stay in one of the many magical riads scattered throughout the city. Usually unassuming from the outside with just a name plaque and a door, as soon as you step inside you'll find a stunning multi-story home, many with pools, rooftop restaurants, and uniquely appointed rooms. Villa des Orangers, a Relais & Chateaux property, marries modernity and tradition with comfortable, updated suites, a decadent spa, and world-class dining. Riad El Fenn, owned by Vanessa Branson, is one of the most stylish hotels in the world. A dizzying maze made up of multiple buildings, there's a rooftop pool, a hip bar, and a curated boutique.
5. Dine on Fresh Moroccan Fare
Morocco is a foodie paradise and in Marrakech, you'll find one of the best restaurants in the city hidden on an unassuming side street in the Medina. Go up a flight of stairs and you'll find yourself in the bright and airy Nomad Restaurant, with one of the best views in town. Vegans and vegetarians will rejoice at the incredible salads and mezze platters, while the braised lamb and chicken confit are unparalleled. The restaurant doesn't serve alcohol, so make a reservation for lunch and accompany your meal with fresh juices, coffees, or herbal infusions. If you're in town for a few days, make sure to come here at the beginning of your trip–it's so good, you may even want to dine here twice.

6. Wander Through Ben Youssef Madrasa
While non-muslim tourists aren't permitted to enter Koutoubia Mosque—the gorgeous mosque across from Jemaa El Fna square—all are welcome to tour Ben Youssef, once one of the largest Islamic colleges (madrasa) in North Africa. Originally founded in the 14th century, the building is no longer used as a madrasa but is worth a visit for the breathtaking courtyard and prayer hall.
7. Stroll the Grounds of One of Africa's Most Famous Hotels
The historic La Mamounia is one of the grandest hotels in the world. First opened in 1929, the hotel has hosted notables like Winston Churchill, Nelson Mandela, and Alfred Hitchcock, along with a slew of A-list movie stars, musicians, politicians, and royals. The expansive grounds–including beautifully-appointed guest rooms, ultra-luxe private villas, a gorgeous pool, and almost a dozen bars, restaurants, and tea rooms are just a stone's throw from the Medina but feel a world away. Even if you're not staying here, it's worth a visit to soak in the glamor and history of the hotel with a drink at the Majorelle Bar.
8. Delight Your Senses at Jemma El Fna's Night Market
Marrakech's main square is full of beautiful chaos any time of day, but to experience it, visit right after the sun goes down, when dozens of food stalls set up shop selling delicacies like grilled lamb kabobs or sweet pastries. In addition to food stalls, there are performers of all kinds, including snake charmers, belly dancers, and monkey handlers.
9. Get Scrubbed in a Hammam
Communal hammams—bathhouses with thermal baths and steam rooms—are a big part of Moroccan culture. While tourists aren't necessarily welcome at some of the local facilities, there are plenty of spas in Marrakech where you can experience the hammam along with a massage and scrub. In the medina, you can book an affordable treatment at Heritage Spa or Hammam de la Rose, but the best experience in town is the gorgeous hammam at the Royal Mansour Hotel.
10. Experience Desert Life in Scarabeo Camp
No visit to Morocco is complete without a taste of Beber culture and for those that don't have time to make the 8-hour car ride to the famous Erg Chebbi dunes near the Algerian border, there's Scarabeo Camp. Just 45 minutes from the Medina, Scarabeo Camp offers a glamping experience with views of the Agafay Desert and the Atlas Mountains. Dine on traditional Berber cuisine cooked in a traditional earth oven during a candlelit dinner and stay overnight in one of the sumptuously appointed safari tents.
---
Check out these Moroccan Itineraries: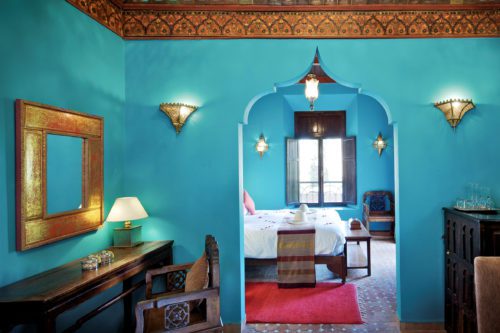 Explore Medinas, Gardens, Mosques, and the breathtaking High Atlas Mountains
9 Days | $5,800 per person
Explore Medinas, Markets, Dunes, an Oasis, and the beautiful seaside of Essaouria
12 Days | $9,800 per person