Whether you're an expert with all the gear or a beginner photographer, there's a perfect camp for your photographic safari. From expert guides and world-class camera equipment to photographic hides for optimal viewing, the properties we work with offer spectacular experiences. Here, we share everything you need to know to make the most of photography on safari.
Frequently Asked Questions
We get a lot of great questions from our clients who are interested in making photography a central element of their safari experience. Here are a few common questions we'll answer for you in this piece:
What are the best times of year for photographers to visit Africa?
How much time do you recommend we spend at each camp?
Can Extraordinary Journeys help me find a specialist photographic guide to accompany my safari?
Will the camps have specially-equipped photographic vehicles?
How close will I get to the wildlife?
Where can I get access to computers and editing software to use while on safari?
What are the luggage allowances for camera equipment?
Will the camps have charging areas for my batteries?
Can I bring a drone?
When to Visit Africa for a Photographic Safari (and What to Expect)
Generally speaking, we advocate for a slow-travel approach whenever possible, especially on safari. The less time you spend in transit, the more time you'll have to enjoy your destination, get to know the guides, and—best of all—encounter incredible wildlife. We recommend you spend at least three nights at each camp.
The best time of year to safari really depends on where and when you travel in Africa. Usually, you'll want to travel in the driest season when the safari experience is most dramatic, typically between June and October.
If you can withstand the heat, we think October is the most dramatic time for photography in Botswana, Zambia, and Zimbabwe.
In East Africa, photographers love timing their safaris with the Great Wildebeest Migration from June through October.
We especially love East Africa from late September through December. There are fewer crowds, and even though it can be a bit damp at times, the rains only add to the drama. Another great time to visit East Africa is in January and February.
That said, some photographers love the green season: dramatic skies, clouds to soften the light, fewer crowds, longer days, and less dust.
Where to Go for Photography on Safari
Learn from the Experts: Camps with Photographers In Residence
Three of our all-time favorite camps with in-house photography experts are:
Get the VIP Treatment: Hire a Private Specialist Guide
For an even more exclusive photography experience, consider hiring a specialist photographic guide. Here are three of our favorite options.
Wild Studio with Great Plains Conservation — Botswana & Kenya
Wild Studio was founded by world-renowned wildlife filmmakers and photographers, and the expertise of their guides matches that pedigree. Still, whether you're a beginner or an experienced photographer, you're welcome at Wild Studio. Your private guide will educate you on photographic techniques while also providing key insights and time-earned perspective on the area's wildlife, their habitats, and the importance of preserving the ecosystem. And at the end of your safari, a storyboarding exercise helps you tell the story of your safari and help spread the message about conservation once you return home.
Tafika Camp — Zambia's South Luangwa National Park
A New Zealander by birth, Bryan Jackson visited Africa for the first time in the 1970s and never left. Now co-owner and Safari Manager of Remote Africa Safaris, Brian is based at Tafika Camp in Zambia's South Luangwa National Park. He has been guiding in the Luangwa Valley for over 20 years and provides exceptional photographic expertise for specialized photographic safaris, thanks to his keen eye and decades spent honing his craft.
Depending on the size of your group, the fee to hire Bryan Jackson is $400 to $700 per day and includes a private photographic vehicle.
The Hide — Zimbabwe's Hwange National Park
The Hide has an in-house photographer/videographer, Neil Fairlie, a native Zimbabwean and experienced wildlife documentary filmmaker. While Neil is based at The Hide, he's also available to guests at Changa Safari Camp. Neil can guide tours for groups or individuals, beginners and professionals alike. The fee for groups of 1-4 travelers to hire Neil is $420 per day (for a full day), including a private vehicle and guide, in addition to Niel.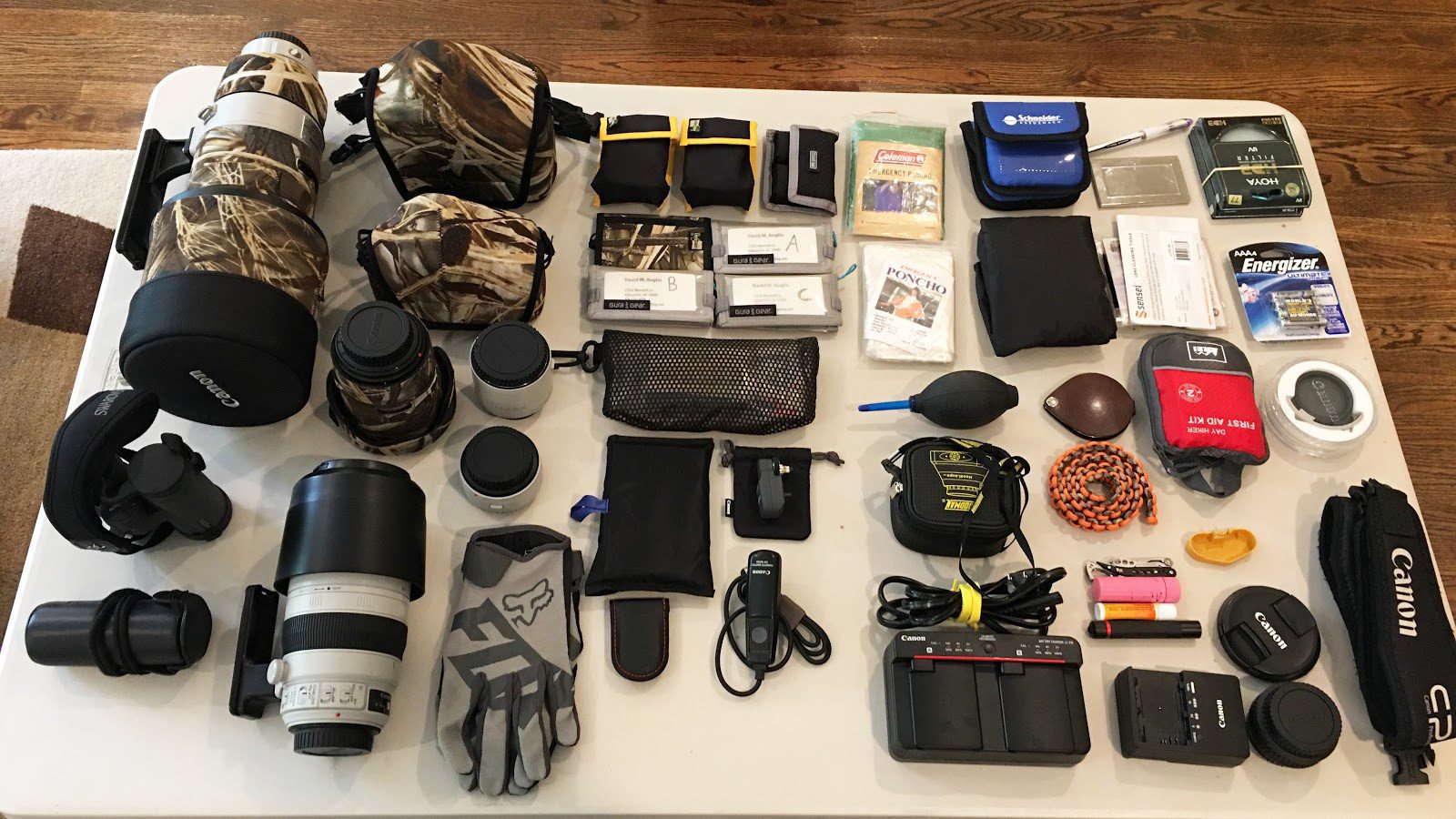 Leave Your Gear at Home: Camps that Provide Cameras for You
Special Offer: Wilderness Safaris
Wilderness Safaris has an incredible partnership with Olympus. If you stay at a Wilderness property in Botswana, Namibia, or Zimbabwe, you'll have access to a limited number of camera sets to use throughout your safari itinerary. These sets are free of charge and available on a first-come, first-served basis for exclusive use by guests of Wilderness Safari-managed properties.
The benefits are twofold:
Travelers get access to world-class Olympus equipment and knowledgeable Wilderness guides
The partnership supports a scholarship program for secondary and tertiary education through Wilderness's non-profit partner, Children in the Wilderness.
If this program is of interest to you, get in touch, so we can reserve a set of Olympus gear for you!
Below are a few properties we recommend for travelers interested in taking advantage of the photography amenities on offer with Wilderness (note: Bisate is not part of the Wilderness-Olympus partnership).
Okavango Delta, Botswana

Mombo Camp & Little Mombo – Each room has a camera.
Vumbura Plains – A few sets (camera with lenses) plus one pair of binoculars will be available in the main area. Bonus: Wilderness offers a slideshow for guests explaining the partnership with photographic tips and images.

Linyanti, Botswana

Kings Pool – A few sets (camera with lenses) plus one pair of binoculars will be available in the main area. Lessons will be on offer in the sunken hide during midday when the hide is most active. An alternative option is a photographic experience on the Queen Silvia barge. In the summer months, there will be a mobile hide for the carmine bee-eaters.

Skeleton Coast, Namibia

Serra Cafema, Hoanib, and Little Kulala – Cameras will be available in camp for guests to use in their own time, with a booklet available explaining how to use the camera, including some photographic tips and tricks. Pro-tip: for expert guidance at these camps, we recommend hiring a private guide.
Volcanoes National Park, Rwanda

Bisate Lodge – A couple of camera sets will be available for guests to use on their gorilla treks. The camera will be pre-set in order to ensure that guests get the optimal photographic experience. Tips for photographing gorillas will also be provided.
Beyond the Wilderness-Olympus partnership, several Great Plains Conservation camps cater to photographers and can provide a camera for you. Here are a few of our favorites:
All of Great Plains Conservation's 5-star camps have a Canon 5d Mark III or IV with two sets of wide-angle lenses (including 100-400mm) per room for guest use. Guides can do a basic tutorial and can always position the vehicle to maximize the chances for great images.
Learn Everything You Need to Know: Specialist Photo Camps
If you want to learn how to use your camera to its fullest capabilities, a specialist photo camp might be perfect for you. Here are three of our favorites:
Pangolin Chobe Hotel – Chobe National Park, Botswana
For professional, passionate, knowledgeable photographic guides, look no further than Pangolin Chobe Hotel. You're guaranteed a warm welcome and helpful attention to your photography, regardless of your skills or experience. Plus, incredible wildlife at Chobe make for a wonderfully immersive safari experience.
Zimanga Private Game Reserve – KwaZulu-Natal, South Africa
Zimanga offers state-of-the-art photographic hides, built in partnership with "The Invisible Wildlife Photographer," Bence Mate. These hides provide visitors extraordinary opportunities to observe African wildlife. Additionally, Zimanga's game drive vehicles have a limit of two passengers per row, ensuring ample space for your gear and maneuverability.
Photograph in Comfort: Camps with Photographic Vehicles
For the ultimate experience of comfort, amenities, and exceptional access to great photographic opportunities, a specially-designed photographic vehicle may be just what you're looking for.
Depending on the property, your vehicle may feature:
Space for 3-4 photographers (and their equipment)
Drop-down sides for photographers to lie down and get low-angle photographs
Three 360º swivel seats, one per "row" – seats also lean right back if required
Only front and back bars to hold up the roofless obstruction of view for photography
Beanbags and foam camera rest (photographers advised to bring their own tripods)
Vehicle kit with a fridge, charging points, roll-down sides for bad weather, etc.
Lowered center console with raised lid for quick and easy access to lens changes
Lowered snorkel for better forward views
Radio aerial at the back of the vehicle for better forward views
Specially-designed pop-off roof (choose whether you want it on or off!)
Additional leg room
Several camps offer photographic safari vehicles. Here are our favorites.
Get Up Close to the Action: Camps with Excellent Photographic Hides
Chiawa Camp (Lower Zambezi National Park, Zambia) offers two hides, one near the edge of the Zambezi and one near the camp's water tank overflow. We especially love the option of a night safari in the second hide where guests can use an infrared spotlight and night-vision monoculars to view any nocturnal (or diurnal) wildlife stopping to drink nearby.
Polish Your Work: Camps with Editing Tools
If you want to head home with perfectly-edited photos ready for printing, several camps offer computers with a full suite of editing tools for guest use. If this sounds appealing to you, we recommend:
Keeping It Simple: Photographic Day Tours
You don't have to build your entire safari around photography to still enjoy some incredible moments behind your camera. For a lighter take on the full-fledged photographic safari, we recommend a day tour! You'll get to take in amazing views of wildlife and learn to make better use of your camera while you're at it.
Here are two of our favorite tours:
Chase the Sun Peninsula Tour in Cape Town
This tour gives you a fantastic overview of Cape Town's highlights, and the route is scheduled to take advantage of optimum lighting conditions in each stop!
Photograph technicolor bathing boxes at Muizenberg Beach, quaint streets and brightly-colored fishing boats at Kalk Bay, jackass penguins at Boulder's Beach, the iconic Cape Point, and the granite and sandstone cliff face stretching along Chapman's Peak Drive.
This eight-hour tour includes lunch and is limited to just 12 guests.
3-Hour Photo Safari River Cruise Along the Chobe River
For a half-day photographic excursion, we recommend this cruise along the Chobe. Opt for an early morning cruise (departure is usually around 6 a.m.) or an afternoon one (departure is about 3 p.m.). Either way, the itinerary is planned around optimum lighting conditions, so you're sure to get some beautiful shots. The boat provides a unique vantage point.
The cameras supplied for this tour are Canon 80D bodies fitted with 150-600mm Sigma telephoto lenses. If you're a beginner photographer, the photo hosts on board will set you up and help you use the camera to its fullest potential.
Special Mention
Every camp featured in this piece offers something special and well-suited to photography-minded travelers. But if we had to choose a #1 favorite destination, it would be Tswalu in South Africa's Southern Kalahari.
The colors in this desert game reserve are stunning, and we love that they offer private vehicles. This is also a favorite destination of one of our expert photographer clients, JP Pollak. Check out his rave review here.
What to Pack: Essential Gear
We all love our iPhones, but we promise: Apple will fail you when on safari. For optimum results and an enjoyable experience, we recommend you pack the following:
DSLR camera
A long lens (an 18-200mm is the recommended minimum) or an all-in-one camera with 20x zoom
Tripod, especially for after-dark shots
Monopod, especially if you'll be in a more open vehicle with fewer surfaces to support your camera
A bean bag on which to rest your telephoto lens (pro-tip: you can bring the bag empty and fill it in camp with rice or dried beans)
Charging gear: adapter, power strip (though most camps have these), and possibly an inverter for the truck (some have outputs)
A sturdy dust-proof camera bag or case
Lens cleaning equipment
Extra batteries (2+) – you'll be able to charge them in camp, but it's best to have extras while out in the vehicle
Extra memory cards
Portable memory card back-up devices (no laptop required!)
Binoculars
Wide-angle lens (not essential, but great to have if you want some landscape shots or close-ups of interesting insects)
What NOT to Pack
Too Much Luggage
We recommend that you pack simply and sensibly for your photographic safari, keeping extra suitcases to a minimum.
And remember, several camps can provide camera equipment for you (see above).
Pro-tip: While some photographers prefer to bring along a tripod (especially for long-exposure shots at night), it's not an essential. Most camps have bean bags to help stabilize your camera in the vehicle.
If you plan on bringing camera gear from home, airlines have several different ways to accommodate extra luggage, depending on the carrier. You may be asked to:
Book a freight seat for an additional 20kg to 75kg, depending on carrier and route (some carriers charge the child rate, others charge 75% of the full fare)
Book an XL seat which allows an extra 15kg (fees vary by route)
Pay a weight-based fee for extra luggage
Check your bags for transport in the luggage hold under the plane for an additional fee (though with fragile camera equipment, you may want to book a freight seat)
Drones
While we understand that drones are great for aerial shots and hard-to-reach places, they're prohibited in most National Parks and strongly discouraged elsewhere.
The general consensus is that while technically, you might be able to use a drone on safari, it's best not to bother.
Enjoy all you can from a safari vehicle, photographic hide, or hot air balloon (and there's plenty to shoot from there!). The drone will be there waiting for you when you get home.
A Few More Important Tips
Practice
Be sure to practice with your equipment before you arrive, especially if you're buying a new camera and/or accessories. The last thing you want is to be fumbling with unfamiliar gear when you could be getting that amazing shot!
Try Some New Techniques
Whether you're a beginner or a seasoned expert, it never hurts to pick up a few new photographic tricks. We love these guides to photography on safari:
And be sure to check out our own ask-the-experts piece, featuring the photo safari advice of four Extraordinary Journeys clients.
Shoot Throughout the Day
Dawn and dusk are obviously the best times to photograph wildlife. The early mornings are worth it! But consider shooting after dark, too. Just remember a tripod for those long-exposure shots (think starry night skies in the deserts of Namibia).
Put That Camera Down
We know you're here for the photos, but once in a while, it's important to get out from behind the camera and just enjoy what's unfolding before you.
Remember Family & Friends
If you're traveling with loved ones, be sure to snap a few shots of them, too! No need to make everybody shuffle around in awkward group poses, either. Candids of your kids, spouse, or friends observing wildlife and marveling at the beautiful scenery might just be some of the best shots you take home.
Practice Cultural Sensitivity
As with any safari, the local people and cultures are as much a part of the experience as the wildlife. Be sensitive to the customs, social mores, and preferences of the people you encounter, especially when it comes to photographing them. Some groups may welcome your camera while others may find your candid shots offensive. When in doubt, ask your guide what is appropriate. They'll help you avoid any awkward encounters.
Sample Itineraries for Your Photographic Safari
Does a photographic safari sound too good to pass up? Check out these two itineraries for inspiration for your own adventure!
And remember, we customize every journey for our clients; no two trips are ever the same. If this piece already has you thinking of other destinations and properties, contact us today to start planning your tailor-made safari!
Plan Your Photographic Safari Today!
Ready to start planning your own incredible African adventure? We make the process stress-free and enjoyable. Call or email us today to explore your best options for a safari holiday you'll never forget!
Then, start packing that suitcase because we've got all the details covered.