Longitude 131
Longitude 131 is a magnificent luxury tented camp located in the heart of Australia within the wilderness of World Heritage site Uluru-Kata Tjuta National Park. The camp is owned by the Baillie family who are known for creating extraordinary experiences with a true sense of place. The very chic tents are built on platforms that command spectacular views across the desert outback to Uluru (Ayer's Rock) without leaving your bed! And if that's not enough, there is a balcony with a huge daybed facing the rock and a little fire at the foot of the bed. At night, a swag is put out on the daybed so one can snuggle into the swag (lined with exquisite linens) and experience the romance of sleeping (on a good mattress) under the stars next to a fire!
On your excursions to the monolith and to nearby Kata Tjuta, your guides manage to arrive at sites when no one else is there. They delve into the foundation of Anangu culture as you explore this irresistible land and learn the stories of the traditional custodians through the rock paintings they have left behind.
As expected, Longitude 131 serves gourmet food and wine with every meal and includes all the other little pampering that one would expect. But for us it is the location, location, location that makes Longitude special.
Summary
Child Policy
Children 10 years and older
Facilities
Bar, Internet Access (Complimentary), Laundry Service (Available), Mobile Connectivity, Pool, Restaurant, Spa
Activities
Bush Walks & Walking Safaris, Food and Wine, Community Visits and Cultural Exchange, Hiking and Climbing, Historical Site Visits
Itineraries featuring Longitude 131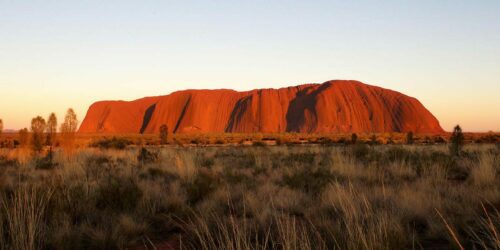 Sydney, Rock, and Reef…Australia's icons without the crowds
15 Days
Our Favorite Northern Terriroty Accommodation on a Map
Plan your Trip
Ready to start planning your own incredible adventure? We make the process stress-free and enjoyable.