We've all spent too much time at home, yet travel opportunities reopen, some are still hesitant to get back out there. One of our clients decided to book a last-minute, trip of a lifetime to see the Great Migration at a time when tourism was down by 97 per cent.
Hear what A.J. Salch had to say about her recent trip to Tanzania with her father, and ask yourself: why not now?
Africa has some of the lowest COVID-19 infection rates anywhere, and A.J.'s first-hand insights about the reduced number of tourists, feeling safe and pampered at the camps, and how the incredible opportunity to experience the Great Migration left her recharged after months of stress and anxiety at home.  
Q: You recently traveled to the Serengeti in Tanzania, what inspired you to go when COVID-19 cases in the U.S. are still rising?
We typically gravitate toward low/shoulder seasons for both pricing and to avoid crowds. We were supposed to travel to Botswana in May, but our trip was cancelled due to COVID-19. This August, I started seeing posts from local guides in East Africa talking about how this year's migration was the most unique ever, because there were no crowds. I could only imagine how amazing it would be to witness that, and realized that this would probably be the only year in my lifetime when I could experience the Great Migration in such a unique way. This year has been so hard for everyone and working in both the veterinary and human healthcare I was definitely burning out. While we've missed travel in general, we hadn't felt it would be worth the risk to travel around the US. But in Africa, we were confident that the flights would be the riskiest part, and once we got to the camp in Tanzania, we would feel completely safe.
Q: It was such a last-minute decision as you made your booking within two weeks of departure, how did that feel?
We honestly never thought we'd justify paying to go anywhere during the high season. And despite being frequent safari goers who plan to visit Africa as many times as we can afford, we had literally never thought we'd be able to see the Great Migration due to the potential busy atmosphere and high prices. But this unique opportunity to experience it without the downsides spurred us on. I never thought we'd plan a safari with such short notice, but Extraordinary Journeys made it easy and stress-free. Getting back to travel in Africa provided a much-needed mental reset and felt so good for my soul.
Q: You mentioned the flights, did you feel like the safety protocols in place were sufficient and made you feel safe?
We flew with KLM and felt very safe. While we normally tough it out in economy so we can maximize the amount that we put toward the safari itself, we splurged on business class seats this trip. It gave us so much more space and an incredible level of service. It also meant we had access to lounges at the airports, which helped us feel safer and meant we were able to socially distance with ease. In fact, on our flight from Amsterdam to Chicago there were only three people (including my dad and I) in business class, making it very socially distant and amazingly relaxing. We were also the only guests in the Delta Lounge at SFO airport which was reassuring in itself. 
A: What about the COVID protocols during the trip? Did they impede your enjoyment? Did you feel like they were sufficient
Upon arrival at Kilimanjaro International Airport we had the smoothest transfer experience ever. Given the COVID-19 situation it was helpful being met immediately as we deplaned, and getting escorted through as efficiently as possible with very little time spent in crowded areas/lines. The visa process was taken care of for us while we waited in the VIP lounge.
We stayed at the Hammerkop House where we were the only guests, so that definitely contributed to feeling appropriately distanced and safe. It was a fantastic perk to be located close to Dolly Airstrip, which we utilized to get to the safari portion of the trip in a more private way without having to go through a larger airport.
At Lamai Serengeti both the camp and surrounding area were absolutely beautiful. We were extremely comfortable and relaxed there. Our guide Amos immediately put us at ease from his first greeting. He was so easy to talk with, very welcoming, incredibly informative, and filled with passion for his job, despite having been in the industry for a very long time.
Our tent had amazing views from beds that were extremely comfortable (accentuated by the luxurious touch of adding hot water bottles in the beds every night) and we felt very pampered. We loved the gorgeous main areas, all of the different potential settings for meals, and unique touches that allowed for social distancing. There was a system of assigning one waiter to each set of guests to minimize exposure to various members of staff. We found that all of the staff members we encountered provided high-level service and were very welcoming. 
Lamai Serengeti was also very diligent at doing temperature checks daily of all guests and staff, which also helped to put us at ease.
Q: Tell us about the Great Migration. Was it everything you expected it would be?
Yes. From the camp we drove along the Mara River and looked into Kenya—a prime wildebeest migration area. We relished the experience of seeing massive herds of wildebeest, as well as many 'Lion King'-worthy views of migrating antelope, zebra, giraffe, and warthogs all together. On our first full day in camp, we got to witness an epic Mara River crossing. 
Q: Would you recommend COVID-era travel to Africa after your experience?
Absolutely! In fact I can't think of a better time! The highlights of our visit were experiencing a Mara River crossing with only three other vehicles, when normally there would be three hundred. We were able to drive alone among 100,000+ wildebeest! We also were treated to a private, front seat show of a leopard dragging a wildebeest with no other vehicles around.
Based on our experience, this is the ideal time to take a life-altering safari. The fresh air and chance to experience nature continue on, despite the craziness of 2020. If I could go back next week, I would!
I highly encourage other travelers to consider indulging in a safari of a lifetime. If you are in good health do not have high risk comorbidities, you will feel more confident anyway. And the safety protocols were truly outstanding.
While traveling right now does carry a new level of stress, the relaxing nature of a safari quickly supersedes it. Staying at a luxurious camp, taking in breathtaking sunsets, enjoying fantastic meals, and experiencing the movements of nature's incredible animals was exactly what we needed to recharge during this challenging time.
Recommended Blog posts
So what's it like really like traveling during the pandemic? We're not going to…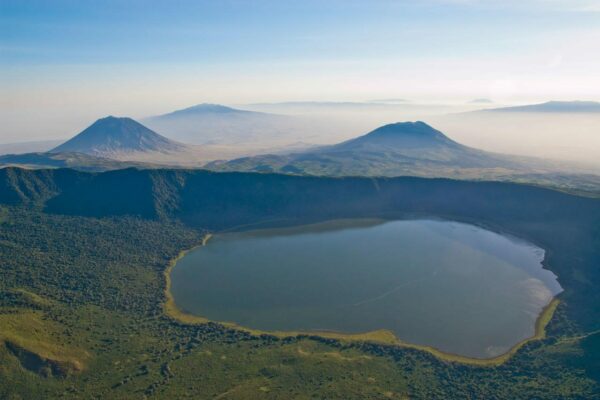 Right now, travel might seem a little complicated—but things are looking up and as we…
Here are our top six permanent camp and lodge picks throughout Kenya and Tanzania, in no…
Plan your Trip
Ready to start planning your own incredible adventure? We make the process stress-free and enjoyable.