Gorilla Trekking…in Rwanda
, Rwanda is one of the best places to see elusive mountain gorilla families. It's become so popular that the fee for trekking permits has recently doubled. Despite the price hike, there's a good reason why so many people continue to choose Rwanda: Approximately half of the mountain gorillas left in the world are in Parc National des Volcans, also known as
Volcanoes National Park
.
Most camps and lodges are quite close to the park itself, offering stunning views and convenient access to the starting point for gorilla treks. Unlike Uganda, these properties are generally spread out, making it easy to maintain a sense of privacy and exclusivity. Here are four of our top picks where to stay on your gorilla trek in Rwanda.
1. BISATE LODGE
Get settled in: Tucked inside a naturally-formed amphitheater, Bisate's pod-like cottages boast an incredible overlook of Bisoke, Karisimbi and Mikeno Volcanoes. This is Rwanda's newest high-end option, which really raised the bar for other properties in the area. Every one of our clients has adored their stay here. Each of the six villas has its own fireplace to cozy up to, plus volcano views from a private deck.
Proximity to primates: It takes about 30 minutes to drive to the national park's trekking headquarters. Depending on the day's route, the treks can range between a half mile to five miles, covering varied types of terrain and altitudes.
Why else you'll love it: Bisate stands out not only for its creature comforts, but also for its abundance of activities—including visiting Dian Fossey's grave and the remains of her research site or opting for an additional trek in search of golden monkeys—and its dedication to conservation and community partnerships, which is what really stole our hearts. The lodge purchased huge tracts of surrounding land to ensure more wild spaces set aside specifically for gorillas to safely roam. The lodge also educates visitors about critically endangered mountain gorillas and is working to reforest over a hundred acres of land (guests are always welcome to volunteer time and energy to help out). Conservation, sadly, comes at a price: Bisate is one of the most expensive options in Rwanda.
RELATED: Where to See Gorillas: Congo, DRC, Uganda, or Rwanda?
2. SABYINYO SILVERBACK LODGE
Get settled in: This beautiful lodge is less than two miles from park headquarters—it doesn't get more convenient than that. There's one hitch: It's perched high up on a hill, which means guests face a steep incline as they walk "home" after a long day of gorilla trekking. On the bright side, they'll be rewarded with patio-views of both surrounding volcanoes and rich lowlands. For years, Sabyinyo was the luxury choice for a visit to Volcanoes National Park, and continues to be a very well run "go-to" lodge for gorilla trekking.
Proximity to primates: The lodge itself is a 15-minute drive from the starting point of the gorilla treks. As always, treks can range in difficulty and duration according to the gorilla family you'll be seeking, so be prepared for a strenuous day.
Why else you'll love it: A community trust owns the lodge, and income goes directly back to the local villages and conservation initiatives. Cultural exchanges with locals at market excursions or on guided treks is always a highlight for our clients. Sabyinyo guests have the added opportunity to explore the nearby Iby'iwacu village. Here, ex-poachers educate visitors on traditional customs and dances, or medicinal preparations, supporting cultural and economic sustainability.
3. VIRUNGA LODGE
Get settled in: Ten en suite rooms, called bandas, colorfully decorated in Rwandese style, offer sweeping views of the country's best landscapes, including the volcanoes and twin lakes, Bulera and Ruhondo. The eco lodge's airy, rustic vibe is a far cry from traditional luxuries, however, a personalized butler service makes this "home away from home" feel posh thanks to their warmth and attentiveness, including cleaning the mud off your boots and clothes daily. Unwind by the fireplace or the newly built spa at this secluded getaway, set high up on a ridge.
Proximity to primates: It takes about an hour to drive to park headquarters, which is much farther than other accommodations. This shouldn't be a deal-breaker, unless you're not a morning person and would prefer to hit snooze.
Why else you'll love it: Learn more about all the wonderful ways this lodge actively supports the surrounding community, such as the water tank project, which offers safe H2O to locals, and the "One Sheep Per Family" project (all 140 families have received their animal as of 2017), both in Sunzu village. Or simply, get a glimpse of everyday life while meandering the slopes at your own pace.
BONUS: FIVE VOLCANOES BOUTIQUE HOTEL
Get settled in: Not as luxurious as the above options, Five Volcanoes offers good value for your money, and is always a reliable pick for Rwanda trekkers. Added perk: The property also features a swimming pool to cool off post-trek.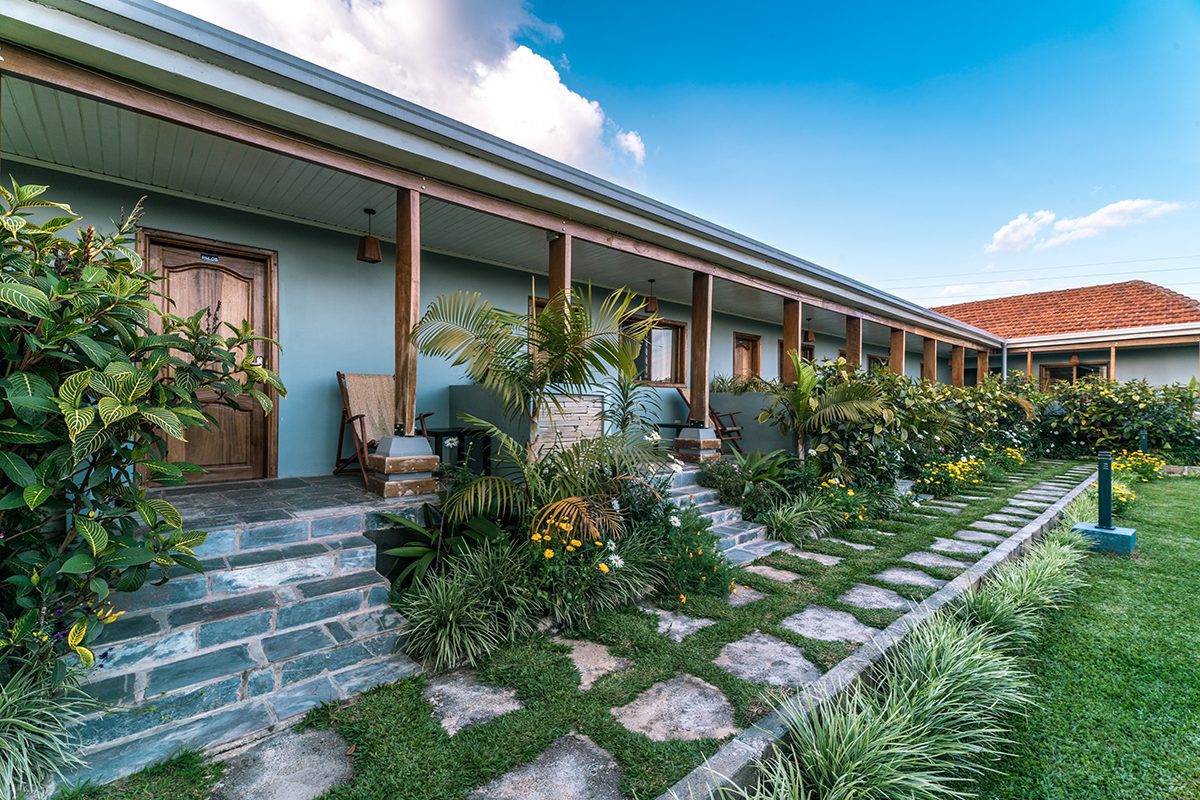 Proximity to primates: It takes about 30 minutes to drive into the park each morning, so you're not too far from the action.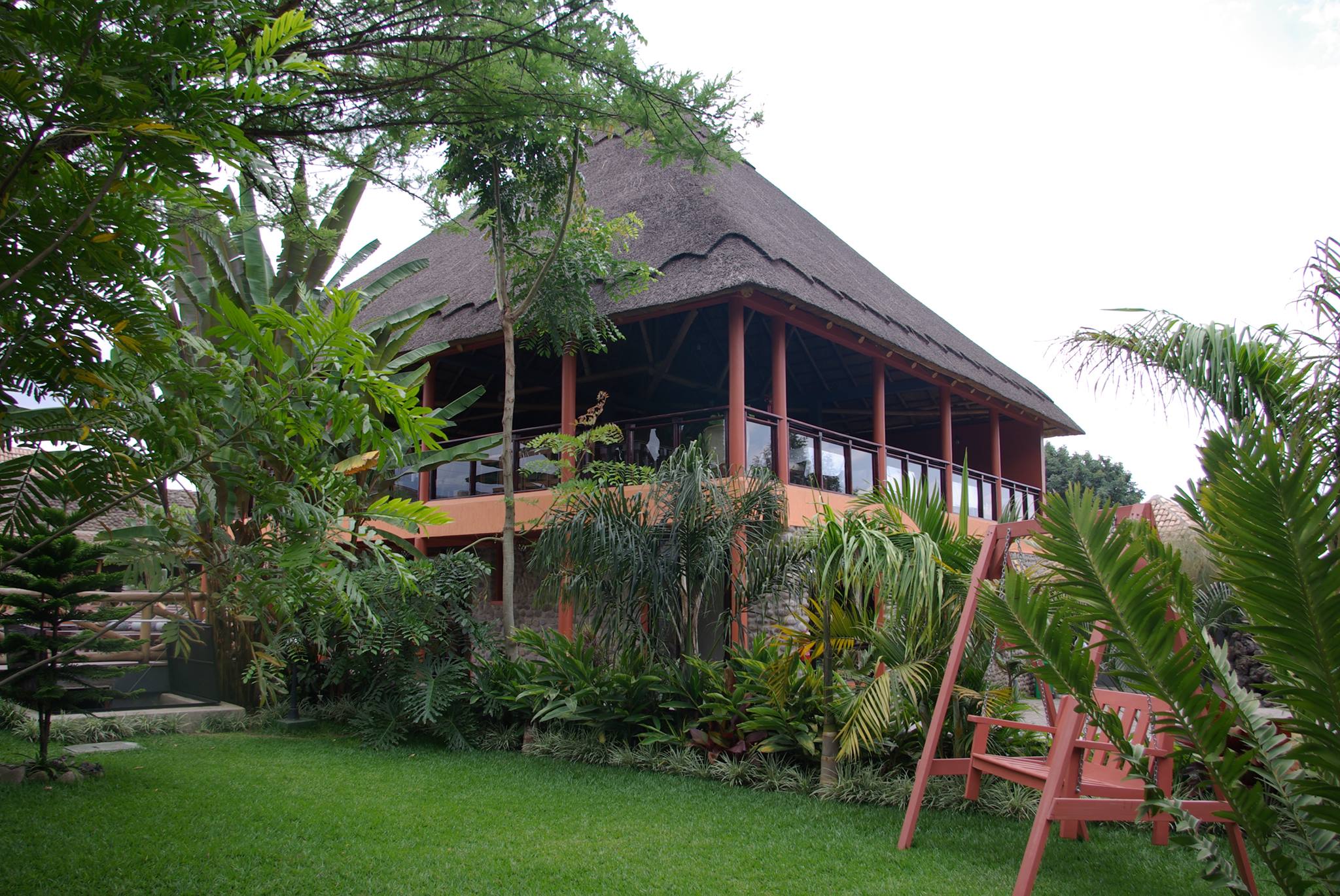 Why else you'll love it: The price. The hotel is our favorite affordable option for gorilla trekking in Rwanda. In addition to these treks, you can also canoe through the countryside, take a locally-guided bicycle tour, and/or search for golden monkeys.
RELATED: 6 Ways to Get Ready for Your Gorilla Trek
Plan Your Visit
Call or email us to learn more about how you can see gorillas in the wild.