A version of this article originally appeared in Travel Under the Radar.
Plaza de San Francisco, Old Havana
Logistics of Getting to Cuba:
Why did you decide to go to Cuba?
I decided to go to Cuba on a fact-finding mission for an art focused itinerary that my company was creating for a non-profit arts organization.
What were the first steps you needed to do in order to plan your trip?
The first step is securing flights. Originally, only charter flights from the U.S. landed in Havana. The second step is filling out your affidavit and visa application.
Now, it's much simpler. Airlines like JetBlue have started commercial service to the island, and JetBlue's website even allows you to fill out your affidavit and visa application online.
What was difficult about planning your trip?
There wasn't a lot of information about travel to Cuba. In addition, the trip's focus was art and meeting artists in their homes and studios.. Once we found a person who was well-connected to the artistic community in Cuba (and elsewhere), things fell into place.
Can you explain your visa process and how you secured entry as an American?
Again, the visa process today is much simpler; however, when we traveled, the rules for travelers from the U.S. were murky…so we contracted Anthropologie Consulting, LLC, authorized by the Office of Foreign Assets Control of the Department of the Treasury, to organize educational and cultural delegations to Cuba. Right now, the majority of people traveling to Cuba are traveling on a "people-to-people" visa…or cultural exchange.
What resources did you use to plan your trip?
At the time, there wasn't a lot of information on traveling to Cuba; however, as a tour operator, we have an extensive network of people who love to travel. One of the best resources was a Facebook post to our "friends" asking for information. The responses were amazing.. including a disco in a cave in Trinidad!
What did you wish was easier to know or understand logistically?
Flights and visas weren't clear at the time of my travels. The silver lining is now I know the rules backwards and forwards.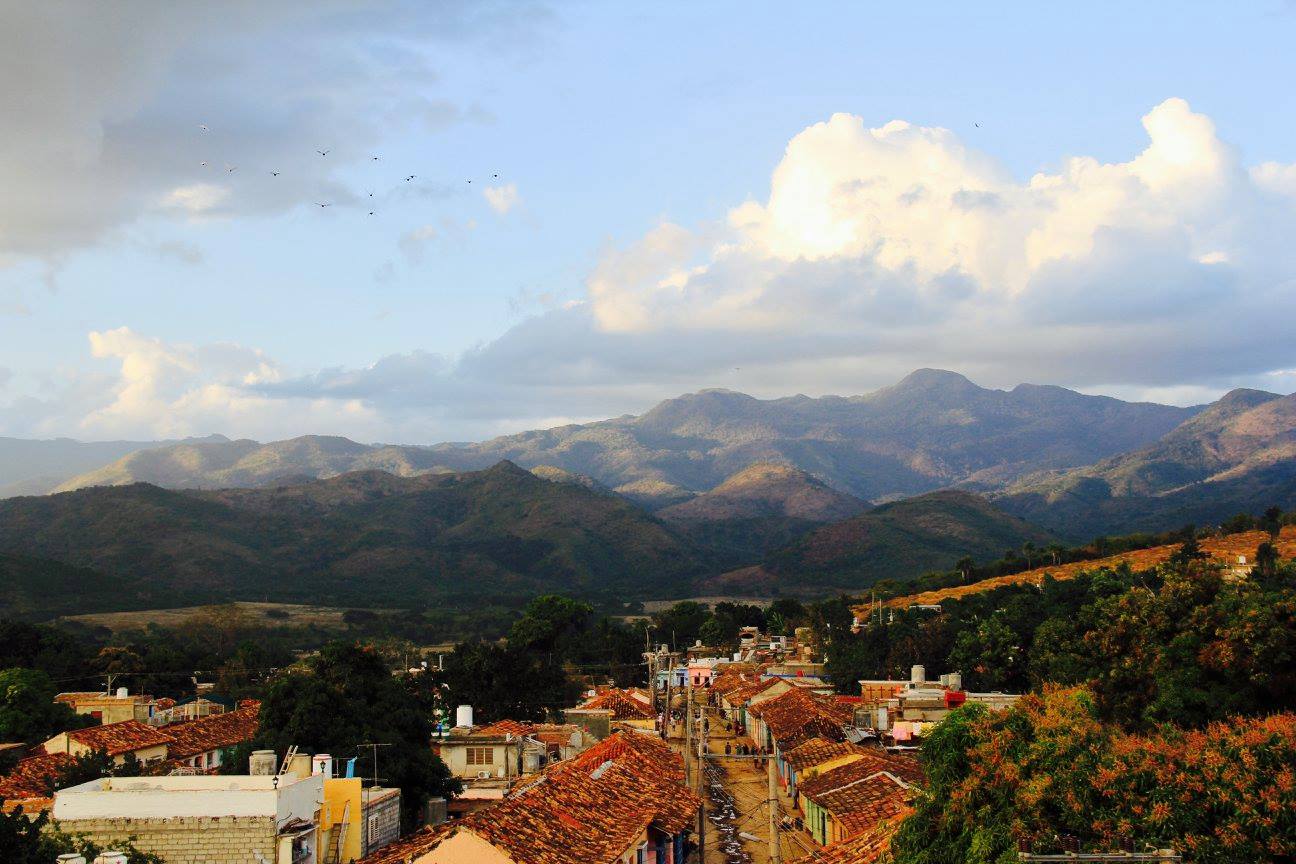 Trinidad, central Cuba
Logistics While In Cuba:
Can you speak about accommodations – did you plan where to stay in advance?
As a tour operator, it's in our DNA to plan in advance. We stayed in multiple "casa particulares" (private homes) throughout Vinales Valley, Havana and Trindad. It's important to note that 5* accommodation in Cuba is not 5* accommodation in the U.S. (or elsewhere). As you can imagine, many of the hotels are old and outdated; however, a lot of construction renovation projects are in progress.. That being said, I really enjoyed the casa particulares because they have a TON of character and feel more authentic. Many casa particulares, which include breakfast and staff, cost less than the majority of the "nice" hotels.
As an American, how did you know how much money to bring with you?
The exchange rate is 1:1. At the airport, the exchange was approx. 85% (subject to change). We exchanged our USD for CUC (Cuban Convertible Peso). Side note: The other currency is called the CUP (Cuban Peso), which is in limited use, and most U.S. tourists will NOT use.
Did you feel unsafe carrying around large amounts of cash?
When traveling abroad anywhere, it's always advised to spread out your cash so it's not all in one place.. but keep the majority as close to you as possible. It's the same in Cuba.
What would you do in a scenario where you didn't have enough cash?
You will need cash. Cuba is still mostly a cash economy, and U.S. cards don't work at all. Thus, you will need to bring all the cash you plan to spend with you. VISA credit cards are accepted only if they were not issued by American banks.
Can you speak to the modes of transportation you used to get around?
In Old Havana (La Habana Vieja) there are taxis, buses, bike taxis and yellow cocotaxis. For approx. 20-30 CUC an hour for up to four people, a Classic vintage taxi will drive you around Havana in style.
Do you speak Spanish, and how necessary would you say it is to be able to?
You don't need to speak Spanish to travel to Cuba, although it certainly doesn't hurt! I speak "un poco" Spanish but my travel companion and Founder of Extraordinary Journeys Elizabeth Gordon is fluent… so it made life much easier. Cubans at hotels and most casa particulares speak English and a lot of waiters at restaurants (as only tourists frequent restaurants).
Was there anything you wished you knew in advance to make housing, accounting and transportation easier?
Accounting is always tricky. And you pay to the use public bathrooms in Cuba. Going to the bathroom is an experience all its own!
Here's a general estimate.
TOILET STOPS / PARKING ATTENDANTS – your driver will take care of this or if you are self-driving then please allow 25-50 cents per person for use of the toilet and 50 cents to 1 CUC for parking.
MEALS ARE 15 TO 25 CUC PP WITH DRINKS
Rolling hills of Viñales
You've Arrived:
You made it there, so overall what would you say about your time in Cuba?
Overall, Cuba is one of the most unique places I have ever been and one of my favorite trips of 2016. I think everybody should go… and now is the time! It still feels authentic and untouched but not for long.
How were the vibes towards Americans?
Cubans are friendly, warm and welcoming people. They're feelings towards Americans are positive. They even trade the latest U.S. shows and movies on thumb drives.
Were you able to really connect and converse with people there?
Yes, our guides shared a lot of information and insight about daily lives and Cuba, more generally. The artists are freer to converse, particularly with respect to politics. We learned about "The Special Period" – a euphemism for the economic crisis in the early 90s, caused by the collapse of the Soviet Union, which decimated the Cuban economy – and even where Cubans buy their groceries!
You've been to "touristy" places; did any parts of your trip feel touristy?
In general, Extraordinary Journeys avoids "touristy" places like the plague; however, the Rumba and Santeria Tours were more "touristy" than our other experiences. All the same, the content is fascinating and I would recommend these tours for the right people.
What type of travelers did you come across?
In Vinales Valley and Trinidad, we came across a lot of backpackers from a number of different countries including the U.S. In Havana, the majority of travelers were families or large groups and generally international; however, more and more travelers are Americans.
Would you say that there are things to do in Cuba for all types of travelers? (foodie, adventurer, backpacker, art lover, hiker, history buff, party seeker)
Cuba is full of fascinating contradictions with something for almost everyone with the exception of the "foodie." At the moment, don't travel to Cuba for the food or the accommodation; however, that's likely to change as the influx of American travelers continues.
What was your general itinerary? How did you plan it?
The general itinerary was 2 nights in Viñales Valley, 3 nights in Havana and 1 night in Trinidad. The idea was to see as much as possible in a short amount of time. Side note: I recommend 2 nights in Trindad!
Based on where you went, can you speak to each location about what you liked most/least?
Viñales​ Valley is tobacco country, and a UNESCO World Heritage Site. The rolling green hills and "modelos" (round mountains) are a sight to behold. Activities include: horseback riding, biking, hiking and half day to Playa de Cayo Jutia to boat, scuba dive/snorkel, and fish. However, Vinales is a small village with limited restaurants and nightlife.
Havana is a beautiful city, with cobbled squares and vintage cars, made up of distinct neighborhoods, notably: Old Havana, Vedado, Miramar and Siboney. Old Havana is a UNESCO World Heritage Site including the "downtown" city center. Vedado is the vibrant heart of Havana like the Brooklyn of Havana.. more locals, less tourists. The well-heeled districts of Miramar and Siboney are more "suburban", removed from the hustle and bustle of city life.
Trinidad is a UNESCO World Heritage Site with multi colored pastel hued terraces and rust-red roofs, beaches and mountains. Believe it or not, the nightlife in Trinidad is better than Havana and includes a frenetic outdoor "casa de la musica" and Disco Ayala, a subterranean disco dance club in a cave. Other activities include: horseback riding, biking, and hiking, beaches, sugar plantation and catamaran tours to the Keys.
I've heard mixed reviews about Cuban food in Cuba – thoughts? Best/worst?
There's a longstanding joke about Cuban food in Cuba: "If you want to see Cubans at a restaurant, visit Miami." That being said, it's not all bad.. Basic Cuban food is fish, pork, rice and beans. As you can imagine, the island's fish is fresh and the ceviche is a popular dish. Breakfasts tend to feature the usual American fare: bread, eggs, meat, cheese, etc. Surprisingly, we did stumble upon a vegan restaurant for lunch on the road from Vinales to Havana. The really "good" restaurants in Havana are frequented by expats. The rooftop bars offfer scenic views and the best nightlife experiences.
Any must know pieces of advice, best anecdotes, Cuban secrets, that you want to share?
The best nightlife in Havana is at the Malecón, the most famous seaside avenue referred to as "the longest bench in the world." Have a sundowner with the peacocks on the balcony at the historic Hotel Nacional. Then, pick up a bottle of rum and join the party on the "lower deck."
Morro Castle, a fortress guarding the entrance to Havana bay in Havana