There is so much to do in
Cape Town
, it could make your head spin. Many of our clients spend 3 or 4 nights exploring the city, often on a series of tours. There are tons of great options for guided tours, they are a lot of fun and offer some really special experiences (
you can find a full list of guided tours we like here
). We also know that some clients like the chance to explore the city on their own, at least part of the time. So we asked friends, family and colleagues that live in Cape Town for their recommendations on things they love doing in Cape Town and here are some of their top responses!
Arts, Culture and Out and About in Town
Almost every local I know recommends First Thursdays which happens (surprise!) on the first Thursday of every month. On that day the local galleries on Long and Loop streets stay open until 9pm. You can wander in and out of the galleries, take advantage of complementary wine and enjoy the crowds out socializing in the street. Stroll along Kloof, Long and Bree Streets. This is the heart of hip Cape Town and it is packed with independent coffee bars, eateries, fashion designers, jewelry designers, second hand book shops, vintage clothing, house decor shops and galleries. For added history, head for the Company's Gardens at the top end of the city center. It houses the National Gallery, St George's Cathedral, the Houses of Parliament and the Natural History Museum among other historical sites. Word is that Haarlem and Hope restaurant will be opening there soon which will be a fabulous addition.
Dip into culture of a different sort with the Maboneng Township Arts Experience. You won't find a more authentic South African art experience than in a gallery run out of a local home, set up by the Maboneng Township Arts Experience. This multi-award-winning non-profit organization works together with families and artists to turn homes into galleries and cultural museums, contributing substantially towards economic empowerment in Langa and Gugulethu (Cape Town).
Learn how to dance Cape Town "jazz" (similar to Cuban Salsa – only done in Cape Town) at West End Jazz Club in Athlone (Rylands).
Front of the Fugard Theatre
Film and theatre buffs can catch a flick at the Labia Theatre, the oldest independent art movie cinema in Cape Town, or go for a live performance at the Fugard Theatre. The Fugard is an old church that was converted into a theatre and named after South Africa's greatest living playwright. The productions are always fascinating, edgy and intimate.
Head for the Great Outdoors
Capetonians are active people! They love to get outside on everything from a bike to a surfboard. There are also so many options for fabulous hikes in and around Cape Town, below are just a few and some resources for where to find more. A hike up Lion's Head was one of the most common tips we got from active Cape Town locals. You can hike it at any time of day, I got recommendations of everything from sunset, to sunrise, to the night of a full moon (and you are with a group). It's about 3 hours round trip and strenuous near the top but has beautiful 360 degree views of the city and Table Mountain.
Elizabeth at Lions Head.
Other Cape Town hikers recommended avoiding potential crowds on Lion's Head and instead going for Skeleton Gorge or Woody Ravine behind Camps Bay. India Venster is also fun good but not for the faint of heart! Others recommend the central section of Table Mountain National Park near Silvermine guest house for its beautiful landscapes and finishing your hike with a swim in the dam.
If you are runner, check out the trails in Newlands Forest or along the Promenade from Sea Point to Camps Bay (you can of course also walk this lovely stretch). Feeling more upper body? Climbers should consider CityROCK which has an "epic" indoor climbing gym and is fun for kids and adults. Surfing lessons at Muizemberg are a great way to learn with easy gentle waves and multiple surf schools. Or try kayaking from Sea Point to Camps Bay. Don't worry, you don't need to be an expert; our partners on-the-ground are perfect for any level.
There are lots of options for cyclists, too: everything from city tours by bike to biking down to the Cape of Good Hope. Locals recommendmountain biking at Tokai or participating in the Moonlight Mass were everyone grabs their bicycles on the full moon and cycles from Green Point Circle through the city, pub hopping along the way. Moonlight Mass started as a social experiment on twitter (#moonlightmass) and has become Africa's biggest social ride.
Explore Noordhoek at sunset, beautiful and a real local hangout and the drive there via Chapman's Peak is an event in and of itself!
Noordhoek Beach
Eat Your Heart Out
Cape Town is a food mecca and has some of the best restaurants in the world. You can find our full list of Cape Town restuarant recommendations here. For more under-the-radar options, try the Eastern Bazaar, a pedestrian bazaar serving delicious, inexpensive, authentic takeaway Asian/Eastern food (curries, stir fries, samosas, meze, etc.). It has a great vibe and an exotic, busy atmosphere. 96 Longmarket Street. Open lunch and dinner time. For dinner at a local institution, opt for Manos on Greenpoint Main Road followed by lounging upstairs at Asoka Lounge, or hop on a bike from The Nellie and cycle down to Truth Coffee in Buitenkant Street for a cup of their Resurrection espresso.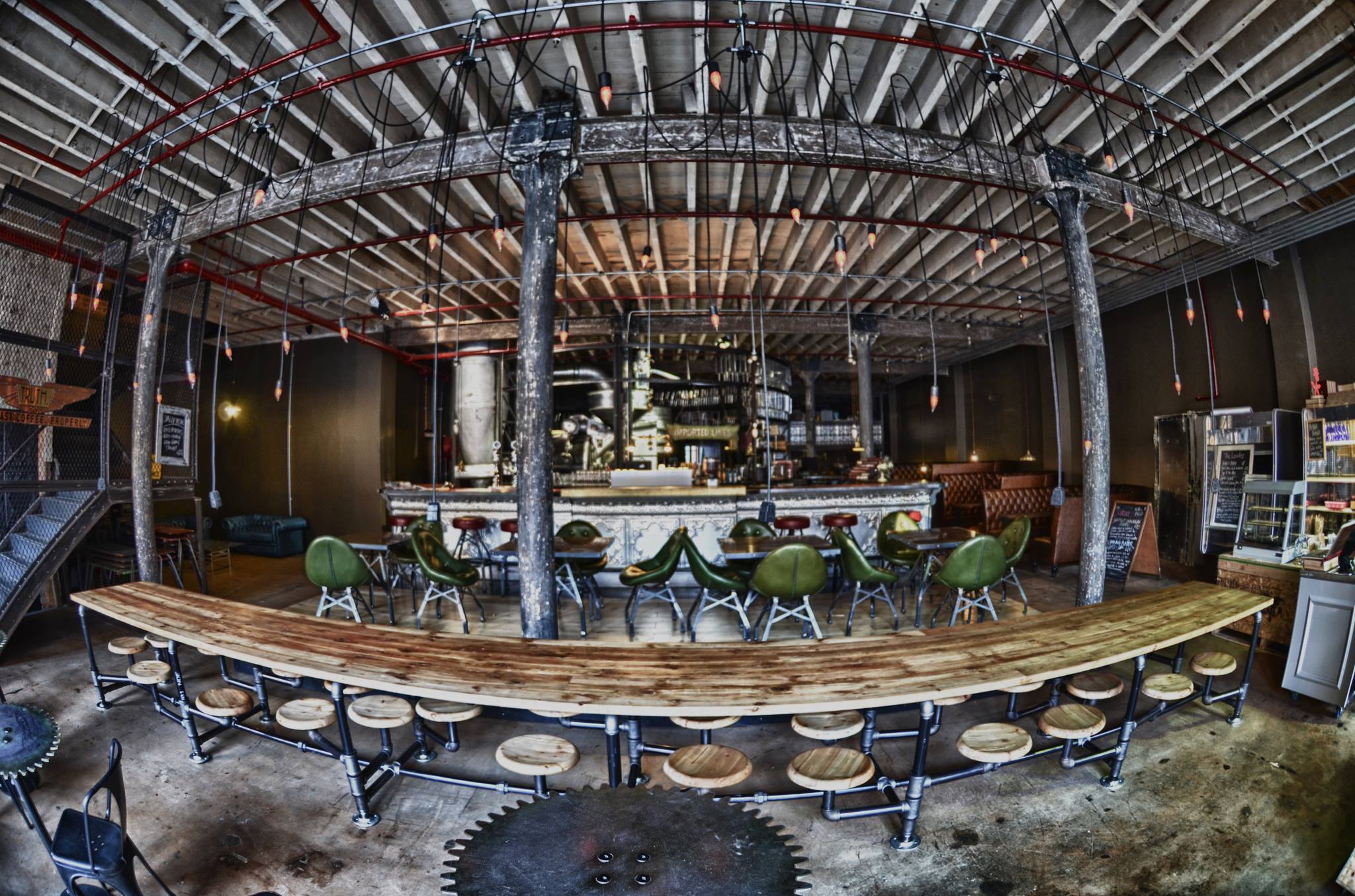 Truth Coffee
The Dogs Bollocks is a great burger joint in a garage! For the local pub hang, explore Kalk Bay, go for a swim in the tidal pools and then finish the day with sundowners or a meal at the Brass Bell with views over the sea.
If you want to go out at night start at the Kloof Street bar Slug and Lettuce before heading to Von Hunks or Jekkel & Hyde nearby.If you are adventurous and comfortable exploring a local neighborhood then try getting take-away from the "roadside" Wembleys in Athlone and watch the commotion in this vibrant community – have the mutton bryani!
Having a picnic on Clifton 4th Beach is a Sunday ritual for some Capetonians. Pack a picnic basket filled with munchies from Melissa's on Upper Kloof Street or the old time classic Italian Deli Giovanni's on Greenpoint Main Rd. If you want to explore Clifton and then head for a restaurant try Cafe Caprice
Wine at Publik, cocktails at Orphanage or local South African Devil's Peak beer at the Taproom.
Shop the Best Markets
Capetonians are serious market goers! The Bay Harbour Market in Hout Bay on Saturday and Sunday from 9:30 to 4 and on Friday nights from 5 to 9pm year round offers great food, craft beer and good live music. The once-abandoned factory is now home to over 100 entrepreneurial traders at the edge of the sea overlooking Chapman's Peak. Visitors can find a little bit of everything here, from vintage clothing, natural fabric linens, antique collectibles, to funky modern fashion and leather goods.
Bay Harbour Market, Hout Bay (the black circle in the picture gives you a sense of the fabulous location!)
Old Biscuit Mill Neighbourgoods Market, a self-proclaimed "little village" in the heart of hip Woodstock, has a great vibe on Saturday mornings. The Mill is home to day and night markets, dynamic office space, a range of workshops and designer stores, delicious farm stalls, decadent restaurants as well as an inspiring line-up of festivals and productions.
The Oranjezicht Market
Every Saturday you can also swing by the Oranjezicht City Farm Market from 9am to 2pm. Set up on an old bowling green, this non-profit project celebrates local food, culture and community through urban farming and visitors can find everything from organic produce, to delicious prepared food, to books, clothing and outdoors.
Plan Your Visit
Call or email us to start planning a trip to Cape Town and surrounds!