Many travelers don't initially think about Zambia for safari, but I came to love this county after spending two weeks there this fall. Destinations like Zambia are a haven for safari purists who want a classic tented off the grid experience without the same glitz and glam (or density of tourists) of more popular safari destinations
With that in mind, Zambia is not ultra luxurious when compared to some of Kenya or Botswana's options. Zambia is definitely geared toward the more intrepid traveler, but I was totally game; digging into unexplored areas is my favorite way to travel!
South Luangwa
I started out in South Luangwa National Park, referred to as one of the greatest wildlife sanctuaries in the world because of the high wildlife density along the Luangwa River. True to its reputation, South Luangwa had the best game viewing of my trip. One night, sipping sundowners by the water, we watched hundreds of hippos and crocodiles until a hippo fight broke out across the river. All the animals were feeling feisty with the heat and dryness of the season. Then, all of a sudden, hundreds of buffalo started streaming down into the river. The herd consisted of close to 400 buffalo, which is more than I've ever seen at once. It was breathtaking.
However, it wasn't all about big game. When we were returning from a later game drive on my second night, we encountered a massive flock of lovebirds on the ground. The sun was setting and partially hidden behind clouds and more and more lovebirds were flying to land all in the same spot. When the clouds finally cleared, hundreds of these bright green lovebirds suddenly took flight all at once – it was so special and unexpected. I've never seen anything like that on safari before.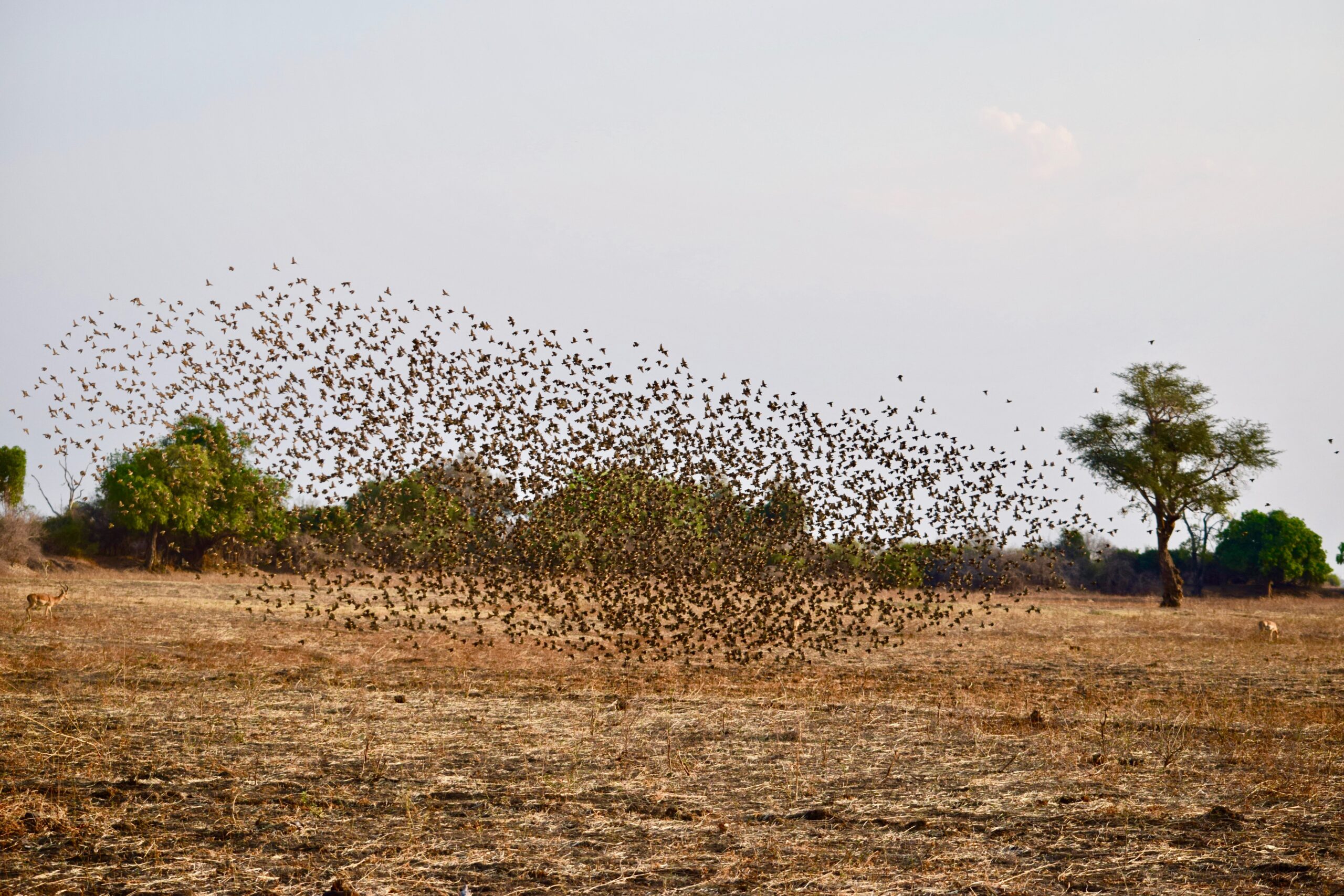 The riverine forests surrounding the South Luangwa are not only great for wildlife, but also for walking safaris. This park is known as the birthplace of the classic walking safari where you can spend multiple days doing a walking circuit between a group of camps. It's a great opportunity to slow down and appreciate the bush – and the immense knowledge of your guides – from a totally different vantage point. Especially for travelers feeling nervous about spending too much time in a vehicle, walking safaris let you stretch your legs, immerse yourself in nature, and are full of their own surprises. While I wasn't able to do a full walking route, I did spend a few mornings exploring on foot with my guide. We even saw wild dogs!
Kafue National Park
Next, I spent five nights in Kafue National Park, a less-frequented stop in Zambia. Kafue is the second largest national park in all of Africa, so of course I was excited to explore this wilderness gem! Wildlife aside, I found Kafue simply beautiful with many types of terrain: sprawling grasslands, hilly woodlands with rock outcroppings, and forested waterways.
Here and in the Lower Zambezi (my last stop), much of the emphasis is on conservation because the area has seen significant poaching in past decades. That's part of why I loved it though; you feel like you're part of on-the-ground efforts, and it's obvious how much these small camps truly care about the region. One afternoon on a game drive we saw a zebra hobbling around, its leg injured from a snare. Our guide radioed camp to get the park's vet services out to assist, which is not an experience you get most places in Africa. While it's true you won't get the same "money shots" as other parks, it's a really intimate experience based on getting to know your guides and realizing their connection to the land, learning about the background of the region, and ongoing conservation efforts.
Musekese Camp was one of my favorites for this reason. It's a small camp, owned and operated by two guides, surrounded by forest and shallow wetlands. Their passion for Kafue and their work really makes the whole experience and the area special. In the northern-central region of the park, they're still mapping and discovering the area themselves and building out their own road networks which felt so adventurous and special to be part of!
We also had incredible lion sightings here. The rains started about three weeks early one night and guess who decided to visit outside our tents in the rainstorm? One of the resident lions was strolling through camp as we were drying off from our game drive – for the first part of the night we listened to the lions roaring right outside our tents. We knew we were safe, but it was still exhilarating!
Shumba Camp in the Busanga Plains of northern Kafue was another favorite stop for me because it's so private. The Busanga Plains are about a quarter million acres of open grasslands known for its plains game and lion prides, reminiscent of the Serengeti. Unlike the Serengeti, though, the number of vistors in Busanga is, at most, 28 people. It's almost impossible to beat that kind of privacy. I also went hot air ballooning over the plains, which I highly recommend. It was simply magical to see the terrain sprawling out from high above, and it still feels cozy with just eight people sharing the basket.
Lower Zambezi National Park
My last three nights were in the Lower Zambezi, but I could easily have spent more time here. The water activities – boating and canoeing – were the highlight for me. I love how relaxing floating along the water is, enjoying the breeze and the calm, especially after all the action and movement of a game drive. When boating, you also get to cover big stretches of waterway so you see more of the area's landscape which was a treat. We boated between camps and saw so many elephants! They were washing and playing with their babies in the water and all along the bank. We saw herds of 30-40 elephants while canoeing along the waterways, but other guests the day before saw over one hundred elephants crossing the river right in front of them! You simply can't beat that kind of encounter, especially from such a unique vantage point (you are in the water with them!).
I can't wait for more travelers to experience Zambia's special magic. It really is a perfect destination to unplug and get back to nature. It has a huge diversity of landscapes and activities with an "old school" Africa flavor for our intrepid safari-goers.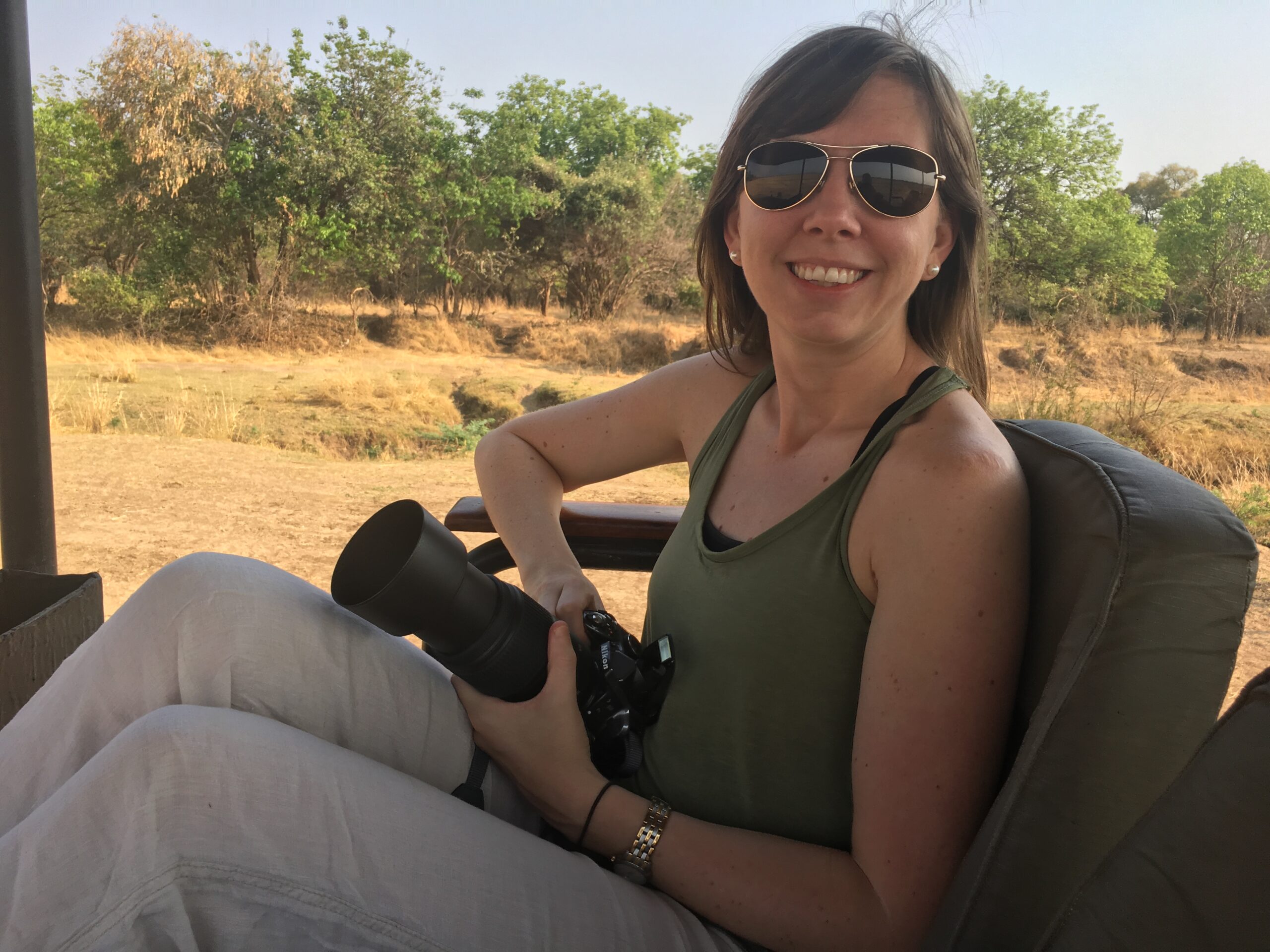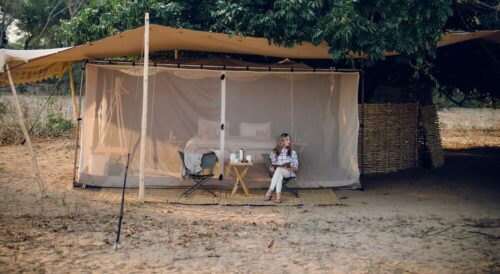 Old-School Zambian adventure in owner-run camps
11 Days | $12,500 per person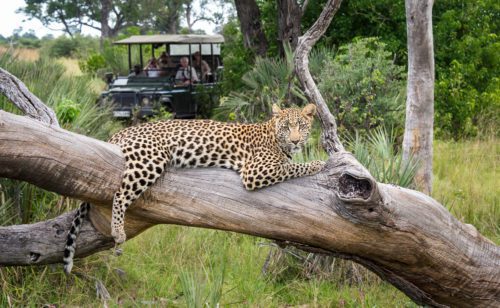 Explore two of Zambia's Iconic Parks and Diverse Activities
12 Days | $10,700 per person

Explore South & North Luangwa on game drives and walking safari
11 Days | $8,200 per person