Our Favorite Water Camps in the Okavango Delta, The
Okavango Delta
, is the world's only inland delta. It was created by a tectonic shift that cut off the Cubango River on its long passage through Botswana. As the annual flood waters spread southward from Angola, they fill the Okavango Delta with pools and lagoons and twisting water ways, creating islands that shelter a myriad of unique flora and fauna. Given this incredibly unique geography, getting out on the water is an essential part of the Delta experience. This can include sliding silently through the water in a mokoro, game-viewing by motorized boat or even canoing. We always encourage clients to combine water and land focused camps in the Okavango and usually recommend 2 nights at a water camp to get the full experience.
Depending where it is located in the Delta (and the time of year) a given camp is able to offer more or less of a water-based experience. The list below are our favorite camps in the Delta that can offer water activities for most of the year (lowest water levels are between November and February). If you want more detail on the Okavango's seasonal floods and how that might impact where you would stay at what time of year you can find that here.
Tubu Tree
Tubu Tree Camp is a charming camp on a large island in the Jao Concession. Being set on a large island allows for game drives as well as water activities for much of the year which we really like. This island is also one of the best places in the Delta to see leopard. The main areas of the camp are set on raised platforms, with lovely vistas over the delta, and a pool area with views over the stunning plain. The eight rooms each have quaint, tented bathrooms, outdoor showers and private decks with scenic views. We also like Little Tubu, Tubu Tree's smaller sister camp.
Kwetsani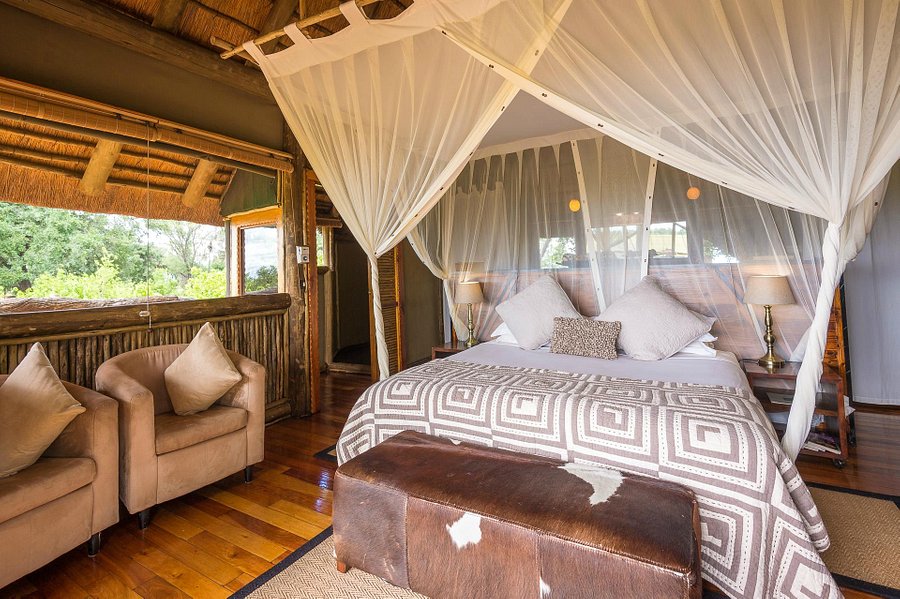 Also in the Jao Concession, Kwetsani is an intimate safari camp situated among lush palms and fig trees. An island theme prevades the lodge and we love the chalets – quaintly styled as tree-houses – with outdoor showers, elevated decks and magnificent views. Wooden walkways lead to an open-plan thatched dining room and lounge. Gaze out over the concession from a plunge pool, or soak up the sun in one of the loungers. As you might have noticed the Jao Concession seems to be the place to be for good water camps! Other camps in the concession include Jacana, Jao Camp itself and Pelo which all offer excellent water experiences at different styles and prices points.
Xigera
Xigera is a relaxing and beautiful camp. Comfortable canvas tents are connected to the open plan main lounge and dining room via wooden walkways. Visitors can relax on the viewing decks overlooking the floodplains or around the fire. Being a water camp, guests can glide through the surrounding waterways on mokoros in search of the resident wildlife.
Xudum
This year round water camp is a well-run lodge offering great service and comfort. Enormous rooms with a dark color scheme have outdoor showers, large bathtubs and plunge pools. The rooms also have their own roof-top hides from which visitors can continue searching for wildlife or even sleep outdoors. Throughout the main lodge, guests have superb views over the plains while they relax and take advantage of the good food, fine wines and friendly service. Xudum's sister camp Xaranna also offers an excellent water experience with a lighter, more feminine decor.
Pom Pom
Pom Pom Camp is set on Pom Pom Island in a private concession at the head waters of the Xudum river system. The area lies on the western boundary of the Moremi Game Reserve and offers superb scenery and a true Okavango wilderness experience.While Pom Pom is not the most luxurious camp in the Delta, it is in an incredible area and offers a great water experience at a mid-range price point making it excellent value for money.
Xugana Island Lodge
Similar to Pom Pom, we like Xugana for being able to offer an excellent water experience year round at a great price. Xugana Lagoon is one of the most spectacular permanent water sites in the entire Okavango Delta and Xugana Island Lodge takes full advantage of this magnificent site. The lodge accommodates 16 guests in large raised reed and thatch lagoon facing chalets. Exploring the Delta by motorboat or mokoro, combined with walking on surrounding islands, gives guests the chance to experience a classic water experience. The bird-watching is excellent and fishing for bream and tiger fish is also possible.
Selinda Canoe Trail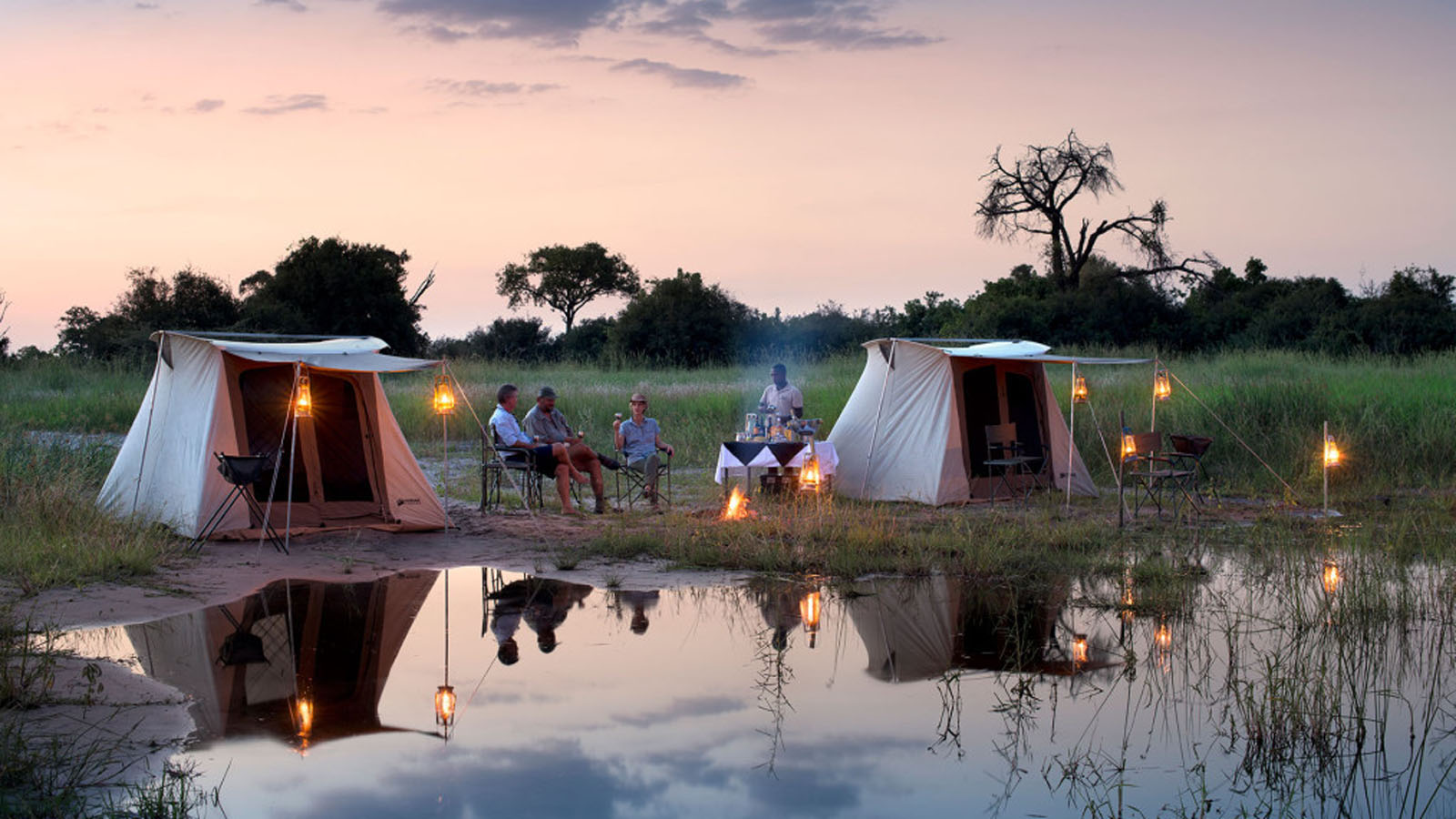 The Selinda Canoe Trail is the ultimate water experience in Botswana. The Selinda Canoe Trail offers you five days and four nights of adventure deep in among the islands and lagoons of the Selinda Spillway. In 2009 high floodwaters reopened the Selinda Spillway, causing it to flow for the first time in almost three decades. The annual flooding of the spillway now allows travelers to explore the area on a fully guided canoe trip covering almost 45km of this unique waterway, fly camping on its banks at night. Each canoe holds two guests, their bedrolls and bags. You must be strong enough to paddle your own canoe but no previous experience is necessary, just a desire for adventure!