As you have come to expect, we at EJ Africa specialize in the extraordinary—extraordinary safaris, extraordinary hosts and guides, extraordinary experiences. So it won't surprise you that we want to tell you about a few of the extraordinary loos with views that we have encountered during our travels in Africa.
But first some background. The facilities we're talking about have been given many names since 3300 BC (toilet, WC, loo, netty, privy, bathroom, restroom—to mention only a few), when the first indoor conveniences with attached plumbing appear in the archaeological record. The ambience of most loos (from the French lieu, meaning place? a brand of early toilet trademarked "Waterloo?") is usually strictly utilitarian. They're contained within four walls, have few or no windows, and the gloom is relieved by unflattering fluorescent light.
Trust us to know of accommodations where the settings are sublime. A custom safari to Kenya? Let's start with one of our favorites—the Lewa Safari Camp. Set on 45,000 acres of Kenya's Lewa Wildlife Conservancy, the view from the throne-like facility, perched on the top of a hill with no wall between sitter and viewer, includes not only the habitats of all of Africa's Big Five, but also that majestic peak—right there! It's Mount Kenya, the continent's second highest summit at 17,057 feet. Ah, the great thoughts that can come to mind as one contemplates this 3 million year-old stratovolcano and its 11 glaciers.

Alternately, if you want to train your eyes on the stars as you shower, or to receive a sea breeze massage, we recommend the large open-air bathroom of an adobe banda at Guludo Beach Lodge in Mozambique. Founders Amy and Neal Carter-James realize that you want to be exposed to nature, but in a very private way. Ascend your loo's small staircase to watch the sun rise or to look out over one of the world's most beautiful deserted beaches. Those are humpback whales cavorting with their calves out there in the surf.
If, on the other hand, your idea of post-game-drive relaxation involves a long sumptuous indoor soak in a bath-mit-chandelier that even a countess would covet, let us arrange for you to stay at Ngorongoro Crater Lodge. This is a favorite for those interested in a safari to Tanzania. Perched as you are on the rim of an extinct volcanic crater that shelters between 20,000 and 30,000 animals, at any hour you will find the view from this loo totally mesmerizing. Ask your companion to please hand you the waterproof binocs, so you can continue your surveillance of the animal kingdom from the comfort of your own private sanctuary
We realize that a much rarer commodity is "a view with a loo" – certainly not Everest, and you can cross Mount Kilimanjaro off the list. Researching this topic will take some time, but stay with us. We will be in touch again soon.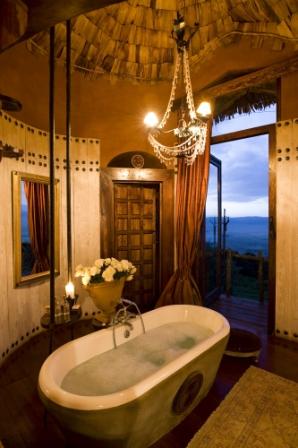 Marcia & Elizabeth