The Peruvian Amazon is the fourth largest rainforest in the world and boasts remarkable biodiversity. The rainforest is also home to some 180 reptiles, 262 amphibians, 293 mammals, 697 fish, 806 birds, and 2,500 butterflies.
The area is an increasingly popular hot spot for nature/wildlife lovers for a very good reason. Along with the flora and fauna, it also offers rich indigenous cultures, a plethora of activities for adventurous travelers to discover and excellent food.
The Peruvian Amazon makes up half of the country and there are two main gateways to enter. Iquitos accesses the main river (often a hub for luxury boat) up in the North, and Puerto Maldonado in the South offers access to the Tambopata National Reserve. Spanning vast areas of savanna and rainforest, the Tambopata National Reserve is known for its spectacular displays of wildlife and variety of fun outdoor activities. Perhaps the most famous drawcard of the area is the mass of rainbow colored macaws which feed on the salted walls of the reserve's lakes in the thousands. Home to more species of birds and butterflies than any place of similar size on Earth, as well as monkeys, otters, jaguars and tapirs, the rainforest provides the ultimate adventure for hikers hoping to see animals. If you decide to visit, we love the Tambopata Research Center and Refugio Amazonas Lodge.
Iquitos earns the unenviable title as the world's largest city that cannot be accessed by road, but the effort you'll make to reach it will be rewarded. You will most likely arrive in Iquitos and hop on a boat for a cruise down the Amazon, but the rainforest cuisine, buzzing nightlife of one of Peru's most fascinating markets in the floating shantytown of Belén, and Amazon creatures just up the river, is worth a longer stay.
The best time to visit the jungle is from April to December, when temperatures are often in the high 80's. Some say that the rainy season from January to March is best as it makes it easier to spot wildlife gathering around the dry areas of land, however, you have to be prepared for the bugs and mud that come with rain!
Our favorite accommodation in the Peruvian Amazon
Accommodation
Peruvian Amazon | Peru
Cruise the Peruvian Amazon in style aboard the Delfin I
Accommodation
Peruvian Amazon | Peru
Cruise through the Peruvian Amazon in the luxurious Delfin II
Recommended itineraries featuring the Amazon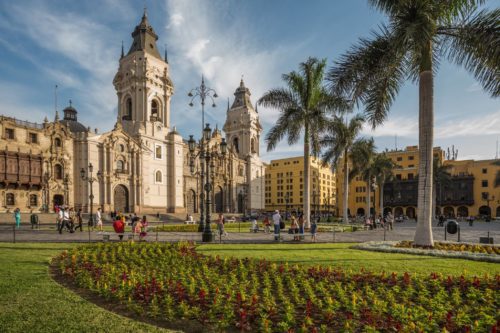 Cruise the Amazon and explore the wonders of Machu Picchu and Cusco
10 Days
Other areas to explore
Plan your Trip
Ready to start planning your own incredible adventure? We make the process stress-free and enjoyable.