Unforgettable Encounters with Mountain Gorillas on this Rwanda safari
While you may be intrigued by the notion of a classic safari in Kenya or Tanzania, we can tell you right now that you can't go to Africa without spending time in Volcanoes National Park and trekking for mountain gorillas. Although their number is steadily increasing thanks to conservation efforts, there are still only around 1,000 of these magnificent primates left in the wild, and watching them in their natural habitat is an exhilarating Rwanda safari experience.

This itinerary can be added before or after your safari, and includes one day with the gorillas and one day with the golden monkeys with the option of spending the second day with gorillas instead, and a stay at Rwanda's first community-owned lodge.
Rwanda safari: 5 days / 4 nights
Highlights of Rwanda safari
This 5-day fly-in Rwanda safari extension begins with an overnight stay at Kigali Serena in Kigali

The next day, you'll be met by your private driver guide and taken on a tour of the city. This includes a visit to Kigali Genocide Memorial to get a better understanding of the country's turbulent history and the positive achievements that have been attained over the past 25 years

Enjoy lunch in the city before a three-hour winding drive through the countryside to Sabyinyo Silverback Lodge, in the foothills of the spectacular Virunga Mountains. This lodge is the first in Rwanda to be owned by the local community, and supports gorilla conservation and community projects

Early the following morning, you'll set off to trek the mountain gorilla, hiking through the forest for anywhere from 30 minutes to four hours, depending on the location of the specific gorilla family you're tracking. Once sighted, you'll have the opportunity to spend an hour observing these fascinating primates, watching them interacting, playing, and feeding while under the watchful eye of the silverback

The following morning, you'll have the opportunity to do a second gorilla trek with a different family group, or to look for golden monkeys. As with the gorillas, you're permitted to spend one hour with a group that have been habituated to human presence. Spend the afternoon soaking in the views from your cottage or head into the village to visit the thriving community who own the lodge
Price
$7,200-$8,800 per person sharing in 2023. Includes one gorilla permit and one golden monkey trekking permit.

Note that the minimum age for trekking is 15 years.
Easy extensions
Gorilla trekking in Rwanda combines seamlessly with a safari in Tanzania (flights available from Kigali directly to the Serengeti) or Kenya. With a bit more flying, Zambia, South Africa and Botswana are within a day's reach.
Itinerary Map
Explore Other Itineraries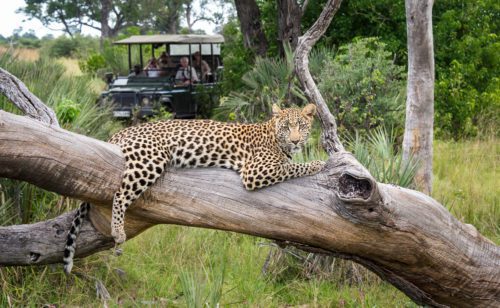 Explore two of Zambia's Iconic Parks and Diverse Activities
12 Days | $10,700 per person
Incredible Game, Conservation, and Community Upliftment
9 Days | $6,000 per person
Breathtaking Scenery and a Mobile Camp in the Serengeti
9 Days | $7,300 per person