The rugged beauty of Patagonia meets the lunar landscapes of the Atacama and lush wine valleys of Milahue on this remarkable Chile trip
For being such a narrow country, Chile has an impressive amount of diversity from tip to tail. This Chile trip itinerary highlights our favorite areas, and features accommodation offering excellent value. From the stunning landscapes of Patagonia, to the desert scenery of Atacama, with stops in Cosmopolitan Santiago and wine estates of the Chilean countryside, this diverse trip will have you falling in love with this special country.
Chile trip: 11 days/10 nights
DAYS 9 & 10:
Fly to Santiago and transfer the winelands, Vik Chile
DAY 11:
Transfer to Santiago for flight home
Highlights
Start your Chile trip in Patagonia, arriving at your accommodation in Puerto Borries late afternoon. Spend three full days on excursions highlighting the best landscapes and experiences in Torres del Paine. From horseback riding and hiking, to glacier cruises, and remote estancias, Torres del Paine is a natural playground with every corner revealing a more stunning landscape than the next.
Fly to Santiago for a quick stop en route north. With an incredible gastronomic scene, enjoy your evening indulging in some of the best wine and food in South America.
Continue to San Pedro de Atacama to explore the world's driest non-polar desert. Spend the next three days discovering this arid environment and breathtaking landscapes with shadows cast by the Andes Mountains and its volcanoes. Salt flats, geysers, and volcanoes dot the landscape. It's a photographer's dream!
Finally, return to Santiago and into Chile's renown wine valleys. Enjoy the expansive views from the architecturally-acclaimed wine estate and spend a full day tasting at the region's best estates. Head out on horseback or mountain bike, or relax by the infinity pool or spa.
Price
Contact us for pricing and to connect with your personal travel expert
Itinerary map
Explore other itineraries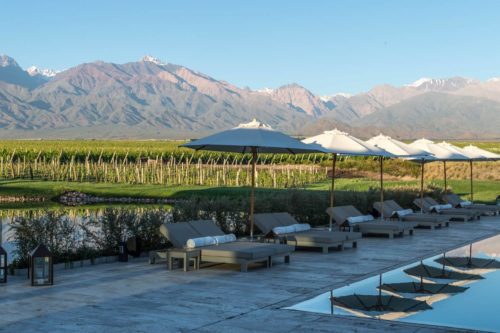 An Argentinian blend of mountains, vineyards and city
9 Days
Sophistication in Buenos Aires, Adventures in Patagonia and History in Santiago
11 Days
Unforgettable primate encounters, culture and luxurious lodging
12 Days | $16,700 per person
Explore Medinas, Markets, Dunes, an Oasis, and the beautiful seaside of Essaouria
12 Days | $9,800 per person
Whale-watching, Wine tasting and the Big 5
11 Days | $10,400 per person