The Whale Coast of South Africa is home to some of the best whale watching opportunities on the planet. From July to November of each year, the region sees an influx of hundreds of whales—and world-class access to up-close views of these ocean giants.
In this guide to your visit to the Whale Coast, we'll show you the best time to go, how to see the whales, where exactly to go for the best sightings, which hotels you should stay in, and even a few great places to eat.
When to Go Whale Watching
South Africa is a gorgeous destination year-round. But for the best whale watching opportunities, we recommend you plan to visit between June and November. This is when the southern right whales migrate from Antarctica to breed and raise their calves.
Hermanus, South Africa has become known as a mecca for these amazing creatures with more than 100 known whales in the area. During this busy season, you'll likely get to observe a variety of right whale behaviors, including breaching, lobtailing, sailing, and spyhopping.
Three Ways to Watch: by Boat, by Plane, or on Land
Boat-Based Whale Watching Tour in Gansbaai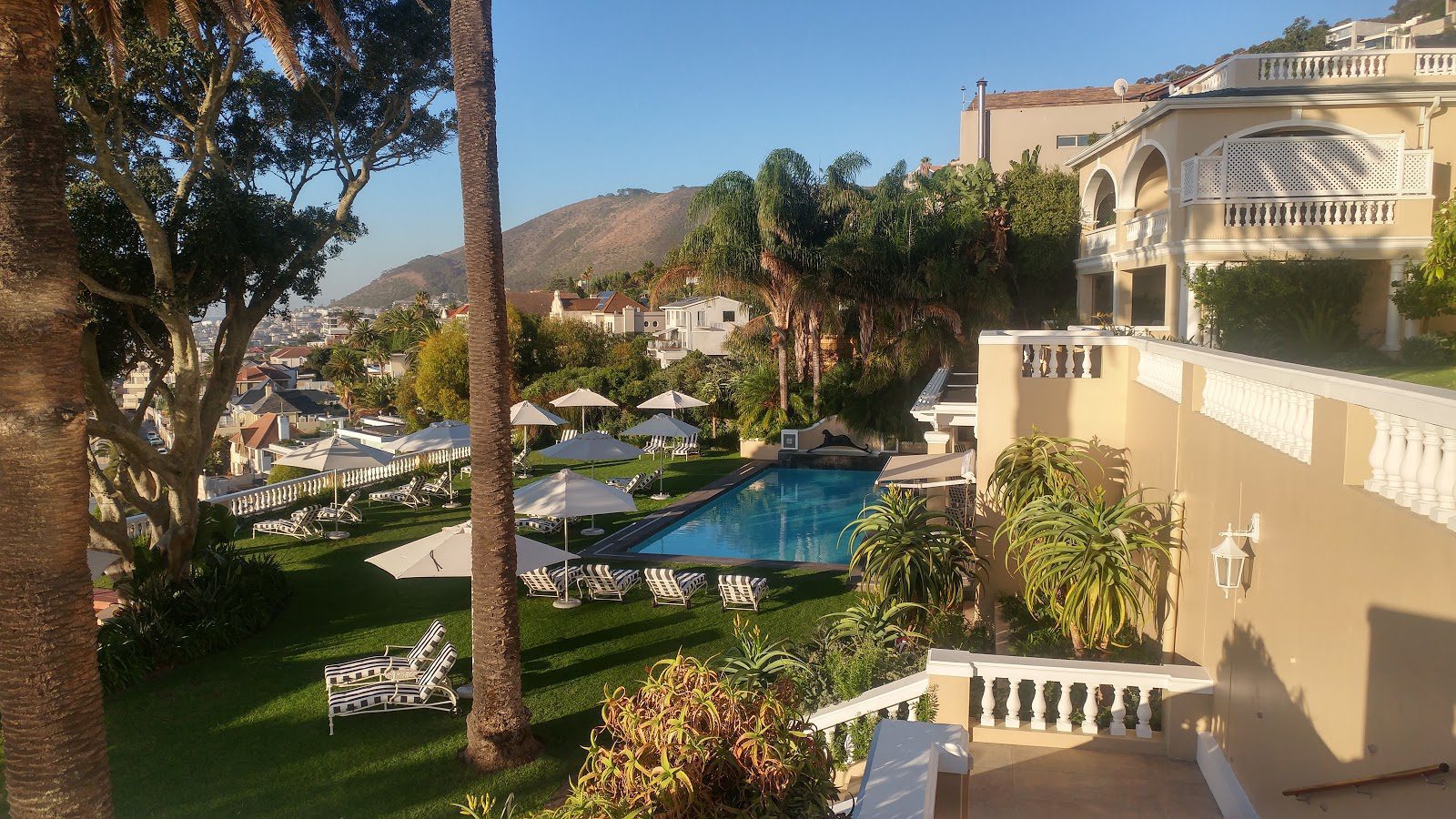 Head to Kleinbaai Harbour in Gansbaai, the launch pad for whale watching cruises in this area, which is remarkably rich in marine life.
After an introductory talk, depart for Dyer Island, 8 kms from shore. This island is protected for its many bird species, including African penguins, Cape gannets, and giant petrels. Adjacent to the island is Geyser Rock, home to 60,000 Cape fur seals.
The channel between Dyer Island and Geyester Rock is known as Shark Alley, as great white sharks cruise the waters in search of their favorite prey. In and around these waters are strong numbers of Bryde's whales and humpback whales, as well as dolphins, which make for very rewarding up-close sightings.
Return to shore and enjoy a warm drink while watching a DVD of your boat trip.
Details:
The meeting point for this tour, if self-driving, is Kleinbaai Harbour
Scheduled transfers can be arranged from Cape Town or Hermanus at an additional cost
Whale Season is from June to November, but outside of this period, the trips run as a marine eco-cruise
This is a scheduled boat trip with departure times subject to tides and weather conditions
Cost: from R1479.00 per person (about $103 as of May 2019)
Sky-High Whale Watching from a Plane
For an entirely new and exhilarating point of view, try whale watching from a plane! One of our local partners offers flights in the Hermanus area from 30 to 60 minutes long where you'll have the chance to view these marine giants cruising and playing in the waters of the Walker Bay coast.
For the best plane-based whale watching experience, we recommend the one-hour tour of Dyer Island, Pearly Beach, and the surrounding areas. You'll also have the chance to see sharks and a variety of other marine wildlife during your flight.
Details:
Flights depart from the town of Stanford, 25 minutes from Hermanus
Customized flights are available upon request
The fee for a one-hour flight with up to three passengers is a flat R7840.00 (about $545 as of May 2019)
Whale Watching from the Shore
While whale watching from a boat or plane is amazing, don't underestimate the shoreline! During peak season, you can see southern right whales breaching right from the beach, even without binoculars (although it never hurts to have them on hand, especially if you're pairing whale watching with a safari).
This is always a nice option to have as a backup plan in case your boat-based whale watching excursion needs to be cancelled. The ocean is unpredictable, of course, and cancellations are not uncommon during bad weather and swells.
Not to worry, though. Even if your boat has to cancel, you're still guaranteed an amazing experience from shore.
Ask the Expert:
"When my whaling boat was cancelled, my very knowledgeable guide, Dave De Beer, did an amazing job at delivering a top-notch experience. He even took me through the entire whaling museum in Hermanus after watching the whales breach from shore."
— Molly Gustafson, Extraordinary Journeys
The Best Areas to go Whale Watching
False Bay
Just a short drive from Cape Town on the Cape Peninsula is False Bay. If you don't have time to travel all the way to Hermanus, we highly recommend the whale watching at False Bay. It can easily be added to a Cape Peninsula tour.
A hike along the coast (and just a bit of elevation) gives you the best shot of seeing whales from the shore at False Bay. For even better luck, we recommend taking a boat, as both humpback and Bryde's whales are frequently spotted away from the shore.
Chapman's Peak is a great place to go for plenty of altitude and great views of the whales—just be sure to take along your binoculars.
Hermanus
Hermanus, a small town on the southern coast of the Western Cape, is often considered to be one of the best land-based whale-watching spots. The Old Harbour Museum, established in 1972, occupies rebuilt old fishing shacks and details the area's historic ties to the fishing and whaling industries.
About 1.5 to 2 hours from Cape Town by car, Hermanus isn't the closest whale watching destination to the city centre. But it's certainly one of the best—and equally suitable as a day trip or an overnight destination for those interested in maximizing their whale watching opportunities.
A visit to Hermanus is an essential stop along several of our tours from Cape Town to the Overberg. For travelers interested in combining whale watching with a few other sights and activities in the region, these tours are a fantastic option.
De Hoop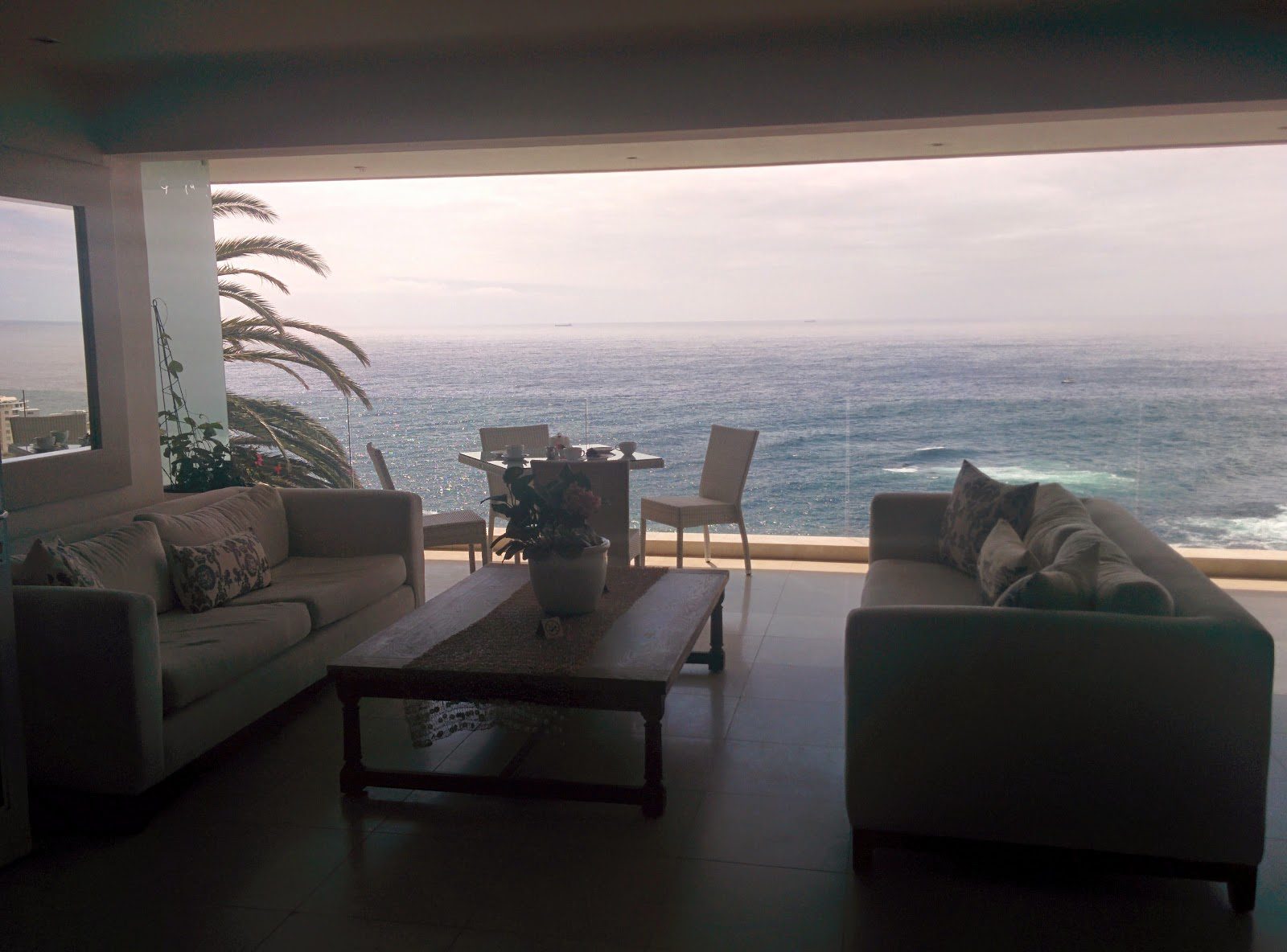 Farther east along the coast of the Western Cape is De Hoop Nature Reserve. This 84,000-acre coastal and mountain reserve in the Overberg region offers some of the best whale watching on the planet.
The De Hoop Marine Protected Area extends three nautical miles out to see from the Reserve's coastline, making it a haven for breeding whales and their calves. From July to November, southern right whales and their offspring flock here in their hundreds from Antarctica.
The De Hoop region is also home to 86 mammal species and a number of resident and migratory birds.
Since De Hoop is a 3.5-hour drive from Cape Town (and there's so much wildlife to encounter here), we recommend an overnight stay.
The Best Places to Stay in Hermanus
Birkenhead House
For five-star luxury and stunning views, we recommend Birkenhead House. The 11 rooms of the property are located in three different houses, and every room is individually decorated in a stylish theme. If you're looking for an all-inclusive property with very personalized service that feels a bit like a boutique resort, Birkenhead House is it.
We love the infinity pools and the property's breathtaking cliff-top position overlooking Walker Bay. There's even a private beach cove! And Birkenhead is located just a stone's throw from The Grotto, the most beautiful beach in Hermanus with backdrop of the mountains.
The Marine
The Marine is a wonderfully elegant 5-star hotel ideally situated on Hermanus' famous cliff path. It's centrally located and boasts gorgeous views overlooking the ocean.
The Marine is the perfect choice for travelers looking for top-shelf luxury accommodations and whale watching all at the same time (during peak season of course!). Guests of the hotel can often spot whales directly from the comfort of their sea-facing bedrooms!
Abalone Guest Lodge
This modern beach house-style boutique hotel is situated right on the water in one of the best places in town to see whales breach during peak season.
Service here is a bit more hands-off in that you won't be getting room service. But you can rest assured that you'll wake up to a big breakfast each morning overlooking the ocean in a beautiful setting. Abalone offers a solid four-star experience in a comfortable, low-key setting.
La Fontaine Guest House
La Fontaine offers a smaller boutique guesthouse-style accommodation. The Dutch Cape-style guesthouse offers excellent value if budget is a concern.
As such, La Fontaine is much more centrally-located than some of the other cliffside properties in Hermanus. But the benefit to that is being able to stroll down the street into town for dinner, a drink, or coffee in the morning.
La Fontaine is also very conveniently located just across the street from the famous cliff path which follows the shoreline from town to The Grotto.
Grootbos Private Nature Reserve
Grootbos is comprised of three 5-star luxury lodges located within the 2500-hectare Grootbos Private Nature Reserve. This property is especially suited to travelers with a love of plant life; the area is home to 800 plant species, 100 of them endangered, and six of them newly discovered. It also boasts three milkwood forests over 1000 years old.
Located about 20 miles down the coast from Hermanus, Grootbos is a bit more off the beaten path than the others farther up the coast. It offers a variety of wonderful experiences, from marine safaris and botanical tours to scenic flights and wine tasting.
Mosaic Lodge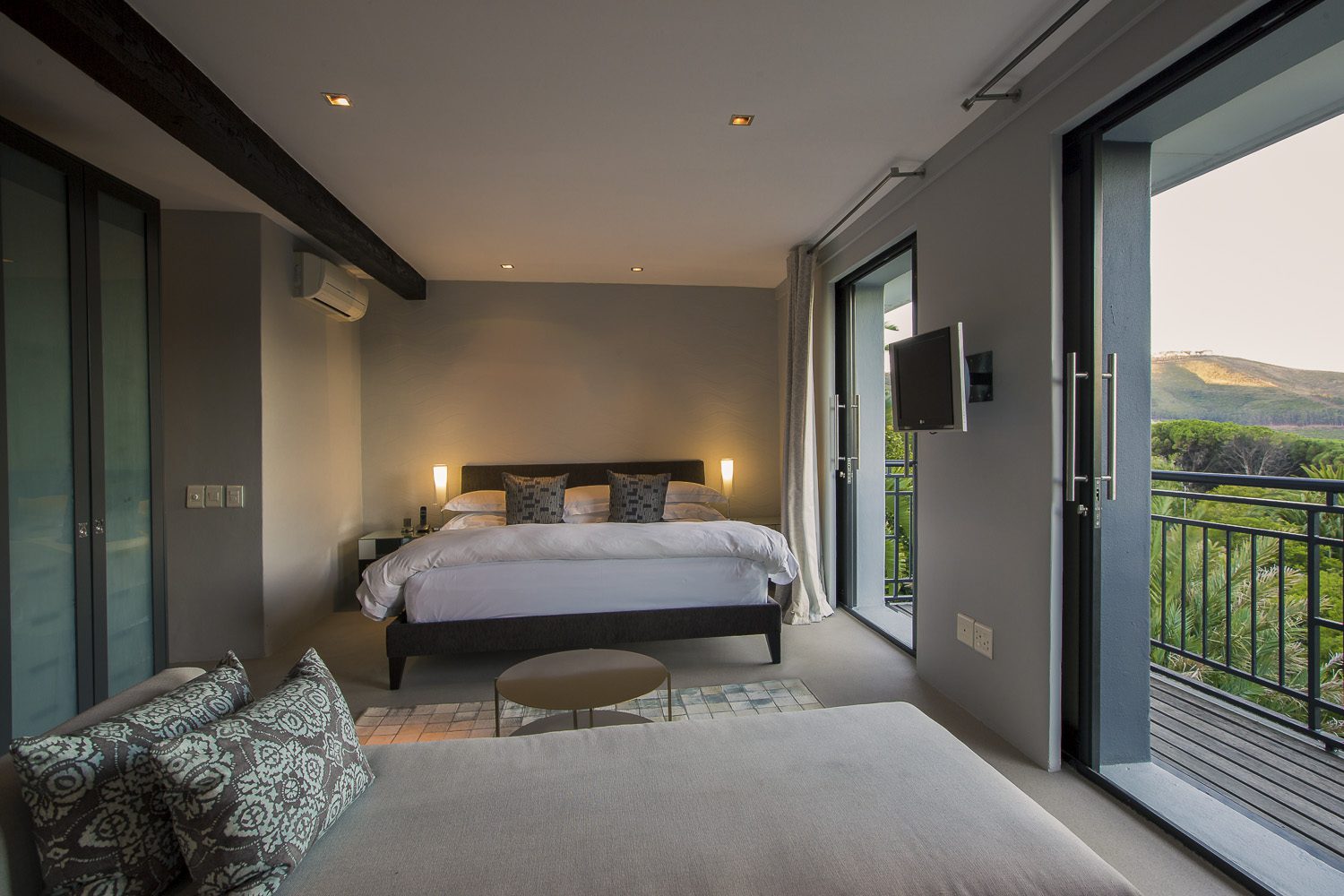 Situated on the Klein River Lagoon, Mosaic Lodge is a great alternative to Grootbos for travelers seeking a similarly off-the-beaten-path location. We love this low-key safari-style property. While it's not on the beach, the recently-refurbished Mosaic is a marvelous place to relax and use as a base to explore the area.
Located southeast of Hermanus, Mosaic is set on 1,000 acres of private land, facing north toward the lagoon. Visitors have access to the lagoon's beach, the nature reserve, and sand dunes. This is an especially wonderful destination for birders.
The property boasts five rooms (accommodations for up to 10 guests) with double baths and outdoor showers. We also love the heated plunge pool at the lodge.
When the lagoon levels are high, the water reaches all the way up to the stairs of the mess tent, but the levels can also recede.
We highly recommend a heli transfer from the Cape Town waterfront (bags arrive by road transfer). It truly is the best way to arrive at this gorgeous property.
Mosaic offers a number of activities throughout the day. In the morning, enjoy a nature walk or quad biking on the reserve's 30 km of roads. In the afternoon, take part in a number of beach activities, stroll along the shore, or hop aboard a pontoon.
For activities a bit farther afield, Mosaic offers the following:
Wine tasting at Springfontein
Afternoon tea
Shark cage diving with Brian McFarlane or Dyer Island Cruises
An eco-trip with Dyer Island Cruises
Cape Town trips
Excursions to the amazing, off-the-radar Hemel-en-Aarde wine area
Guests of Mosaic can stay at an exclusive-use rate, which includes all transfers. (This is a good option if you'd like to arrange shark diving because cancellations—due to weather and rough seas—are not uncommon.) We recommend a minimum stay of two nights to make the most of your time at Mosaic.
Where to Eat & What to do in Hermanus
Fisherman's Cottage
Fisherman's Cottage is the perfect stop for a delicious meal with plenty of local character. The historic building dates back to the late 1800s and was converted to a restaurant in 1991.
Fisherman's Cottage offers simple dishes that allow the freshness and richness of the regions seafood to shine through. Their blackboard menu changes almost daily, depending on the catch and the weather. You have the choice of a variety of fish dishes, as well as a few wonderful meat and vegetarian options.
Harbour Rock Restaurant
If you want to experience a true local scene, head to Harbour Rock for excellent sushi and fresh seafood. Situated high on a clifftop, overlooking the fishing and whale watching harbor, the views can't be beat. When you're finished, you can walk around the corner to The Gecko Bar & Restaurant for live music and dancing.
The Hermanus Whale Festival
Hermanus, regarded as one of the best whale watching destinations in the world, is home to the annual Hermanus Whale Festival which takes place in September of each year.
Here, you can expect live music, street food, arts & crafts, and, of course, all things whale: whale watching, whale educational talks, "whales and wheels" car show… the list goes on.
Wine Tasting
The vineyards in and around Hermanus offer a variety of wonderful wines. And because they're so close to the ocean, the chemical makeup of the soil is different from that of Franschhoek and Stellenbosch. As such, the type of grapes that are grown here are different—and delightful. Try a glass or two of wine for yourself! If time allows, we recommend a day tour of these vineyards on the Hermanus Wine Hopper.
The Best Places to Stay in the De Hoop Marine Protected Area
Hermanus is certainly a whale watching hot spot, but it's not the only one! De Hoop Marine Protected Area is a fabulous choice, too. Here are a few of our favorite properties in the area.
Lekkerwater Beach Lodge
The seven rooms at Lekkerwater Beach Lodge are positioned along six kilometres of pristine white sand. Here, spectacular vistas take centre stage. Each perfectly-positioned room is fronted by floor-to-ceiling glass windows that overlook the Indian Ocean and marine life ahead. A small veranda outside each room provides the perfect spot to soak up the magic. Inside, the earthy, comfortable rooms take inspiration from the natural beauty of the De Hoop Nature Reserve.
At the main area, guests enjoy the same fabulous views from a wraparound deck. An interactive, open kitchen is at the heart of the lodge, and guests will dine, family-style, at the indoor tables or outside, feet-in-the-sand style, on the beach.
From July to November (and sometimes even early December), southern right whales migrate to De Hoop from Antarctica in the hundreds. The De Hoop Marine Protected Area, just offshore is a game reserve-like safe haven where fishing and marine exploitation of any form are prohibited.
Guests at De Hoop are able to spot carefree pods of dolphins and all sorts of marine life. Inland, on the rolling grassy plains, guests may be lucky enough to spot a rare Cape mountain zebra, bontebok, rhebok and even eland. De Hoop is also one of South Africa's most important birding areas with over 260 recorded species in the reserve!
Morukuru Beach Lodge
Morukuru is a luxurious, boutique, family-friendly eco-lodge that complement its sister property, Morukuru Ocean House. Situated in the De Hoop Nature Reserve, this lodge offers magnificent white sand dunes, seaside limestone cliffs, and beautiful coastal fynbos.
Morukuru is a sanctuary of refined comforts for the discerning traveler. Activities include land-based whale watching, snorkelling, mountain biking and sandboarding.
Quick Refresher:
For the best whale watching, visit between June and November.
Depending on your location, you can go whale watching by boat, by plane, or right from the shoreline (especially if you're on a cliff with great views).
Hermanus, De Hoop, and False Bay are the best places to do your whale watching.
The best places to stay are in and around Hermanus or the De Hoop Marine Protected Area.
Plan Your Whale Watching Adventure
Ready to start planning your own incredible South African adventure? We make the process stress-free and enjoyable. Call or email us today to explore your best options for a whale watching safari you'll never forget!
Then, start packing that suitcase because we've got all the details covered.