Freediving with Hanli Prinsloo is a once-in-a-lifetime experience. It's also delightfully simple to add this "seafari" experience to your on-land safari. Discover why exploring our magnificent oceans alongside a world-class guide is the ultimate in transformative, ocean conservation experiences. You don't need any special skills to freedive—just a willingness to learn and reconnect with the deep blue world below.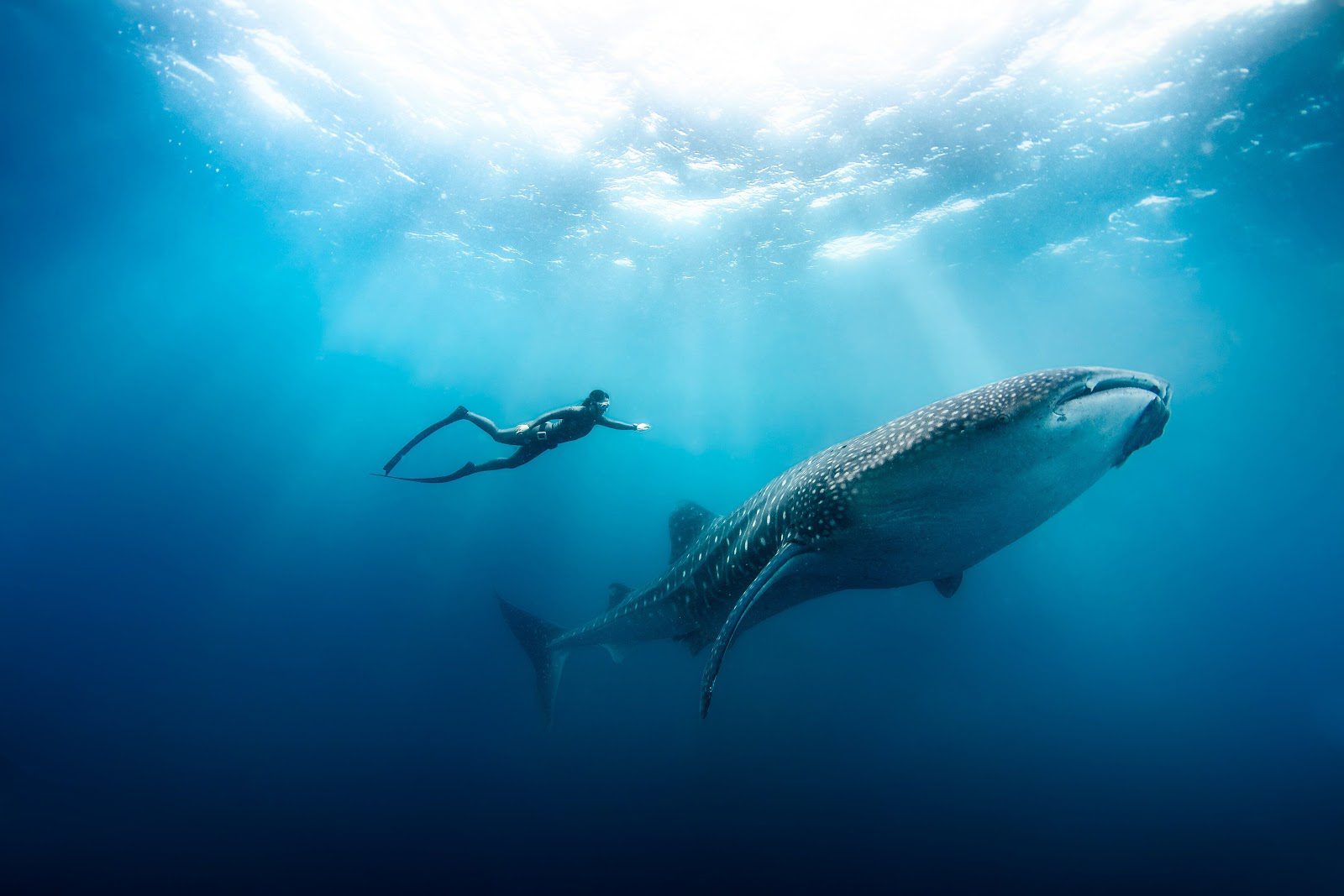 6 Reasons Why We're Convinced Hanli Prinsloo is Second to None
You'll be freediving with the best. Full stop.
World-class freediver Hanli Prinsloo's path to conservation—and becoming a uniquely qualified "seafari" guide—is a roundabout one. Born and raised near Pretoria, South Africa, she first discovered freediving—the age-old practice of exploring the ocean in one breath—as a film student in Sweden when a classmate convinced her to tag along on a water adventure. Her inaugural plunge in 2000 led to a remarkable career as a competitive freediver, during which time she smashed 11 national records across six disciplines and even served as Halle Berry's underwater body-double in the shark movie, Dark Tide.
She's serious about ocean conservation.
Prinsloo has made it her mission to get people to fall in love with the ocean and all its inhabitants. (It's not too different from how we've been unabashedly championing Africa.) Her main goal, much like ours, is to get people to care about this special environment and all its creatures so deeply that you'll want to experience it firsthand, and, more importantly, fight for its preservation.
If you think what roams above the earth's surface is mind-blowing, you won't believe what you'll find below.
A charismatic environmental advocate, Prinsloo co-founded I AM WATER Foundation in 2010. The ocean conservation organization offers intimate wildlife encounters with the ocean's most majestic creatures from dolphins and seals, to humpback whales, manta rays, hammerheads, and whale sharks.
In 2012, Prinsloo turned her full-time attention toward I AM WATER Foundation. Her goal: to introduce underprivileged youth living in coastal communities in South Africa to the wonderful world under the sea.
Four years later, she and her long-time partner, Peter Marshall, an American world champion swimmer, co-founded I AM WATER Ocean Travel to support the nonprofit and spread their infectious enthusiasm about all things aquatic in a sustainable way.
As Prinsloo puts it, "Conservation needs well-balanced, empowered humans who care. I AM WATER Ocean Travel works on the same ethos, while offering unusual ocean adventures in pristine environments, teaching freediving and responsible interactions with big marine animals."
RELATED: Everything You Need to Know About Freediving
Her effervescent love of the ocean is contagious.
EJ co-founder Elizabeth Gordon got a front-row seat to Prinsloo's enthusiasm on a trip to Cape Town in April 2017.
"There's no denying the safari world is a tight-knit one," says Gordon. "So when I traveled to Cape Town for Conservation Lab, a progressive two-day 'un-conference,' I shouldn't have been surprised to connect with some very special kindred spirits.
"I met Hanli Prinsloo on my very first day at Conservation Lab. She is an inspired, passionate freediver and a world-class instructor who has taught her beloved sport to over 1,000 individuals. To put it in perspective, her love of the ocean is matched only by my love of safari.
She's a generous, empowering teacher.
Sharing their mutual passions at Conservation Lab was a true delight. But Prinsloo took her connection with Gordon a step further with a private freediving experience!
"Days (and drinks) later," Gordon says, "Hanli convinced me to (wet)suit up and join her and Peter in the cold waters of the Atlantic Ocean, west of Cape Town's Cape Point.
"It is important to note that their approach is atypical of most freediving operations. Rather than seeing freediving as simply a sport, Hanli and Peter consider freediving an opportunity to reconnect with the ocean as home. They reposition the marine world as being the epicenter of the world as a whole—or, at the very least, intrinsically connected to it.
She'll help you tap into the super-lungs you never knew you had.
Part of your time with Prinsloo and her crew is spent learning how to breathe properly for freediving so that you can come face-to-face with incredible animals, like dolphins and whale sharks, and unique environments, like dense kelp forests, without oxygen bubbles interrupting your view or disturbing the serene surroundings.
How does it work? You start by learning how to increase your lungs' volume. Prinsloo's is an impressive six liters—as much as most men and higher than the average woman's, which is closer to four. When not moving, she can go six whole minutes with no air.
Breathe easy: Prinsloo won't expect six minutes from you. However, she has seen guests improve their breath-holding on land, where you practice beforehand, from a little over 60 seconds to four minutes during a single trip.
Even if it's impossible for you to hold your breath for very long, you can always strap on a snorkel and enjoy many great ocean encounters in some of the world's most beautiful destinations. Here are just a few freediving destinations we love.
She'll teach you how to calm both your mind and body (this is transformative stuff).
Prinsloo was recently featured in a Shape Magazine article from writer Cristina Goyanes about learning how to freedive in Cape Town, South Africa. Goyanes, a self-described "antsy, type-A New Yorker," proved that no skills, other than knowing how to swim, are required to take the plunge.
Here's where Prinsloo really shines. She's a pro at getting even the most nervous folks to ease into this seemingly daunting activity and enjoy the beauty of marine life in a single breathless dive.
During Prinsloo's 24 hours with Goyanes, she took her to one of Cape Town's best-kept secrets: Windmill Beach in Kalk Bay, a private, scenic section of False Bay, which includes Boulders Beach, where super-cute South African penguins chill. There, Prinsloo taught her the proper breath-holding techniques for freediving through yoga, breath meditation, and science. The results were remarkable, especially considering how little time they had together!
Read the article "How Freediving In the Ocean Taught Me to Slow Down and Manage Stress" in Shape Magazine to get a complete account of this magnificent marine experience.
Gordon, too, can attest to the power of her own freediving experience: "With breathing exercises, meditation, and yoga, freediving with I AM WATER Ocean Travel becomes a holistic education and transformative experience. Having tried the product, I am sold."
Check out this gorgeous video of Elizabeth Gordon's first freediving experience.
Elizabeth and the Kelp Forest! from I AM WATER Ocean Travel on Vimeo.
Why You Should Book Your Freediving Safari with Extraordinary Journeys
It's a great addition to any safari in South Africa.
A freediving "seafari" with Prinsloo is the perfect add-on beach adventure to any safari in South Africa. With Kruger National Park a short flight away, you can easily cross both game viewing and freediving off your bucket list in one fell swoop.
You only get access like this through Extraordinary Journeys.
We're proud to be I AM WATER Ocean Travel's exclusive U.S. tour operator. We're excited to bring to Americans the incomparable experience of these ocean adventures, complete with yoga and freediving lessons, plus private villas with personal chefs.
You'll freedive in some of the most stunning locations in the world.
Here are a few of our favorite destinations:
Recap:
Here's your reminder of why Hanli Prinsloo gets our unequivocal endorsement as your "seafari" guide:
You'll be freediving with the best. Full stop.
She's serious about ocean conservation.
Her effervescent love of the ocean is contagious.
She's a generous, empowering teacher.
She'll help you tap into the super-lungs you never knew you had.
She'll teach you how to calm both your mind and body.
And why you should contact us to plan everything for you:
Freediving is a great addition to any safari in South Africa.
You only get private guide access to Hanli Prinsloo through Extraordinary Journeys.
You'll freedive in some of the most stunning locations in the world.
Plan Your Visit
Ready to start planning your own incredible "seafari" adventure? We make the process stress-free and enjoyable. Call or email us today to book Hanli Prinsloo as your private ocean guide for a freediving experience you'll never forget!
Then, start packing that suitcase because we've got all the details covered.