Private Guide Profile: Calvin Cottar
, is one of East Africa's most renowned private guides and part of family has been running safaris in Kenya for 90 years.
He is the great grandson of Chas Cottar who moved to Kenya from Oklahoma after reading Teddy Roosevelt's book Game Trails of Africa in 1909. In 1919 he set up his own safari outfitting and guiding business "Cottars Safari Service," the oldest safari outfitting company in Africa. Over 90 years later, 4th generation Kenyan, Calvin Cottar and his family continue to provide an unparalleled experience, evoking the golden era of safari adventures. And there is now a fifth generation – 4 children (2 sons and 2 daughters) who will carry on the Cottars tradition.
We got him to answer a few questions for us about his experiences as a private guide.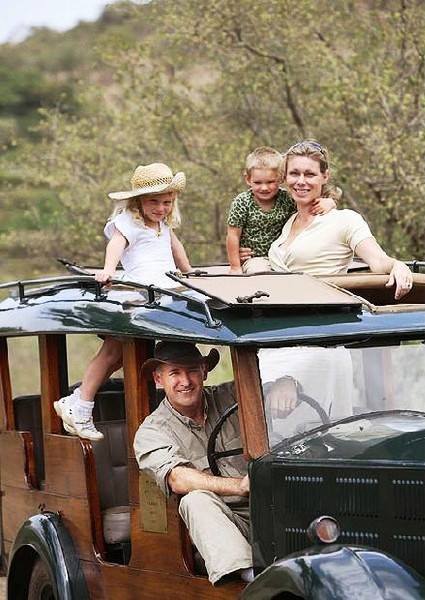 When and why did you become a guide?
Left school at 14 when the hunting industry in Kenya shut down and my folks suddenly could not afford my education. So I joined them in their Cottars Mara camp, guiding and helping around camp.
Your most memorable experience as a guide
So many instances when I got really close to big game, sometimes when I was alone, sometimes with guests and felt the fear of these huge and dangerous animals within a flick of taking you out! One incident that stands out was watching a ratel strut through a pride of 17 lions, unfazed, when they attacked him and eventually let him be after he bit every one of them on the nose when they tried to grab him! he would turn in his his skin and bite, and they all ended up following him 8 abreast and 2 steps behind as he carried on his way for half a kilometer, clearly the victor!
Safari moment you were most thrilled to have helped a client experience
Too numerous to count , but I enjoy anticipating what is going to happen way before it happens, and being in the right place for the experience – Kills, fights and interactions. Also watching clients learn the patience and stillness necessary to get the most of the bush.
Top 3 favorite properties
Cottars 1920's camp, Cottars homestead and Cottars luxury mobile. But Africa is big and there are some amazing properties operated by colleagues throughout the continent, too numerous to say here.
Top 3 favorite national parks
The Maasai Mara, The Serengeti and Northern Kenya in Samburu country
When declaring him one of Africa's Best Safari Guides in 2001, David Herndon of Travel + Leisure said "If the Cottars are the Kennedys of the East African safari industry, Calvin is Bobby Jr., embracing his background as a tool, not a birthright."
Your favorite trip
The Maasai Mara, but only the 'quiet' part where there are no mini-buses and mass tourism, and in the private conservancies around the park.
Somewhere you have always wanted to take guests but never have
Ethiopia, The Boma Plateau in southern Sudan and Mountains of the Moon in the Rwenzori Mountains in western Uganda.
What's on your bucket list?
Amur Peninsula and Kamchatka in Russia, the ancient plateaus of Venezuela, Tibet, gorillas in Rwanda or Congo.
2 things you always tells your guests to bring when traveling
That patience is the biggest virtue in the bush – but to be ready for instant action when it happens!
2 things you think guests should know about Africa (or Kenya)
That wildlife has to be an opportunity – and not an opportunity cost – to the local people on whose land it lives for its future survival, and to know that most wildlife in Kenya and Africa lives on private and communal land where landowners are making the hard choices to remove it or keep it. Guests should look carefully at whether the safari companies they intend to use are actually paying for wildlife to remain on private and communal land- either through conservancy or concession schemes – or just using the existing parks and reserves which are already gazetted for ecosystem protection with or without tourism. Choose safari companies that push the envelope and that go the extra mile to pay long term for land for wildlife.
(Well put and we couldn't agree more!)
Camera or binocular recommendations?
For binoculars: Swarovski Leica or Zeitz 10 x 50. Camera quality is changing by the day, getting better and more simple. Just have a camera that takes a picture the instant you press the button, and bring enough lens options for long and short distance…. But don't live through your camera only please!
Some guests keep a "go pro" or equivalent in filming mode at wide angle, then go home and crop incredible stills or shot movie clips. This just takes loads of memory cards and editing time which can be fun too.
Do you have a specialty?
No, everything. I like to interpret what's really happening, showing the multiple layers of interaction and relationships between individual animals and species..waiting for the action, letting Africa unfold in front of our eyes. I also enjoy being part of this interplay when on foot walking.
In addition to being a private guide, Calvin and his wife Louise also have a beautiful permanent tented camp Cottar's 1920s Safari Camp with 10 tents and a stunning exclusive use house, Cottar's Homestead. Both properties are located within a 6,000 acre private conservancy and is situated less than a mile from the Maasai Mara game reserve.