This article originally appeared in When Is Now.
As we moved through the process of dropping people off and picking others up, I recognized each and every airstrip from our previous trip to the Serengeti. And, as we got closer to our final stop, the Kogatende airstrip, my heart started to flutter. Approaching the dirt strip, I looked at the names on the sides of the waiting game drive vehicles and there it was: Nomad Tanzania. We landed and our guide, Lazaro, was there waiting for us with a cooler full of drinks. He explained to us how drives work, gave us our reusable water bottle to be used throughout our stay and then take home with us, and off we went!
My original intention was to write one post about Lamai and our safari with them, but I quickly realized that Lamai the lodge and Lamai's safari experience are each standouts in their own right and each deserve their own spotlight. So, this is the first of a two-part article.
Nomad Tanzania
To know Lamai, you need to know a bit about Nomad. Lamai is one of ten camps owned and operated by Nomad Tanzania. Nomad has been operating in the remote areas of Tanzania for twenty years. So, not only are they considered pioneers of those areas, they are well respected for their knowledge and service. Many of Nomad's employees have been with them for over fifteen years. As a former Human Resources professional, I know that the treatment of your employees trickles down to how your employees treat your guests. So, when our guide Lazaro told us he had been with Nomad for twenty years, I knew this group had to be doing something right.
Lamai's Prized Position
It is a privilege to build a permanent camp in the Serengeti. Nomad was offered a plot of land (that would have been much easier to build on) not too far from where Lamai is located, but they really pushed for the Kogakuria Kopje. Simply put, a kopje is a "hill", but in the Serengeti these are comprised of granite outcrops that are the result of volcanic activity. To want to build a lodge on this kopje was ambitious to say the least. But doing so granted Lamai a unique position perched above the rolling plains of the northern Serengeti.
Dubbing themselves the "keepers of the Kogakuria Kopje," they take this prized position seriously. Keep that rocky kopje in mind as you look through the photos in this post.
From afar, you hardly notice the small camp scattered throughout the kopje. It intentionally blends with the landscape.
Image courtesy of Nomad Tanzania
Serengeti is a Maasai word meaning endless plains and the design of this camp is meant for you to take in the vast, stunning landscape from wherever you are on the property. Whether it be the main lounge area, the pool area, the dining area or your room, you have unobstructed, panoramic views of the plains.
There is a purity to Lamai that creates an environment that allows you to comfortably exist in the beautifully raw surroundings. A place to truly experience the sounds, air, light, darkness and the smell, oh my goodness that beautiful scent, of the Serengeti.
The Lodge
There are three different areas of Lamai: the main lodge has eight rooms with a couple of them set up for families , the private lodge has four rooms and is intended for larger groups, and Mkombe's House, which is intended for families or small groups.
Lamai describes the aesthetic of the lodge as "bush chic". I don't think you could come up with a more spot on description! Once you are in the rooms, there is also a touch of French bohemian. There is an overall simplicity to it, so as not to distract from the star (Serengeti), with cozy textures, pops of color and even a little shimmer. There are plenty of inviting "nooks" to lounge in scattered throughout the lodge.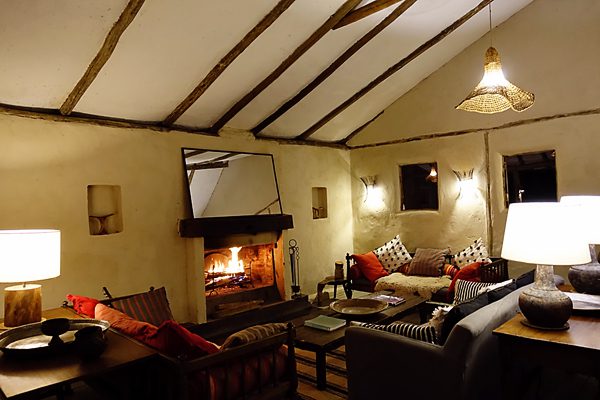 The nights are cool, but the days are hot. The pool (also with a view!) is a perfect place to cool off.
Rooms
Our room was in the main lodge. The rooms are more like villas: each a stand-alone building and very private. They are unassuming from the outside and totally bush chic, French bohemian on the inside.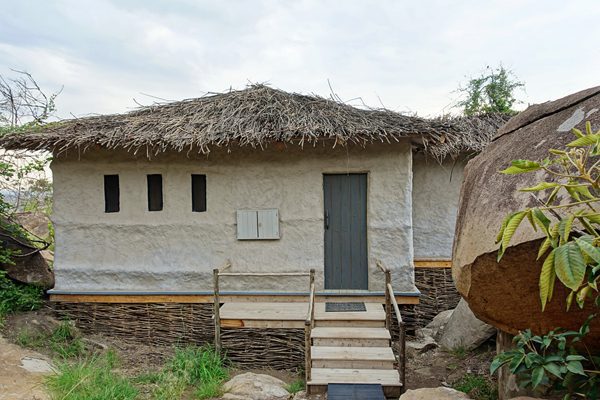 The interiors are primarily white with gentle pops of color.
The best part is that the side that faces the plains is completely open (with a screen to keep the bugs out). The openness allows for the rooms to be filled with tons of beautiful, natural light, and those sounds and that scent.
Facing outward are a writing desk and a daybed. On the outside, there is a large deck with two big chairs.
The large, open room is centered by a huge, plush white bed. The bed is swathed in romantic netting that is pulled down in the evenings.
As pretty as it is, it also serves to keep mosquitos out, though we did not have any mosquitos in our room. On chilly nights, you'll find a warm water bottle under the covers that keeps the bed warm until you climb in.
There is absolutely nothing like climbing into that bed at night, warming up from the slight chill in the air, breathing in that fresh air and listening to the sound of the animals in the distance. To me, it is the epitome of "bliss".
The bathroom is spacious and has ample storage for your belongings. The screen exterior wall continues into the bathroom, so that you have that spectacular view no matter where you are. There is a walk-in shower and access to a second deck with seating. The bathroom amenities include lovely handmade soaps and lotions.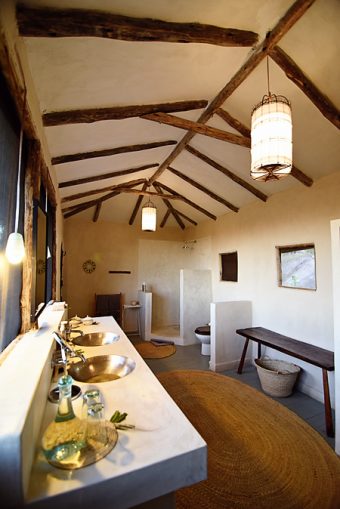 Safaris come with early morning wake up calls and Lamai does those calls right. Someone gives a gentle knock and a "good morning" and then slides a tray of coffee (or tea) and biscuits through an opening in the wall created for just that purpose.
And the best part about that room: it's the best seat in the house to see the sun rise over the Serengeti.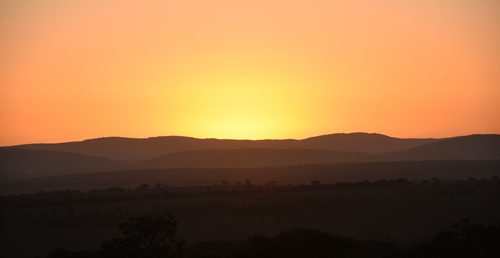 Dining
Lamai's food is fantastic! And, it's all organic. Not because they want to be trendy, but because the bush was doing organic far before the hipsters came along. Organic is the only option.
You have a couple of choices for breakfast. You can enjoy it at the lodge, which means either you leave for your morning game drive a bit later or you return from your morning game drive early.
Or, you could have a bush breakfast. Either way, you will have delicious food, but having breakfast in the bush is an experience you won't have anywhere else. At Lamai, your guide will pull over somewhere spectacular (think Mara river overlooking hippos) and set up a table, chairs and a full breakfast spread complete with juice, coffee and/or tea. My favorites were the breakfast sandwiches and homemade granola. Coffee is one of Tanzania's biggest exports, so if you are a coffee drinker, you are in for a treat.
Unless you decide to stay out in the bush all day (a lunch would be packed for you), you return to the lodge for lunch, which is set up buffet style, super fresh and served with chilled wine and local Tanzanian beer or any other beverage you could want.
After lunch and before the evening game drive, you have a few hours to swim, relax, nap, read a book, shop in the boutique; whatever you want.
Afternoon tea is served just before your evening game drive, which is also when your guide will come chat with you about a plan for the drive coming up and for your morning drive.
Dinner is served on one of the main decks. You can select to have a private dinner or enjoy it in a communal setting. Not only are you joined by Helen and Clyde, the camp managers, you are joined by the other guests at the lodge. I always find this an enjoyable experience as you get to chat with people from all over the world and you know you have at least one thing to talk about: "What did you see today?" As with all of the other meals, dinner was delicious. Several courses were served and it always ended with a tasty desert.
African Hospitality
As I mentioned in the OneFortyEight Nairobi post, there's something unequivocally special about African hospitality. When you experience it, it's more than good service, it's a feeling of being taken care of.
Helen and Clyde are so pleasant and seem to be around when you need them, but are never too invasive. They are great camp managers and it was obvious the staff thought so! Clyde always saw us off in the morning and Helen was always there to greet us when we came in from each drive. When we arrived on our first day, Helen gave us a tour of the property and our room, explained how everything worked, and gave us some history on the lodge. I can be sarcastic at and particularly enjoyed how Helen would banter with me a bit.
The beautiful thing about the lodge is that it is in the middle of the Serengeti; you are in the wild. Any time it is dark (or close to dark) outside, you are escorted by an Askari, who acts as your security. The Askari are from local villages and know the area (and the animals) better than anyone else. They walk you to your room when you come in from your evening game drive, walk you to dinner from your room and walk you back to your room after dinner. We were always escorted by Mr. P, who was so sweet and charming. I read somewhere that he has a scar from a lion scratch on his face. I have no idea if this is true and may be adding to the legend being created. What I do know is he is delightful and we felt very safe in his care.
The restaurant staff and every person we came across was welcoming and friendly and genuinely wanted to know about us.
And then there is Lazaro, who was one of the best guides we have ever had. Your safari guide can make or break your entire safari experience and our time with Lazaro was flawless. This plus our amazing experience while at the lodge is why I am turning this into two posts. Stay tuned for post two!
This was not our first visit to the northern Serengeti and it won't be the last; it is a special place. As much as we enjoyed our first visit to this area, Lamai takes it to the next level, with spectacular views, beautiful accommodations, great food and unparalleled African hospitality.
Check out Lamai's website for more information!
Getting there
Because we were coming from Pemba, a remote island off the coast of Tanzania, we had a long day of airstrip hopping on bush planes. Depending on where you are coming from, there are more direct options. Fortunately, Extraordinary Journeys took care of organizing our lodging and our flights in and out of the bush.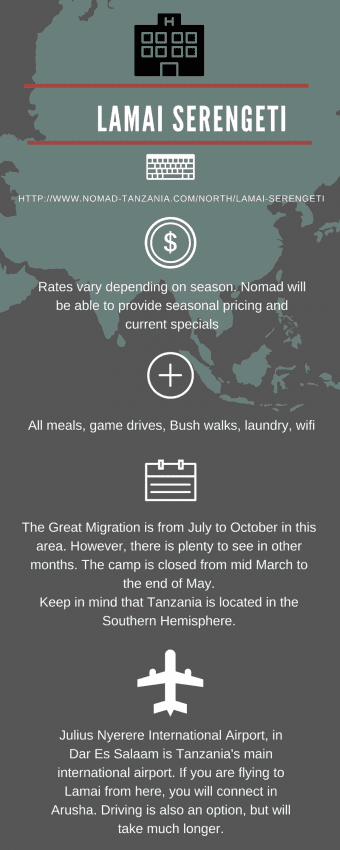 Good to Know
A three to four night stay is recommended to fully enjoy Lamai
There is a great little boutique on property and all proceeds go to local organizations. Save your souvenir shopping for here
If you're celebrating something special, let them know ahead of time and they can arrange a private dinner for you
You don't have to go on every game drive. You could do a bush walk, hike to the top of the Kopje to catch the sunrise/sunset, take a hot air balloon ride or just rest
Nomad's website is a fantastic resource to start planning your itinerary. Combine Lamai with other Nomad camps to complete your adventure!
Use a safari outfitter like Extraordinary Journeys to create a seamless trip
Read more about planning for a safari here
Read more about what it's like to be on safari here