This past June I jetted off to Kenya for a two week inspection of properties and locations- I know what you're thinking…. my job is so tough!
My trip started in the Mara where I had visited Sala's Camp, Speke's Camp, Angama Mara, Richard's River Camp and then moved on to Amboseli (Tortilis Camp), Meru (Elsa's Kopje) and Joy's Camp in Samburu. It had already been a fabulous trip that combined seeing brand new properties like Angama Mara, and re-affirming old favorites like Elsa's Kopje.
While I was thoroughly enjoying each and every day- successful games drives, enthusiastic guides, and stunning landscapes were the focus, I am an active person and about a week in I felt the need to get out of the vehicle, stretch my legs, and get my heart pumping; which leads me to this particular trip highlight…
Kitich is a camp I hardly knew much about until one month ago, and now I can't get it off my mind. It's nestled within the rolling hills of the Matthews Mountain Range in Kenya's northern frontier. This area is part of Samburuland, and their culture is a prominent part of your experience here. Driving from the airstrip you already feel the magic of this location- passing small villages where lunch is being cooked, observing decorated Samburu men herding cattle, and waving back to children as they excitedly skip alongside your car.
Main lodge is lovely with tall ceilings, wooden cottage-like decor, and a great big deck overlooking swampy grassland, with the thick, hilly forest just beyond. Emma, the previous 22-year manager of Desert Rose, now is the host here and she is phenomenal- an overwhelming source of information about the forest, animals, and Samburu people who inhabit this land. The staff are Samburu, and in addition to being completely sweet and charming they are happy to share their backgrounds and stories with guests. The focus at this camp is long walks and hiking through the forests, there are no game drives so it's absolutely not your typical safari. Experiencing the land by foot with local Samburu as your guides is an enlightening experience. The area is beautiful, but without their knowledge you wouldn't have a clue how powerful and giving the earth is as well. From toothbrushes made of twigs and malaria remedies made of leaves, to foods, digestives, and weaponry, these seemingly regular plants each have a vital purpose and use.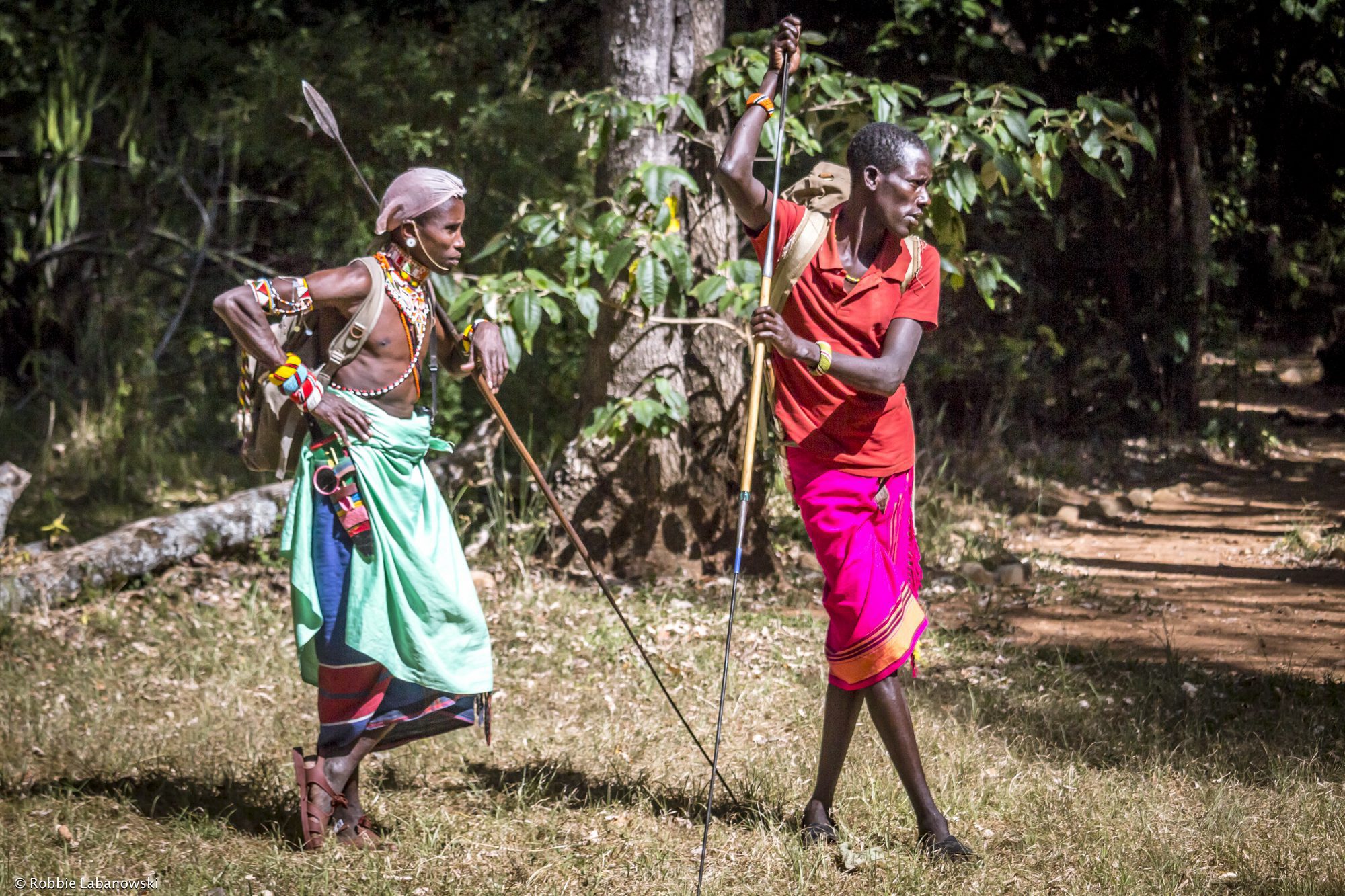 Throughout this two hour hike I also had the chance to speak with Emma and Benson (our guide) about why his outfits were different than the others- we learned his extremely meticulous and elaborate decoration is an indication that he is still in search for a partner while the others are already married. This conversation led to others including the process of "becoming a man", how marriage is viewed, and how death is honored. In just those couple of hours I had learned so much, marveled at stunning landscapes, enjoyed the birdlife and butterflies, and managed to get a decent workout!! I was in heaven.
In the evening, after showers and rest, we gathered at camp for drinks on the deck. What a perfect ending to an already incredible day. We were greeted by a herd of 21 elephant who were doing their own thing in the swampy land below. They paid no attention to us, but we paid very close attention to them! We watched as the little ones rolled around and played together, as mama chomped away on leaves, and two young bulls practiced fighting so rigorously that the sound of their tusks clapping echoed throughout the valley. We watched, gin and tonic in hand, in absolute awe of one of our best up close animal sightings yet, until the sun was completely gone and our eyes could only see dark shapes. We were all beside ourselves- what a sight! But before we could chat too much we were called inside- our delicious 4 course dinner was served. Like its closest (but still distant) neighbor Sarara Camp, Kitich is a great camp for those who want an authentic cultural experience, are active and want to break up the game drive routine with long walks, and for those looking for something a bit different and off the beaten path.