Get Involved! Zimbabwe Conservation Safari, Zimbabwe is an ideal and varied safari destination for those who value excellent guiding, amazing wildlife, beautiful landscapes, and committed conservationists. Between the lush Mana Pools National Park, the game-rich Hwange National Park, and the jaw-dropping Victoria Falls, this itinerary highlights some of the most exciting areas of Zimbabwe.
What we love most about this program is the hands-on introduction to one of our favorite non-profits, Friends of Hwange Trust. Hwange National Park has no perennial rivers or natural surface water. The waterholes or pans fill up during the rains but this water does not last the whole year and in order to keep the animals within the Park borders water has to be pumped from boreholes. Unfortunately the Park Authorities do not have the resources to carry out this task without assistance. Since it's inception in 2005 Friends of Hwange Trust has maintained a large number of boreholes and continues to work with the Park Authorities and Private Concessions to create a sustainable environment for Hwange's wildlife. During the Hwange portion of this itinerary, guests have the privilege of meeting one of FOH's men on the ground who will educate them about their work, show them the pumps at work, and exhibit the importance of the Trust for the well-being of Hwange's wildlife.
10% of the proceeds of all bookings of this itinerary go toward Friends of Hwange trust via S.A.F.E (Safe-Guarding a Future for Africa's Elephants) – The S.A.F.E. Campaign, an initiative from The Bodhi Tree Foundation and is dedicated to galvanizing and uniting the tourism industry and travelers to help end the dramatic rise in poaching of Africa's elephants.
Itinerary Summary
-3 nights Kanga Camp
-2 nights Zambezi Life Styles
-3 nights Somalisa Camp
-2 nights Victoria Falls River Lodge
Days 1-3: Kanga Camp – Mana Pools National Park
You will take a scheduled flight from Harare to Mana Pools where you'll then be transferred to Kanga Camp.
The mighty Zambezi River divides Lower Zambezi National Park in Zambia from Mana Pools National Park in Zimbabwe. Riverfront camps in Mana Pools are fabulous and offer river-related activities. However, Kanga Camp is strategically located inland, 15 km from the river, overlooking a waterhole and not too far from the Chitake Springs. With a consistent water source at the camp, wildlife will flock there to drink when the river is too far. With only 6 tents (including a larger honeymoon tent that can be converted into a family tent), Kanga Camp is intimate and offers a really fun and active wilderness experience. Game drives can be done at Kanga, but we particularly love the guided bush walks.
Days 4-5: Zambezi Life Styles – Mana Pools National Park
You will be transferred by road from Kanga Camp to Zambezi Life Styles.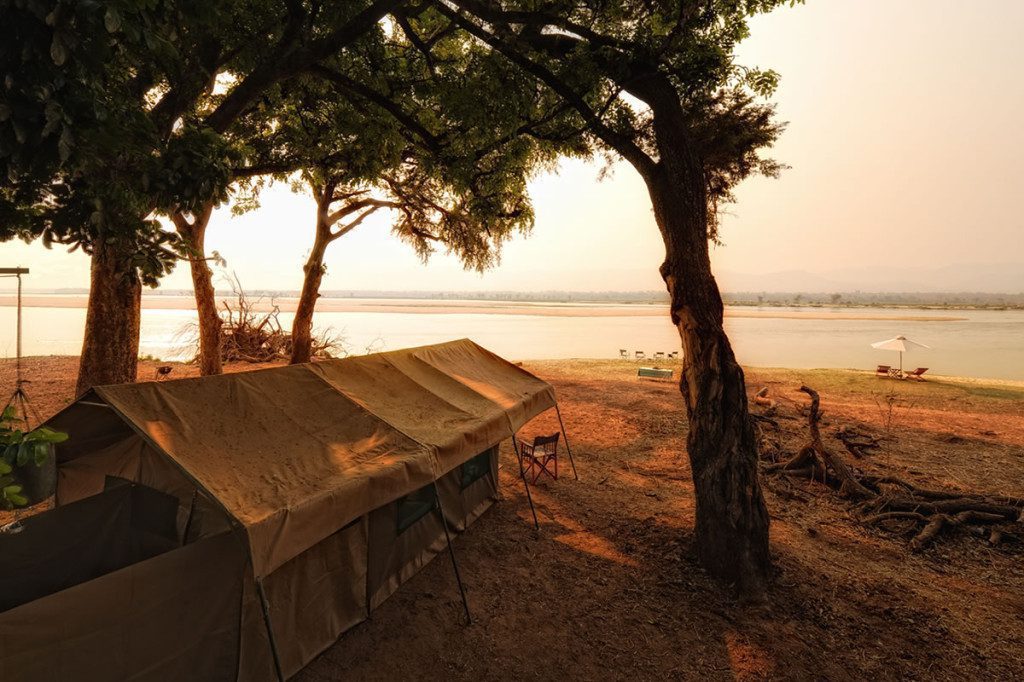 Zambezi Life Styles sits along the banks of the Zambezi River and offers that quintessential Mana Pools safari experience. It's great to combine Zambezi Life Styles with Kanga because this gives you the chance to get out on the Zambezi and enjoy a water-focused safari. Canoeing, fishing, or sitting ankle-deep in a shallow pan for sundowners are trademark activities at Zambezi Life Styles. Of course game drives and walking safaris will round out your experience here. With only five luxury mobile tents, this is a really down-to-earth experience where all of your activities are tailored to your liking.
Days 6-8: Somalisa Camp – Hwange National Park
You will fly from Mana Pools National Park to Hwange National Park where you will be met and transferred to Somalisa Camp.
Somalisa Camp offers an authentic safari experience in Zimbabwe's largest and most famous national park. Known especially for its teeming elephant population, Hwange National Park has over 100 species of mammals and 400 bird species, so birding, game drives, bush walks, and night drives will be thrilling. From Somalisa is where you will meet with Friends of Hwange Trust to see and learn first-hand the positive impact that this organization is having on Hwange's wildlife. The camp itself is one of our favorites and beautifully designed without a hint of pretentiousness and amazing staff and guides to match.
Days 9-10: Victoria Falls River Lodge – Victoria Falls
You will fly from Hwange National Park to Victoria Falls where you will be met and transferred to Victoria Falls River Lodge.
Victoria Falls River Lodge is located within the Zambezi National Park on the edge of the Zambezi River. Being only a short drive away from Victoria Falls, it's easy to cross this iconic waterfall off your bucket list. The area is buzzing with energy and activities like whitewater rafting, elephant interactions, bungee jumping, scenic helicopter or microlight rides, and a sunset cruise cannot be missed. The lodge has a modern African style with a European twist which we find to be very lovely. Being inside the Zambezi National Park, there are other safari activities (like game drives, boating, and birding) available if you need one final fix of the wilderness before heading home.
Day 11: Depart
You will be transferred to Victoria Falls Airport in time to connect to your international flight home.
Price
For 2016, the price for this program ranges from $6100 per person to $8700 per person, depending on the season (excluding international flights).
$6100 per person (November-March)
$6800 per person (April-June)
$8700 per person (July-October)
This trip can be customized to suit your needs and dates (changes will result in a change in price).