Travel Ethiopia: The Best Way to Explore the Omo Valley & Gheralta, Long before I co-founded Extraordinary Journeys with my daughter Elizabeth, I was a member of the Peace Corps in Uganda. Among the many life-changing experiences I had in Africa more than 40 years ago, a big one was meeting my future husband on a plane en-route to Addis Ababa, the capital of Ethiopia. I also fell in love with Ethiopia and I have been meaning to go back ever since!
My opportunity to return came at the start of 2018, when I joined five other travel professionals to explore tourism as a powerful conservation tool on Ethiopia's Omo River. In addition to the Omo, we also went north to Gheralta to see ancient churches carved into mountain-tops that predate the rock hewn churches of Lalibela by hundreds of years. We walked alongside wildlife, trekked up mountains, and scoped out areas off the river where it's rumored no white person had ever set foot before. A group of Mursi, wearing lower lip plates, camped next to us and lulled us to sleep with their magnificent singing. Our last night on the river, the Kara village nearby held a big dance with everyone dressed in leather beaded skirts and magnificent headdresses. (Extraordinary Journeys can plan a similar trip. Click here)
Having lived in Africa for 14 years, I've seen it all, but this experience blew me away and inspired me to rethink the very definition of cultural tourism. Here are a handful of highlights that I hope will motivate you to make Ethiopia your top choice for your next vacation.
1. Camping Along the Omo River Bank to Explore the Omo Valley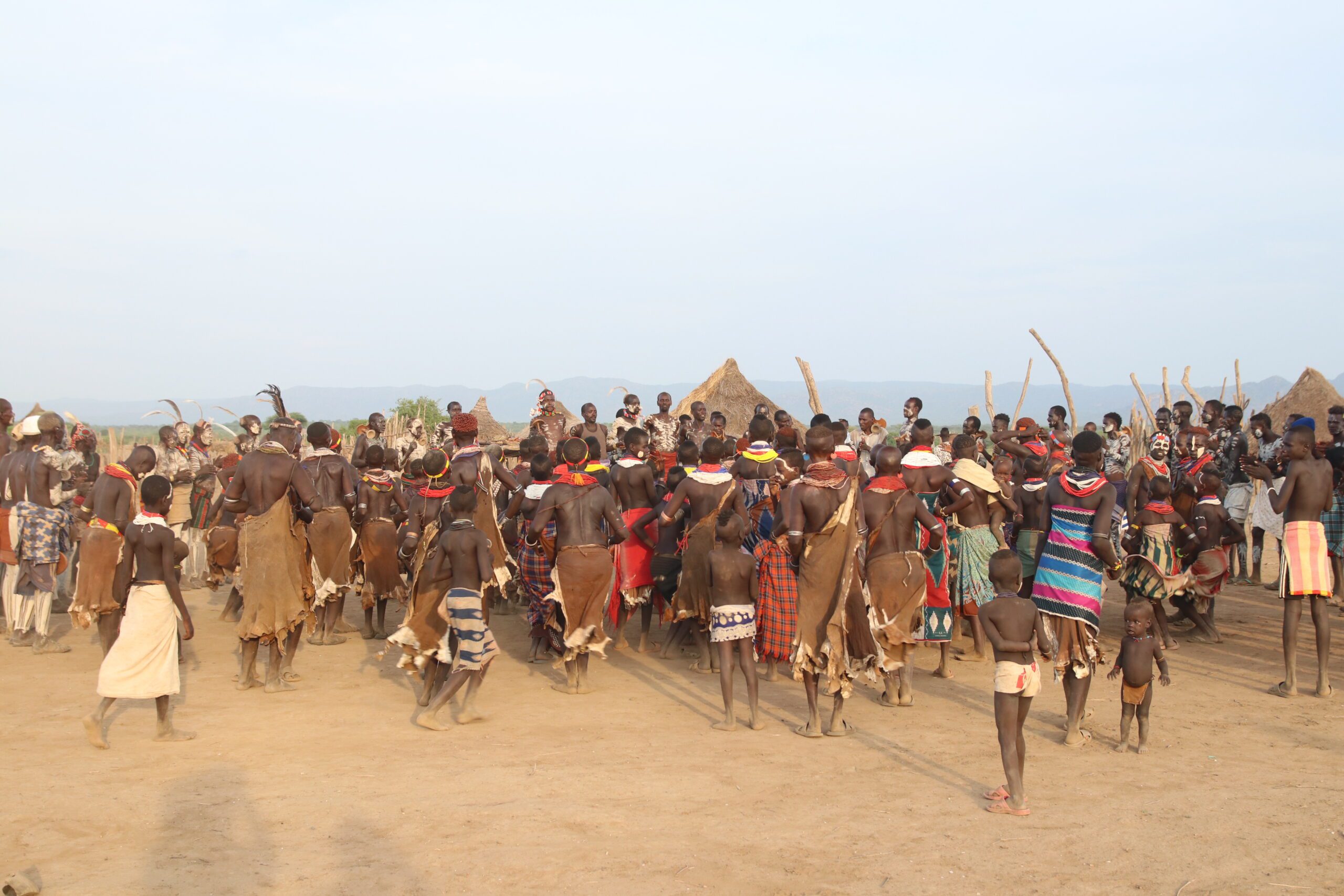 Visits to the Omo Valley are not unusual. There are adequate accommodations in the main trading centers, and it's easy to drive to the outlying villages to take pictures of the handsome women in their beaded leather skirts and men with ornate hairdos. Guests often describe the experience as fascinating, but exploitive. As part of our ethos to support and provide our travelers with responsible tourism experiences, this kind of feedback cemented our decision to work with alternative operators who respect the local communities.
To that end, we took a slower, more personal approach. Our first night, we stayed in simple tents set up under a line of trees along the riverbank. Tents were comfortably tall enough to stand in, plus they came equipped with proper beds and adjacent tents for long-drop toilet and bucket showers. We were there to join about 300 Dassanech people who had been gathering nearby over the preceding month as part of the Dimi ceremony, in which a man's daughter is blessed and he becomes an elder.
Each night, the people put on their finest skins (including capes of leopard and cheetah for the men and beaded leather skirts for the women) and most elegant headdresses, many made of colobus monkey skins. They danced to the beat of numerous drums in a procession going from one grass hut to the next, creating a throbbing circle of hundreds of dancers within the encampment. The elders, sitting in the center, welcomed us and gave us the necessary blessing to allow us to stay. Though the dancers were happy to enjoy our admiring gazes, it was obvious that they were dancing for each other and our presence was not driving the performance. Similar to Elizabeth's experience in Kenya, this was a special way to witness life for the Dassenech without interrupting their celebration.
Our encampment was next to the river and just a short distance from the dugout canoe ferry so we had a steady stream of Dassenech passing nearby. They live without mirrors, and this stark contrast with Western culture—and its focus on images and appearance—became a fun way to connect with the young people who happily volunteered for photographs. I loved watching the boys act exactly like my grandsons, each outdoing the other in creating silly poses with their friends. The girls, too, joined in the fun, posing with their arms around each other and instinctively creating poses that would look just perfect in Vogue!
RELATED: 4 Tips for Getting to Know the Local Culture While Traveling
2. Partying with the Kara People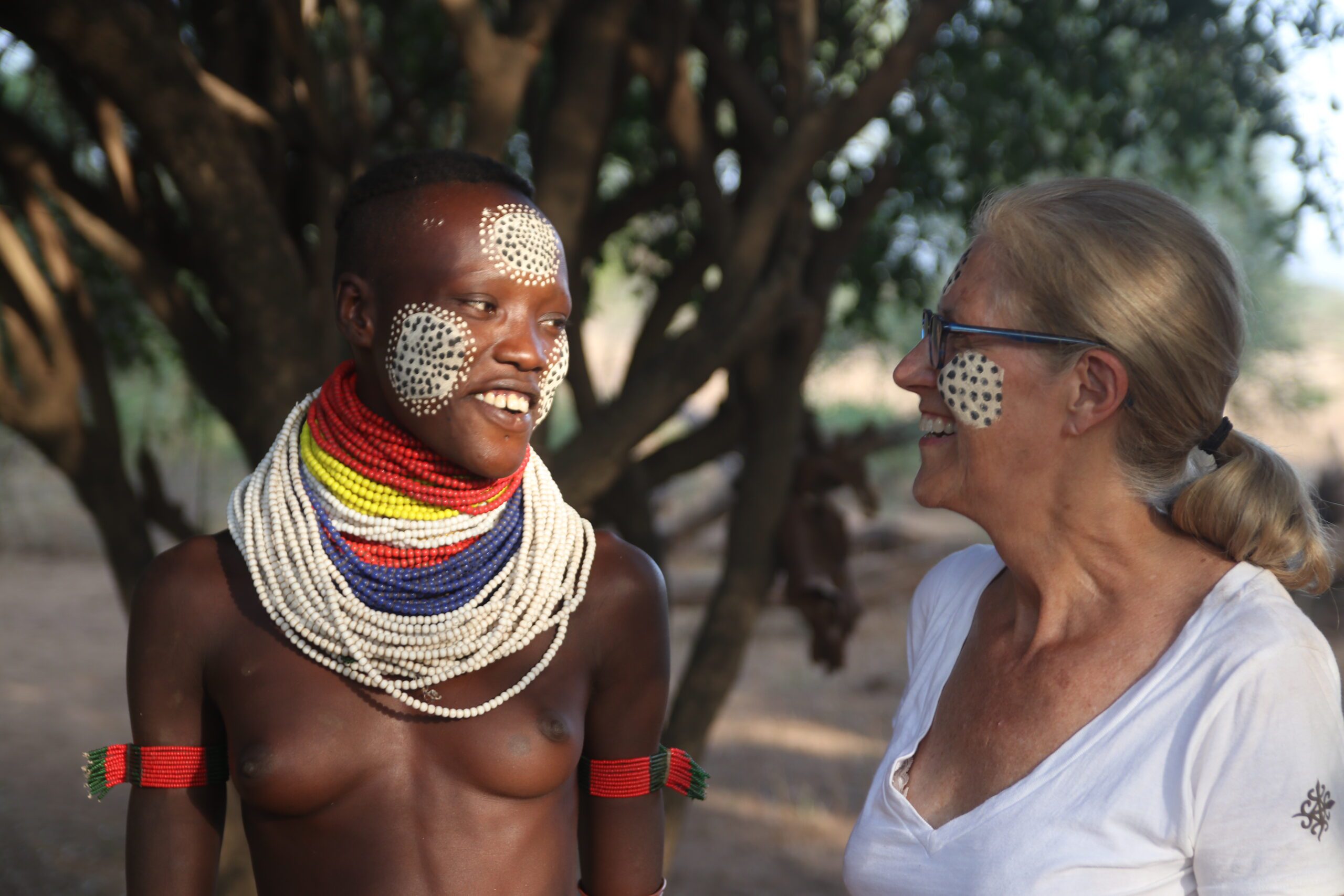 Our next stop was Lumale otherwise known as Lale's Camp, a lovely permanent option that could easily be the sole base for people who want more luxury, offering huge tents with king-sized beds, separate bathing and toilet areas, and a front porch overlooking the river.
The camp is owned by the charming Lale Biwa, a local teacher from the Kara community, who now works full-time as a guide. While Lale is out-and-about taking guests on excursions, the camp is managed by a young English couple who earned their stripes working at the chic award-winning Jack's Camp in Botswana's Kalahari Desert.
The Kara people are noted for their intricate body and face painting with colors from the area, including white chalk, red ochre, yellow mineral rock, iron ore, and charcoal. Designs can range from dotting, spiral, circle and other abstract patterns to animal motifs traced with palms or fingers, though designs may change day-to-day. We enjoyed a wonderful afternoon under the trees where I got my face painted to match that of the lovely young lady who painted me. The men go all out, transforming their entire body with color.
Two nights later, we saw a village dance, where the range of artistic body painting was on full display. The women's finely beaded goatskin skirts swayed as they moved; and the men, wearing clay wigs, bodies painted and holding staffs twice their height, jumped and showed off their prowess. Our guide tells us that these elaborate hairstyles, which can feature braids or hair pulled back into a thick chignon and held in place by a cap of glazed earth can last three to six months. We were warmly welcomed to join in, as if we were visiting family rather than travelers; it didn't feel touristy in the slightest.
3. Sleeping Under the Stars
On another day we trekked to our camp in a dry riverbed, stopping off at homesteads belonging to the Hammar people, known for their cattle, and cow-jumping ceremonies. Sleeping under the stars on cots draped in mosquito nets following our al fresco dinner was the favorite night for all of us. It is hard to imagine how star-filled a sky can be when there are no electric lights at all for miles around.
4. Seeing Wildlife in Southern Ethiopia in Mago National Park
Traveling on the river, we saw gorgeous geological formations, lots of very big crocodile, colobus monkeys, and an abundance of the area's 130+ bird species (my travel companions were very good birders). On our walk in the Mago National Park, we saw signs of elephant, kudo, warthog, dik-dik (small antelope), and buffalo. It's also possible to spot lions and leopards, if you're lucky.
Some people in our group went on to visit the beautiful Bale Mountain Lodge, where they saw rare Ethiopian wolves, a plethora of bird species, colobus and Bale Mountain monkeys, and the rather surreal backdrop of the 10,000-foot-high Sanetti Plateau—a stark, barren landscape where you'll often find snow or frost dusting the ground. Rare Erica shrubs and Lobelia dot the alpine landscape, a jarring contrast in the thrilling and otherworldly atmosphere.
RELATED: Why Wildlife Needs Community Involvement
5. Appreciating History in Northern Ethiopia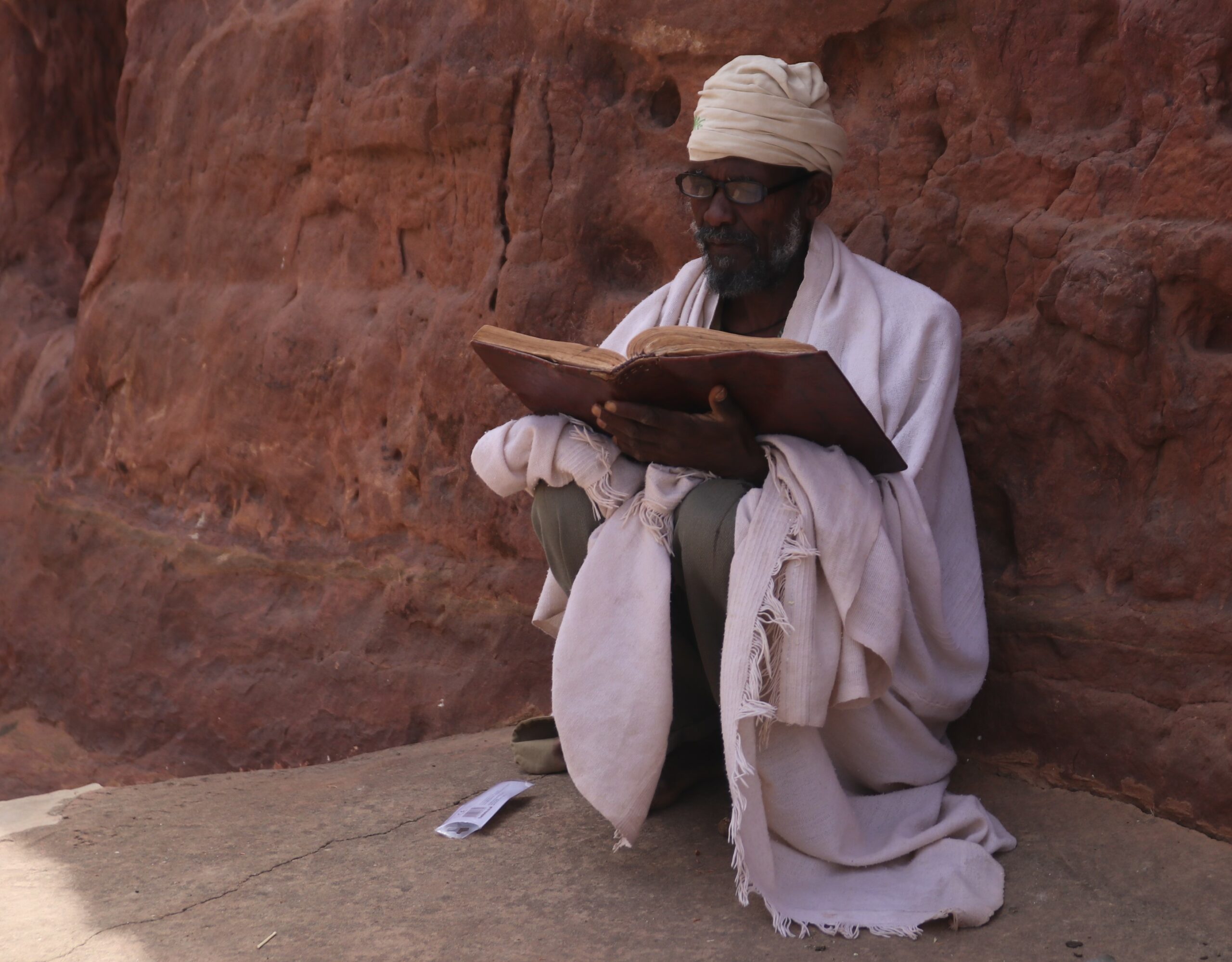 The Gheralta area in Tigray is the breadbasket of Ethiopia and the northernmost part of the country. Lush in the wet season and totally desolate in the dry, the scenery is dramatic with huge sandstone outcrops sculpted by the wind into magnificent shapes. At the top of many are hidden churches carved into solid rock caves between the fourth and 10th century, many most likely created as safe havens from Ottoman invaders. Some feature expansive arches and religious frescoes made from natural dyes, like those from berry and flower pigments. This cluster of churches is less well known than the thirteen monolithic cave churches of Lalibela that are more elaborate and date from the 13th century, making them a real treat for the adventurous traveler. Climbing up to these churches at 9,000 ft and more can be quite an excursion, requiring serious hiking and climbing. Using hand holds cut in the stone to clamber up the steep escarpments for parts of the trail I was richly rewarded with magnificent views and a window into life hundreds of years ago.
The paintings and carvings are impressive, as are bibles handwritten on parchment and present-day priests chanting their prayers. As I made my way down from one, I passed a steady procession of villagers climbing the very steep hill to attend a christening in the church. Climbing these ~1,000-foot mountains was fantastic on its own, but the church and people make it truly remarkable. Tourists are still rare here, and the people I came across seemed very happy to see us. My guide, Bimnet Gizachew, was outstandingly informative and attuned to the interests of our little group.
Of course, no one can go to Ethiopia without seeing the magnificent carved churches of the iconic Lalibela. This UNESCO World Heritage Site is one you may have to share with other tourists, but the sites are worth it. This ancient pilgrimage site is easier to access than the Gheralta cluster with churches carved into the ground, rather than in mountaintop caves, and is one of Ethiopia's most renowned destinations.
There are also many other amazing sites to explore in Ethiopia including:
– The Danakil Depression, one of the lowest and hottest places on earth at over 400 feet below sea level. It might not quite match the Dead Sea in depth, but travelers can take a dip in Lake Afrera, one of the Depression's salt lakes. The area is dotted with hot springs surrounded by colorful salt and soda formations. Further afield are salt mines where large blocks are cut by hand then carted off by camel. Not too far away, you can camp out near an active volcano.
-The Semien Mountains, a UNESCO World Heritage site which reaches just under 15,000 feet at their highest peak. The comfortable Semien Mountain Lodge near the escarpment is the perfect base for trekking up and down the mountains and valleys, where you can sit next to enormous gelada monkeys on what feels like the edge of the universe.
Plan Your Trip
Leaving Ethiopia, I felt that now is the ideal time to visit: Good roads and great accommodations, plus no timetables or schedules, nor obnoxious hordes of tourists. Local people everywhere are welcoming and sincerely interested in strangers.
At the same time, it's important to travel with guides and operators who are respectful and understand profoundly that cultural tourism is about two parties sharing experiences. Our partners in Ethiopia provide exceptional guides, well-versed in crafting meaningful, intimate encounters on-the-ground. Ethiopia through their expert eyes reminded me, once again, that sometimes you just need to put the camera away and simply be with each other, experiencing the moment as another lives it. Even though I love my photo album, it's those intimate moments that are etched in my memory—not on film—that I'll treasure forever.
Call or email us to start planning your visit to Ethiopia today!
Or check out some of these sample itineraries:
–Explore Ethiopia by Helicopter
https://www.extraordinaryjourneys.com/itineraries/discover-ethiopia-exploring-the-omo-valley-gheralta-bale-mountains/
RELATED: Safari: Supporting Community & Conservation in Africa