This program combines some of the best and most diverse game-viewing in South Africa and offers the chance to learn about the conservation efforts underway throughout the country and personally interact with elephants, rhinos and meerkats.
Day 1-3: andBeyond Phinda Vlei Lodge, KwaZulu Natal
After landing at the international airport at Johannesburg you will be transferred to a flight to Phinda Private Game Reserve.
The KwaZulul Natal is known for its dramatic hilly countryside, diversity of flora and fauna, high standards of conservation and their invaluable contribution in saving the white rhino from extinction.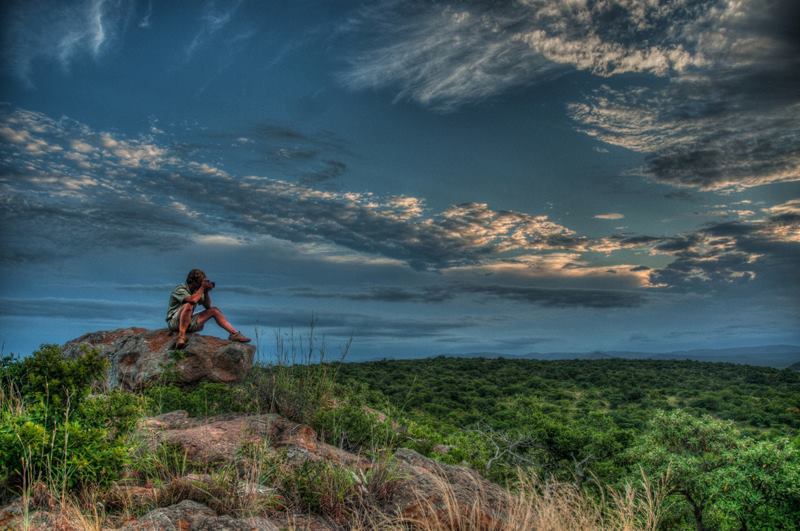 Phinda Private Game Reserve is 22,000 hectares of pristine wilderness, situated in the lush Maputaland region of northern KwaZulu-Natal. The reserve, which has won numerous conservation and eco-tourism awards, encompasses 7 distinct habitats, including a rare dry sand forest, the preferred habitat of the leopard. The rocky hillsides, woodland and floodplains provide an ever changing landscape and the chance to see rarer species like the scarce black rhino. Phinda also has the highest concentration of Nyala antelope in the world and with only six remote lodges sharing the reserve; the game experience is personal and exclusive.
As one of the properties in &Beyonds profile, Phinda Vlei lives up to their high standards. Set on the edge of the forest and overlooking an open meadow, this property allows you the chance to have an up close and personal experience with the animals. Each suite is carefully positioned for a prime view of the landscape and animals- you can even get a glimpse of them from your shower or bathtub. Each suite boasts a private sitting area and game viewing deck, en suite bathroom and dressing room. Private dining in your suite can also be arranged. On colder evenings, after returning from an exciting night game drive, keep the chill at bay in front of a roaring fire.
You'll find the staff, managers and guides to be enthusiastic and professional. Phinda is well known for their superior guiding and exciting conservation projects. Numerous additional activities can be explored at Phinda from game drives, to specialist nature walks and more.
Phinda has one of the largest privately owned populations of white rhino in South Africa, as well as a growing number of black rhino and there are several ways that guests can get up close and personal with this impressive and endangered animals and contribute to Phinda's on-going conservation efforts.
Rhino Tracking: Get on your walking shoes, grab your binoculars and spend the morning on foot with a ranger and tracker team in search of the endangered black rhino. Get out into the Phinda wilderness and learn how to follow rhino tracks, in the company of an expert guide and tracker.
Rhino Notching: A few times a year guests at Phinda are able to participate in the ultimate rhino tracking experience and get a glimpse into Phinda's rhino conservation efforts. Notching a rhino involves a vet cutting a small piece out of the rhinos ear. The notches, well as microchips placed in the horn, enable researchers to identify and monitor the different rhino on the reserve. Approximately 8-10 rhinos will need to be notched on a yearly basis as the calves reach maturity. Guests who take part in rhino notching participate in the entire process, from locating and darting the rhino by helicopter to assisting the veterinary team in notching the sleeping animal's ear and the once-in-a-lifetime opportunity to touch a anesthetized rhino! (Rhino Notching is also sometimes available at Tswalu and guests may be able to participate)
(Please note that Rhino Tracking and Rhino Darting/Notching are two different activities that have different prices. Rhino tracking is limited to those 16 and older. Rhino notching is limited to those 12 and older)
Overnight PHINDA VLEI LODGE.
Day 4-6: Camp Jabulani, Kruger Private Reserves
Today you will leave Phinda and fly from Richard's Bay airport to Hoedspruit near Kruger National Park. At Hoedspruit you will be met and transferred to Camp Jabulani where you will spend three nights on game-drives and having unforgettable elephant interactions.
At more than 2 million hectares the Kruger National Park is one of the world's largest game reserves and a truly remarkable destination. All along the world renowned Kruger National Park's western boundary are private game reserves which combine with the Kruger to create one of the world's largest game reserves and a truly remarkable destination. These reserves offer excellent game viewing opportunities together with the advantages of smaller, hosted accommodation and game drives. A trip to the Kruger is an unforgettable and potentially life changing experience
The camp is built along the bank of a seasonal stream in the protective shade of impressive leadwood trees. Six luxurious suites afford the ultimate exclusivity and an open air spa promises the finest products in the midst of nature in its purest form.

The sole objective of the team of professionally skilled and personable staff is to meet the needs of their valued guests; to indulge, spoil, pamper and entertain you. Most importantly, however, their mission is- to share the story and the experience of the elephants.
Elephant Interactions: Camp Jabulani was created to provide a haven for orphaned elephants. Your time here is spent in the company of these magnificent animals. Nothing quite tops the first introduction to the Camp Jabulani elephants! Their sheer size and presence is humbling. Interact with these majestic creatures and truly appreciate their size and beauty.
In addition to elephant interactions, you will be invited to join experienced rangers for game-drives in search of the Big 5, and the smaller (but no less significant) creatures that are part of an African Safari. Identify the call of a bird; follow the bark of a baboon or the roar of a lion in the midst of their natural environment. Safaris may be arranged at any time of the day. A word of warning though…. the summer months (December and January) are incredibly hot in the middle of the day! This time is best enjoyed around the cool respite of a private plunge pool with a chilled drink in hand.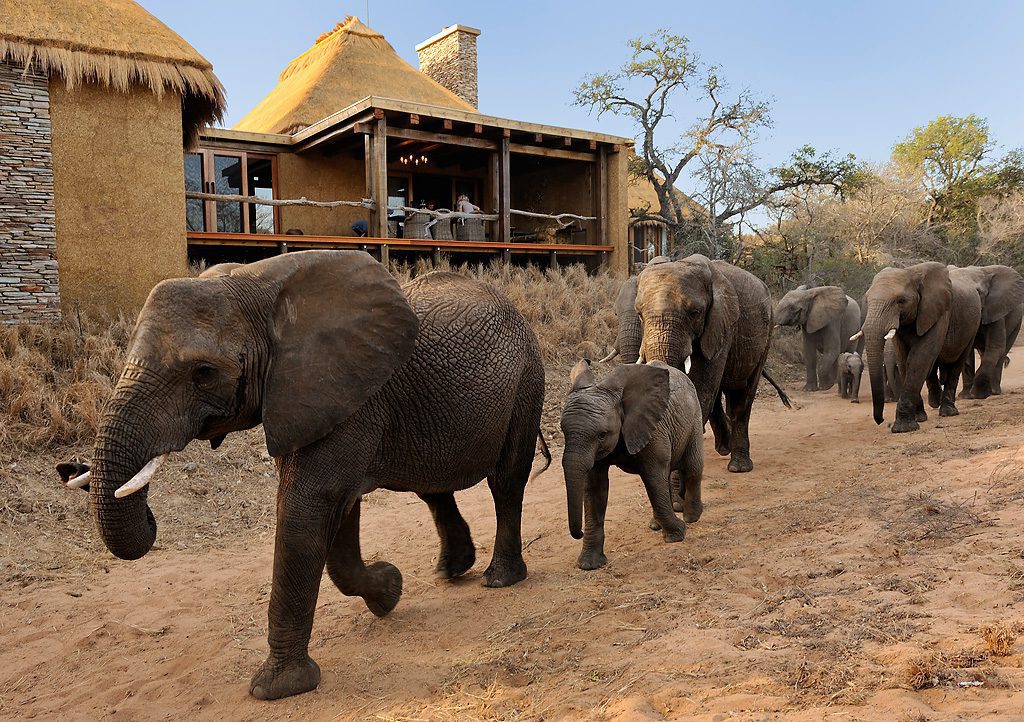 Hoedspruit Endangered Species Centre: Camp Jabulani guests are also treated to a visit to the Hoedspruit Endangered Species Centre (about a 30 minute drive via open safari vehicle). Founded by Lente Roode, the Hoedspruit Endangered Species Centre has established itself as one of the leading private research and breeding facilities for endangered species in the country. You will witness feeding sessions of various rare African vultures, touch cheetahs (providing a rare photographic opportunity) and witness the projects undertaken by the centre's veterinary staff who operate an animal hospital where injured or abandoned animals are cared for and eventually released back into the wild. Optional balloon safaris are available as well.
Overnights at CAMP JABULANI.
Day 7: The Residence, Johannesburg
Today you will depart Camp Jabulani and fly to Johannesburg. You will spend one night in Johannesburg before flying to Tswalu the next morning.
Johannesburg is one of Africa's biggest and most vibrant cities. It is the economic capital of Africa and the gateway to Southern Africa. Although not as famous as other South African destinations, there is plenty to do in Johannesburg and nearby Pretoria. The old city is a multi-cultural mixture of traditional medicine shops, Chinese restaurants, taxi ranks and ultra-modern skyscrapers. There are excellent museums, art galleries and organized tours of historical and political interest. The shopping is Southern Africa's best and the many restaurants cater for all tastes. The nearby township of Soweto, the heart of the apartheid struggles in South Africa, is Johannesburg's most popular attraction.
The Residence, in the prestigious suburb of Houghton in Johannesburg, is located in the perfect location for an intimate and luxurious stay. A lovely setting, manicured gardens and plush interiors add to the attraction. Suites are generously proportioned, private and have spacious balconies with sun loungers and views of the garden, tennis court and pool. All Suites have outdoor showers and baths or private jacuzzi. Escape the Residence Spa, take in the spectacular views from the Sky bar or simply relax at the pool after a game of tennis
Overnights at The RESIDENCE.
Days 8-11: Motse, Tswalu Kalahari Game Reserve
Tswalu Kalahari is South Africa's largest private game reserve– a spectacular wilderness where luxury, natural beauty and authentic hospitality reign supreme. The word 'Tswalu' is a Tswana word meaning "new beginning." Since purchasing the reserve in 1998, the mission of the Oppenheimer family has been to"restore the Kalahari to itself" and to make Tswalu one of the premier wildlife destinations in Africa. As one indicator of success, the founder population of 7 000 animals has grown to more than 12 000 in the space of only five years. The reserve boasts 70 species of mammal including lion, cheetah, desert black rhino, sable and roan antelope. More than 200 species of bird can also be found. In addition, Tswalu is the historical home of the San people, whose storytelling and dream imagery can be seen at the many archaeological sites found here.
Accommodation at Tswalu epitomises the stylish yet rustic elegance of a luxury game reserve. The Relais and Chateau property offers luxury accommodation designed to blend inconspicuously with the surrounding mountains. The design of the lodge's eight spacious legaes (Tswana for 'homes') epitomises stylish yet rustic elegance. From the indoor and outdoor heated shower in every suite (the outdoor version looks out across the Kalahari plain) to the private suite sundecks and a library, this is the essence of modern luxury with an African feel. The emphasis at Tswalu is on exclusivity, which is why the entire reserve can accommodate no more than 20 people at a time.
While here, meander across silent red dunes with guides who reveal the secrets of local vegatation, bush medicines, and the history of the San people. Drives in open-sided safari vehicles traverse the Kalahari wilderness and stop at the most scenic spots for impressive sunset "sundowners" or a splendid bush dinner. Bird-watching, star-gazing and exciting visits to the habituated meerkat dens of Tswalu are just some of the activities on offer. Optional horseback trails with a qualified guide enable you to experience close encounters with wildlife. Ride close to a group of giraffe and watch as they perform their graceful ballet against the backdrop of a deep blue sky, or catch sight of a mighty, rushing herd of wildebeest.In addition, there are opportunities to visit archaeological sites and view rock engravings.
Special-interest courses in archaeology, ethno-botany and photography, as well as golfing at the nearby Sishen Golf Course , a renowned golf course that is rated eighth in the country are available on request. From the back of an open sided safari vehicle, from the saddle or on foot and with the help of Tswalu's experienced field guides and trackers, learn how to spot and track like a professional on your South African safari! Each day in the Kalahari dawns over a magnificent landscape where the myriad of shades and textures, sounds and contrasting silences of the wilderness will leave you with a profound sense of peace. It is a landscape virtually unchanged by the passing of time.
Days 12: Depart Johannesburg
Today you will fly from Tswalu to Johannesburg in time to board your international flight home.
Price
Starting at $10,000 per person. Price varies by season. Excludes international flights. Excludes the price of Rhino Notching (prices change each year, approx. $3000).
Everytime this itinerary is booked a portion of the proceeds goes to support S.A.F.E., a foundation that provides grants to local non-profits working on elephant conservation in Africa.