Luxury & Private Botswana Safaris
Safari seekers are magnetized by the wild aura of Botswana, a country of diverse, awe-inspiring landscapes, and dream-matching game viewing. Ample wildlife roams its varied ecosystems, where nearly half of the country is preserved in national parks and reserves. Home of the UNESCO-designated Okavango Delta, famously populated by elephants, and with a government prioritizing sustainable travel above mass tourism, luxury Botswana safaris are known to be the costliest, least crowded, and most exclusive in all of Africa. It's truly a slow safari destination for the wild at heart.
What to expect on a luxury safari in Botswana
On a luxury Botswana safari, you can expect to experience some combination of the high-wildlife-density Delta, the lily-dappled channels of the Linyanti region, the lunarscape salt pans of Makgadikgadi, and the vast Central Kalahari all on one trip.
Hosting some of the dreamiest safari properties, travelers choose between high-end canvas tents and boutique luxury lodges. Overall, you can expect attentive service, high caliber guiding, pleasing design and esthetics, gourmet dining, and a conservation ethos. And though it's not considered a go-to destination for parents traveling with very young children, there are some properties well suited to a Botswana luxury family safari. Safaris are offered in a range of modalities. In addition to traditional game drive vehicles, you might enjoy safaris on foot, on horseback or quad bike, in a mokoro, aboard a motorized boat, or from a helicopter.
With very few highways crisscrossing Botswana, a multi-camp safari will involve transferring between camps in bush planes.
An Extraordinary Journeys luxury Africa safari will also include pre-departure and in-destination support. Our job doesn't end when your boarding pass is printed; we have reliable boots-on-the-ground support, and a 24/7 concierge just a phone call or WhatsApp message away. Travel can be unpredictable (that's part of the beauty of it), but we're here to ensure you're taken care of no matter what.
Botswana FAQs
When is the best time to go on safari in Botswana?
Broadly speaking, June through October is prime game viewing in Botswana, but a meaningful answer to this question requires some nuance.
In the northern areas, including the Okavango Delta and the Linyanti region, we recommend traveling from mid-June through September, when game viewing is at its best—which is also peak season. High water levels from annual floods influence and motivate wildlife to concentrate on the accessible islands, which is an astonishing sight. It is also dry season, leading to thinner vegetation and an increased opportunity to spot animals that tend to congregate near water. Wildlife viewing in October is excellent, too, if you can stand the heat. The mercury can reach a blistering high 90s or a ceiling of 110 degrees Fahrenheit. October is also the annual catfish run for anglers.
In November, the rains break, welcoming the green season which generally runs through to March, also known as the secret season. During that lush period, many babies are being born and predators are roaming, invoking clashes between the two. Species are visibly on the move, yet sometimes obscured by the dense vegetation. Secret season is also favored for birdwatching and photography.
For those targeting Central Kalahari, which is drier, we recommend a visit December through March.
You can visit the Makgadikgadi Salt Pans year-round. However, quad biking is available only when the landscape is dry enough, typically, from June to October.
When to go where in Botswana can be a bit tricky to navigate. Our favorite camps aren't necessarily ones we would recommend every month of the year.
Better yet, save yourself the research and chat with an EJ Botswana safari specialist.
What's the average cost of a safari in Botswana?
Aim to budget $1,500 – $2,000 per person per day as a starting point for an Extraordinary Journeys luxury Botswana safari, based on two persons sharing. Botswana's best lodges may charge double this rate during peak season.
The daily rate covers accommodation, expert guides, game drives (shared and/or private), park permits, gourmet meals, bar, laundry service, select activities, and land/air transfers. Add-ons such as helicopter transfers, heli-excursions in the Delta, star beds, and spa treatments are extra.
You'll also need to budget for international flights, gratuities, exclusive upgrades, and incidentals.
When trying to maximize value, consider a secret season ("green season") trip. During this period, we've seen a trend toward softer pricing, extended-stay discounts, complimentary upgrades, and even complimentary air transfers for guests staying at properties within the same brand collection.
Generally, the most value-driven and touristic selections are within the northeasterly Chobe National Park.
Reducing the number of times you switch camps, and thus limiting internal flights, will also reduce your trip cost.
Is it safe to go on safari in Botswana?
Botswana is a highly sought-after safari destination, and the experience is widely known to be safe, especially when your visit is organized by a reputable travel operator such as Extraordinary Journeys. Our Botswana itineraries don't call on many major cities, so concerns are less about personal safety than wildlife safety.
Wildlife safety
While no one can control the behavior of wildlife—whether on safari or not—following the directions and leadership of a professional guide is imperative. On a game drive, the vehicle offers security and basic comforts. Bush walks, fly camping, mokoro safaris, and horseback safaris require some additional precautions and guiding expertise. What's more, the majority of guided wilderness excursions are accompanied by an armed ranger, and best practices exist to protect visitors and animals alike.
Unfenced camps
It might come as a surprise to learn that many safari camps are unfenced. Staying at an unbound property means bearing witness to special, intimate wildlife moments right from camp. At the same time, a fenceless property could mean that it's safest to be escorted to your tent after dark. 
Mokoro safari safety
Among the many special Botswana safari options, especially in the Okavango Delta, is the mokoro. Imagine, gliding silently through reed-lined channels in a traditional canoe, without the hum of an engine. A single guide navigates the boat via a pole, otherwise known as a ngashe. The traditional form of transport allows travelers to experience the vegetation and wildlife up close without startling wildlife, from elephants to birds. Camps and lodges will only operate mokoro rides when the water level is right, and if hippos are an appropriate distance away. Guides can intuit the proximity based on bellows, snorts, and honks, and the selected routes avoid deeper channels where hippos and crocodiles thrive. (If you're eager to see hippos, opt for a motorboat.)
Health and safety on safari
As with any remote travel to the farthest-reaching corners of the planet, access to medical facilities and professionals can be minimal. Camps and lodges will have first aid training and can offer basic supplies and remedies for common ailments. However, serious medical emergencies will require evacuation. Regardless of the destination, we recommend that all clients purchase travel insurance. This should include a policy that would cover the cost of evacuation to the United States, if needed. If you regularly take or potentially need prescription medication, be sure to pack a sufficient supply that will cover your needs throughout the duration of your trip. If you have a medical condition or chronic disease, be sure to visit your doctor to discuss their recommendations for management or concerns, in advance of departure.
What wildlife will I see on safari in Botswana?
Botswana is stenciled with four national parks and six game reserves, plus private conservancies, that are home to the Big Five—lion, rhino (albeit, few), leopard, elephant, and buffalo.
Botswana has the largest elephant population in the world, numbering some 130,000 individuals within its borders. Beautiful, yet tragic, Botswana is one of the globe's last safe havens for elephants as poaching continues to be a tremendous crisis. At least 20,000 African elephants are slaughtered annually for ivory and ivory products.
Among Botswana's diversity of species, you'll also find cheetah, hyena, wild dog, hippo, buffalo, duiker, aardvark, civet, serval, and jackal. Don't be surprised to see many antelope species, as well as wildebeest.
Northern Botswana is where you'll spot huge herds of buffalo, serval, caracal, lion, and leopard.

The Delta is home to elephant, leopard, buffalo, hippo, wild dog, lion, zebra, antelope species, and some 482 species of birds.

 The Central Kalahari Game Reserve is where lions, leopards, cheetah, and shaggy brown hyenas can be found. 

The Makgadikgadi Salt Pans are famous for habituated meerkats.

Chobe National Park is well known for its puku and massive herds of elephant, and Savute has a large predator population. The marshes and swamps are a birder's paradise with countless interesting bird species, such as the Wattle crane and Pel's fishing owl.

 In January and February, wildebeest and zebra migrate en masse, accompanied by migratory birds, from north (Chobe area)to south, moving toward the central salt pans.

At large, February is the birthing season when you'll see adorable newborns and hungry predators. It's high action safari drama.
Who should go on safari in Botswana?
Botswana is a premier paradise for travelers who want their safari remote and wild. Largely absent of crowds, the country is woven with an intentional national tourism strategy to help conserve wildlife through top-shelf, low-impact adventure travel. Botswana's conservation focus and solitude add to the sum of its luxury.
It's also ideal for wildlife enthusiasts who don't require amenities like plunge pools and air conditioning. It's very much a bush-setting safari; you won't be mixing the itinerary up with city breaks. Expect consecutive days of safari. However, a variety of modalities on land and water will keep it varied and interesting, as will experiencing a land and water camp or traveling between the central arid desertscapes and the lush north.
The elephant capital of the world, Botswana, is a paradise for viewing these gentle giants, especially in a semi-aquatic Delta landscape or in numbers along the Chobe River.
Botswana also provides habitat for nearly 600 diverse species of birds, so birders should put luxury Botswana safari tours at the top of their list.
Accounting for the presence of water and water-based trips, including motorboat and mokoro excursions, our travel experts find that Botswana doesn't quite offer the ideal space and amenities for families traveling with babies, toddlers, or young children. Certain activities, such as bush walks and mokoro safaris have a minimum age requirement for participation. For these reasons, our experts recommend enjoying Botswana with youth ages 12 and older. Here are our top Botswana camps for parents traveling with teens. (Are you traveling with young kids? Check out our Ultimate Guide to Family Safaris for where to go instead.)
Where to go on a luxury Botswana safari
Botswana's dramatically varied landscapes make it an especially alluring safari destination. While one corner of the country swells with floodwater, the arid heartland is sunbaked and parched. We recommend you experience them both. Our favorite itineraries visit two camps in the Okavango Delta and/or Linyanti area, staying three nights in each. Ideally, you experience both a water and land camp. Then, round out a luxury Botswana safari with a visit to a desert property in the Central Kalahari or the Makgadikgadi Pan.
Okavango Delta
Located in northwest Botswana, the Okavango Delta is one of the world's few inland delta systems with no outlet to the sea. Measuring 7,722 square miles, it's visible from outer space. Pristine and dynamic, the Delta is an unparalleled wetland brimming with lagoons, islands, oxbow lakes, swamps, and seasonally flooded grasslands.
Each year, flood water rolls off the Angolan Highlands and streams hundreds of miles before reaching the Delta where it lingers for a few months, before receding back the way it came or soaking into the Kalahari sands. At the peak of Botswana's dry season when water levels are at their highest, the landscape is revived and flush with greenery.
In the Okavango Delta, we're big fans of Mombo Camp, Vumbura Plains, Duba Plains Camp, Chief's Camp, and Jao Camp.
Linyanti region
Northern Botswana is home to a collection of large private concessions including Linyanti, as well as Selinda, and Kwando. The Selinda waterway flows from Linyanti and Selinda to the Okavango Delta. Similarly, Linyanti is laced with channels, swamps, and rivers, which supports the Big Five and game viewing, sans crowds. Both the Linyanti and the Okavango are spectacular, unique parts of a Botswana safari with consistently good game-viewing. Our favorite properties here include Selinda Camp, DumaTau Camp, and Zarafa Camp.
Chobe National Park
Near the northeast corner of Botswana, Chobe National Park and Savute—a remote corner of the park known for big game viewing—is splendid for the country's prolific elephant herds. In September and October, the park can bear witness to hundreds of elephants at any one time, who drink and swim along the banks of the Chobe River, where boat excursions and houseboats offer a wildlife window. The Chobe River is the only location in the country where puku thrive, which are often accompanied by lechwe, and impala. Specifically, Savute is a key viewing location for the largest predators including lions that roam the marsh. As Botswana's most popularly visited park, the crowds in Chobe swell in peak season. We recommend avoiding the park in August or choosing nearby Linyanti instead.
Central Kalahari Game Reserve
A blend of semi-arid desert and grassy plains, the Central Kalahari Game Reserve is among the largest reserves in southern Africa and an exciting arena for diverse wildlife watching. The green season, from December to April delivers a surge of blooms and birdlife. On a game drive, visitors should not be surprised to witness wildebeest, eland, giraffe, jackal, leopard, bat-eared fox, honey badger, and Kalahari black-maned lion—to name a few. The Central Kalahari is home to San Bushmen and offers travelers a unique cultural exchange.
Makgadikgadi and Nxai Pan National Parks
Southeast of the Okavango Delta are the Makgadikgadi Pans, which is the largest saltpan landscape in the world. Many pans connect to create the whole, including one of the largest, Nxai. Both Makgadikgadi Pans and Nxai are designated national parks. The vast wilderness is what remains of a former inland lake the size of Switzerland. From December to May, the rains transform the sunbaked landscape into lush grasslands, drawing a sea of zebra and wildebeest numbering in the thousands—an astonishing spectacle. The dry season is alluring for walking, quad biking, horseback riding, camping, and scenic helicopter flights. We love to send travelers to Jack's Camp and San Camp.
Tuli Block Game Reserves
Eastern Botswana encompasses the Tuli Block Game Reserves, among which is the Mashatu Reserve, speckled with sky-reaching baobabs and eponymous Mashatu trees, earning it the nickname "land of giants." Here, you'll find a myriad of ecosystems from the confluence of the Limpopo and Shashe Rivers to savannah, plains, and sandstone hills, as well as the riverine forests and marshlands. Beyond wildlife viewing, often experienced by horseback rides, the area is rich with archaeological and cultural sites. The Tuli Block Game Reserves are most commonly included on a South Africa itinerary, rather than a traditional Botswana safari.
Our favorite luxury Botswana safari itineraries
Conservation and luxury go hand in hand in this classic Okavango Delta itinerary
10 Days | $18,500 per person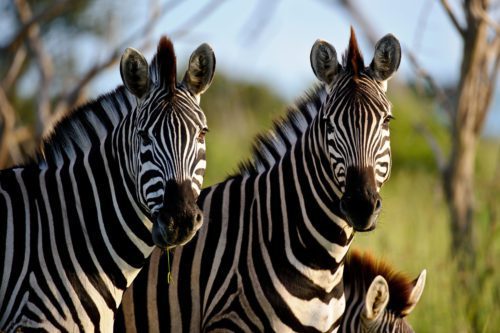 Going off the beaten path in the Okavango and Kalahari
8 Days | $10,200 per person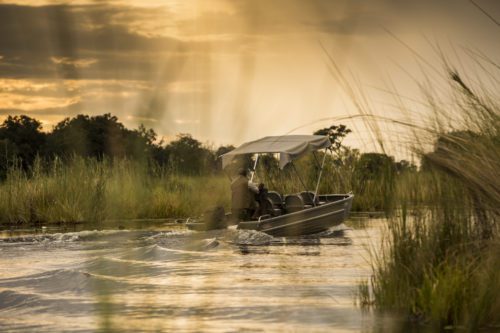 Incredible wildlife and plenty of adventure
9 Days | $9,300 per person
Our favorite luxury accommodations in Botswana