EJ Safari Specialist Emily Cottingham knows Tanzania like few others do. Not only does she travel in-country each year, she spent five years living and working there. With that kind of expertise, we were thrilled to have her investigate the latest properties in Tanzania's lesser-known Southern Circuit, including the sprawling Nyerere National Park (formerly Selous Game Reserve) and Ruaha National Park, before topping it all off with a few sun-soaked days on the private Thanda Island.
---
Tanzania holds a special place in my heart. It's my favorite destination to share with travelers in the hopes that they fall in love with it the same way I did.
Lucky for me, my latest trip brought me back to that magical place once more.
Even though I'm in Tanzania all the time, there's always more to learn and explore! While southern Tanzania and Thanda Island are off the beaten path for most travelers, these regions perfectly embody the EJ spirit of exploration and genuine wilderness experiences.
What I loved about this trip was how truly remote it all felt. I was also fortunate to experience and appreciate the focus these amazing properties place on conservation and sustainability.
Nyerere National Park (Selous Game Reserve)
Measuring more than 54,000 square kilometers, the Selous is Africa's largest wildlife area—and a UNESCO World Heritage Site. It's home to all the big names, including lion, leopard, elephant, buffalo, and even the elusive black rhino, as well as wild dog and an array of river and bird life.
Given the sheer geographic size of the Selous, wildlife has a massive amount of space in which to move around. This can sometimes make it a bit tricky to get all the big sightings you want.
That said, I had a number of great animal encounters here, including following wild dogs for two full hours in the middle of a hunt.
While the park has plenty of other animals, it's the wild dogs that really make the park.
The reserve is also home to diverse terrain and several bodies of water, including lakes and rivers, namely the Rufiji River, which flows into the Indian Ocean.
It's no surprise that boat-based activities are a big draw in the Selous. Seeing so many crocodiles and hippos while dining on a little pontoon boat or venturing up the channels is quite a thrill!
A few of my travel companions and I got especially close to a number of hippos when we spent a night fly camping, which was a real highlight of the trip for me. (For those who don't know, fly camping typically involves walking a few hours away from camp with your guide to spend the night in a remote area under very basic camping conditions. Basic still includes a 3-course meal and cute little bar set up by the campfire!)
Our makeshift camp was all set up for us by the time we arrived. It was situated right along a local lake home to tons of crocs and hippos!
I personally loved the adventurous, offbeat experience of fly camping, but it's not for the faint of heart. If you're leery of bugs or of being in close proximity to big animals like hippo, you might be too stressed to enjoy the magic of sleeping under the stars in real wilderness, which is the whole point!
The following morning, we watched the sun rise over the lake while enjoying fresh coffee; then we spent the next few hours exploring some natural hot springs!
Stay Here: Roho ya Selous
Roho ya Selous is a great new option in the area. It has a tented camp feel, only with more creature comforts like permanent stone floors and multiple fans to help keep you cool, even in warm months.
Ruaha National Park
While technically smaller than the Selous, Ruaha is part of a series of connected wilderness areas in southern Tanzania which, combined, spans more than 50,000 square kilometers (about half the size of Kentucky or Iceland). Game there has ample freedom to traverse the diverse landscapes.
In terms of geography, Ruaha has everything: rolling hills, large open plains, groves of baobabs, and, along its southern border, the wide Great Ruaha River and the dry Mwagusi River.
With significantly fewer in-park camps and fewer visitors than more well-known areas like Ngorongoro Crater, Ruaha is a total treat. You'll feel completely removed from the modern world.
Ruaha is a place where you can fully immerse yourself in nature, and ours was often the only vehicle out on game drives! We were spoiled to have the park's huge elephant herds, lions, hyenas, leopard, and phenomenal birdlife almost entirely to ourselves!
One afternoon, while out on a game drive, we came across an elephant that had died. While it was definitely hard to see, it was also pretty astounding to watch how the other wildlife came alive around it.
Lions growling and weaving in and out, taking turns trying to claim bits of carcass. Hyenas cackling and gathering round. Vultures circling. All the while, the mourning elephants trumpeting their loss and trying to keep the scavengers at bay.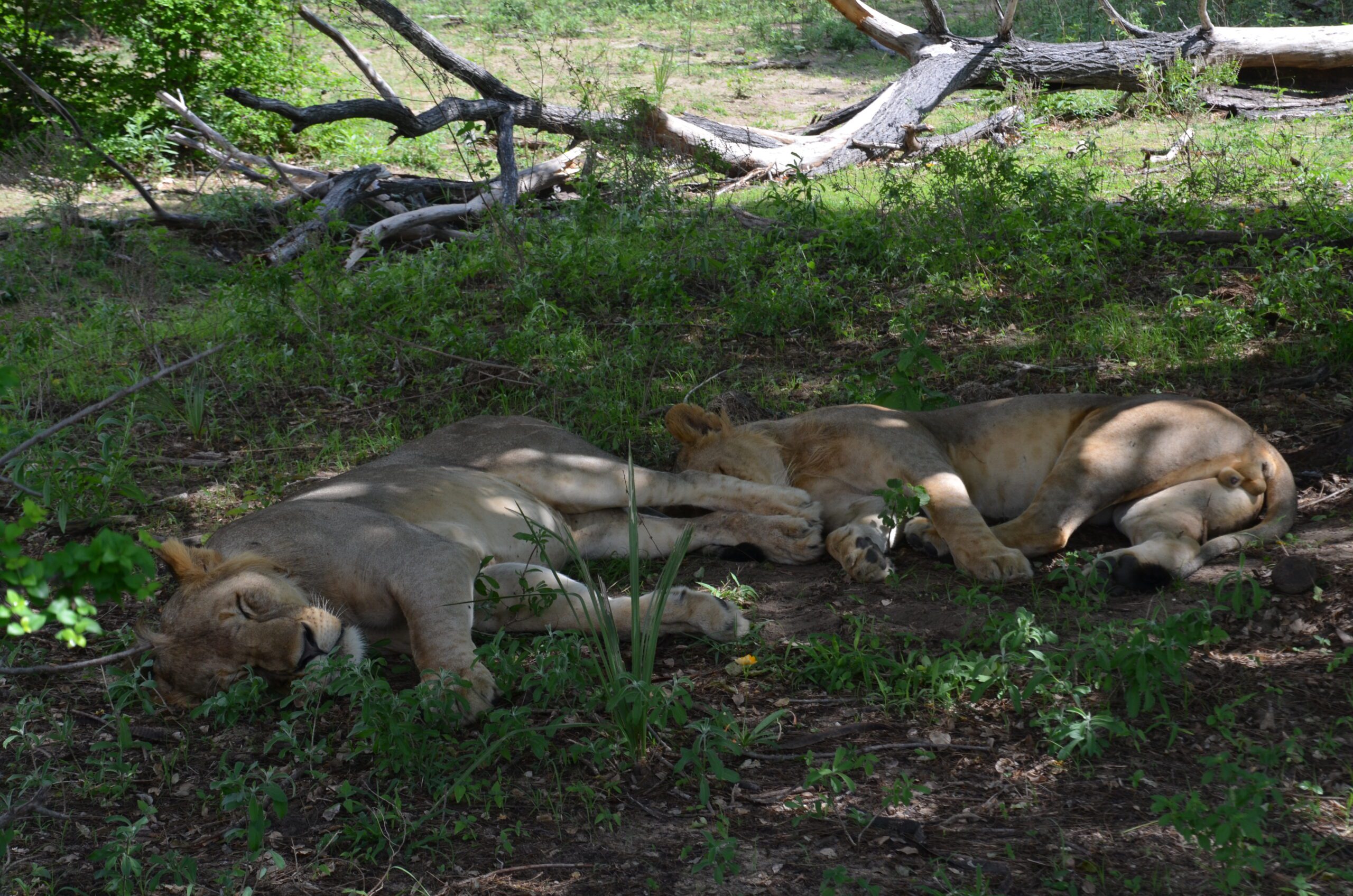 It was such a special, unusual sight, and ours was the only vehicle there. That's a big deal when other national parks can sometimes have throngs of cars vying for a single wildlife sighting.
Two other bonuses to Ruaha are walking safaris and night game drives. These offer a unique experience and a chance to see some of the more elusive nocturnal wildlife.
Stay here: Kigelia Ruaha and Ikuku Safari Camp
I was totally enchanted by this tiny, barefoot camp. The manager and every team member were obviously passionate about living and working directly in Ruaha. Knowing this made us all the more excited to be at Kigelia Ruaha, experiencing it together!
The staff also perfectly balanced professionalism and attention to detail with genuine warmth and ease. Everyone was friendly and personable, making it easy to laugh and connect, while always feeling well taken care of.
If you're not ready to be quite so close to nature, I highly recommend Ikuka Safari Camp. It's not as rustic as Kigelia Ruaha, but it gives you beautiful, expansive views of the area. It has a number of polished, luxury elements, including an outdoor swimming pool, plus plenty of space to relax and make the place your own.
Thanda Island
This one surprised me. As a safari-goer who would be happy to spend all day, every day on game drives, I didn't expect to love a private island off the Tanzanian coast this much. But it really won me over!
The private villa is gorgeous and features amenities like a spa and a gym, among others. But what really sold me were all the available activities. Days filled quickly with snorkeling, jet skis, fishing, long meals, and then, of course, relaxing with a good book on the beach!
One absolutely breathtaking wildlife experience that most people never think of for a safari is swimming with whale sharks.
This particular adventure was a highlight of my trip. We spent part of a day out in open water following the whale sharks. Whenever we caught up to them, we'd dive in to spend some time right next to them in the water. Their sheer size is truly staggering. One even stuck by to swim together with us for about thirty minutes, which is unusual for them.
It was such a personal, raw experience—I would love more of our travelers to experience that kind of up-close magic!
Southern Tanzania takeaways
At the end of the day, I'm more in love with Tanzania than ever. Safari lovers get so used to the big numbers and game of the Serengeti that it's sometimes hard to imagine going anywhere else. But this last trip renewed my passion for remote and intimate experiences that show you the magic of a more raw, off-the-beaten-path Africa.
8 things Emily's journey can teach you about southern Tanzania
Southern Tanzania's off-the-beaten-path destinations embody the EJ spirit of exploration and genuine wilderness experiences.
Wild dogs are what make the Selous, and if you're lucky, you might catch them mid-hunt!
Boat-based activities are a big draw in the Selous. Keep an eye out for crocodiles and hippos!
If you want offbeat adventure and extra-close encounters with wildlife, fly camping might be just your style.
Rural camps like Roho ya Selous don't require you to sacrifice your creature comforts. You can have your cake and eat it, too.
Ruaha National Park invites you to beat the crowds. You might just have animal sightings all to yourself on a game drive.
If your typical sunrise and sunset game drives don't cut it, Ruaha offers walking safaris and nighttime game drives to mix up your wildlife sighting experience.
Safaris aren't just about savannas and big game. You can take your adventure from land to sea and swim with whale sharks, too!
If Emily's travels inspired you to take a closer look at the under-explored Southern Tanzania Circuit, we can help you retrace her footsteps through Nyerere Ruaha, and Thanda Island—or design a similar journey according to your specific tastes. Remember, we customize every journey for our clients; no two trips are ever the same.
Private luxury Southern Circuit safari
Itineraries
9 DAYS | $7,900 PER PERSON
Escape the crowds on Tanzania's southern circuit
Plan your Trip
Ready to start planning your own incredible adventure? We make the process stress-free and enjoyable.