Planning the perfect African safari for your family is so much more complex and nuanced than simply booking an off-the-shelf one-size-fits-all safari package. So what makes a perfect safari with kids? It really depends on the age of your children and their unique interests. To introduce you to some age-appropriate safaris for your kids, we sat down with EJ Safari Specialist Lara Ray.
Lara knows family safaris like few others do. She travels extensively throughout Africa year after year, and she's taken her children on safari in Kenya, Tanzania, Botswana, South Africa, Zimbabwe, and the Seychelles. With that kind of expertise, we were thrilled to have her share some of her insights on the best safaris for three different age groups: kids under 10, tweens and young teens, and kids in their late teens and twenties.
The Best Safaris for Kids Under Age 10
South Africa
South Africa is a great choice, especially for young families going on safari for the first time. Plus, it offers several malaria-free destinations.
Lara's favorite family route through South Africa offers something for everyone: gardens, a buzzing city, and safari. She just did this particular trip with her daughter, who is a teen, but it's perfect for little kids, too.
Cape Town
Lara recommends first staying in Cape Town for a couple days. For families with small kids, she loves the V&A Waterfront because it's super easy, and you can walk to everything. It's even steps away from the Two Oceans Aquarium! The One & Only Cape Town is a fantastic hotel for kids with family suites alongside an enormous pool.
The Cape Winelands
After exploring Cape Town, Lara recommends a stay in the Winelands at Babylonstoren. This gorgeous farm hotel is surrounded by wide-open spaces and beautiful gardens. The outdoor experience is absolutely magical. And inside the historic Cape Dutch buildings, everyone has their own bedroom and bathroom.
The Western Cape
Once you've had your fill of the Winelands, Lara suggests staying two days at Grootbos, located near the ocean on the Western Cape. While there, you'll have your own guide, almost like a safari camp. The whole experience is personalized and very fun.
Home to the "Marine Five" (whales, sharks, dolphins, seals, and penguins), Grootbos is the perfect spot for catching a glimpse of Southern Right Whales if you visit between July and November. And for younger kids, there are farm animals and activities to enjoy, too!
The region is also home to De Kelders, cellar-like caves formed millions of years ago in the cliffs along the Walker Bay shoreline. These incredible caves are also home to the archaeological remains of Bushmen and people of the Middle Stone Age (how's that for education through travel?).
Phinda Private Game Reserve, KwaZulu-Natal
One of Lara's stand-out favorites for a first-time family safari is Phinda Private Game Reserve in northern KwaZulu-Natal. The region features a variety of landscapes and incredible biodiversity for stunning views in every direction.
Lara suggests staying at two different lodges (each with their own look and feel) within the same reserve. The logistics of doing so are super easy when traveling with smaller kids, so you get two unique experiences without even having to travel!
Two favorites among families are Phinda Zuka and Phinda Vlei. They have fabulous guides for kids (plus it's a very low-risk area for malaria).
Another of Lara's favorite destinations is Savanna Lodge in the Sabi Sands Reserve which borders Kruger National Park. The lodge is fantastic in terms of their guides and how they treat families and kids. Lara has sent several families there who have loved it.
Tanzania
Tanzania is another fantastic choice for younger families. Lara is particularly partial to Nomad properties there. Her own family stayed at Lamai Serengeti and had a wonderful experience there.
If you have a smaller group, you could choose a family suite. If you have a larger family or are planning a multi-generational trip, Lara loves Mkombe's House, an exclusive-use private villa with four rooms.
The Best Safaris for Kids Ages 10-15
Kenya
Kenya is one of our absolute favorite destinations in Africa for just about any age group. It's probably the best for organic, authentic cultural exchange, and children are incredibly welcomed by camps all over the country. Families adore Kenya because so many of the camps here are still run by individual families who just "get it!"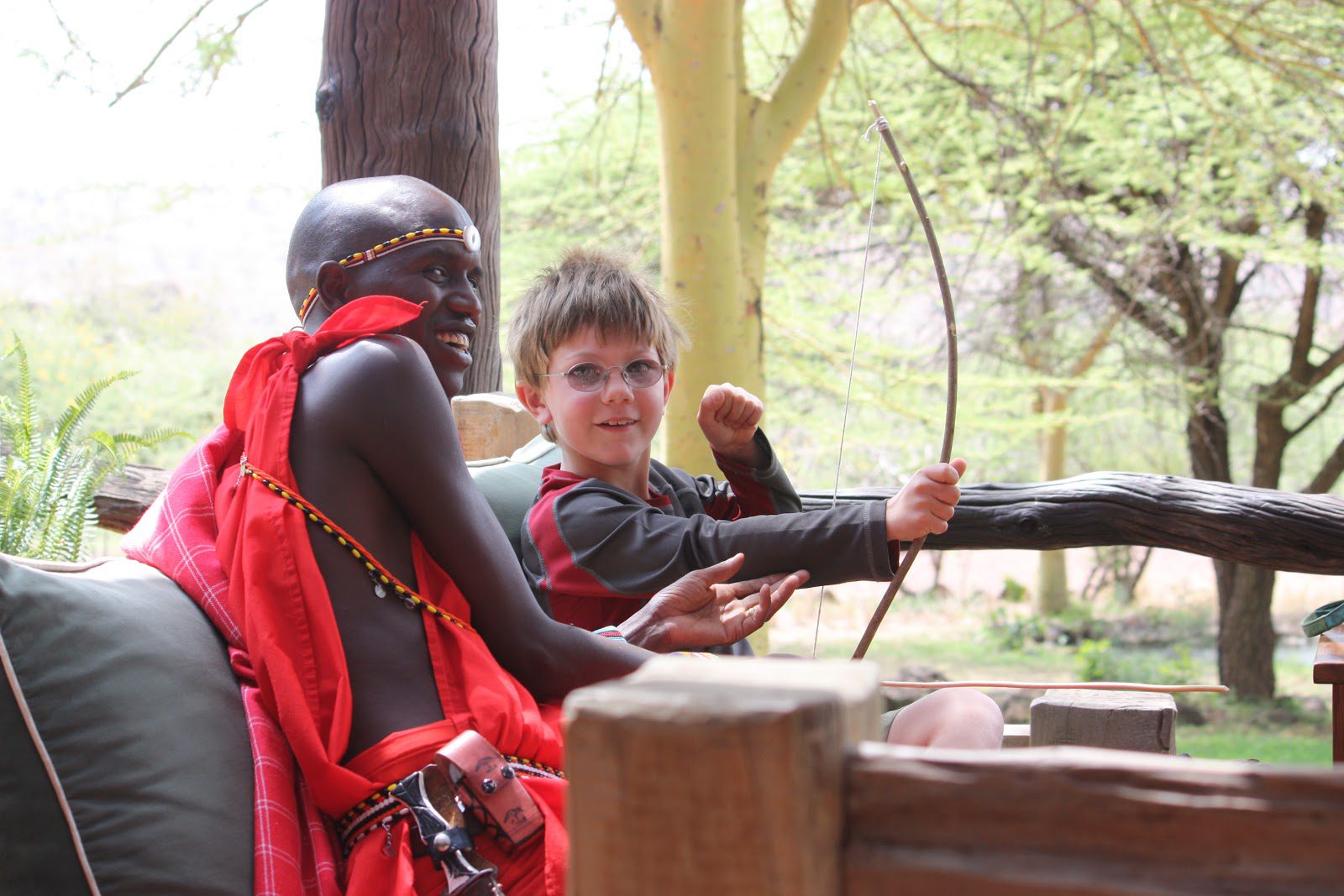 Kenya is particularly special for this age group because so many things are hands-on for the kids. Here are a few of Lara's personal favorites: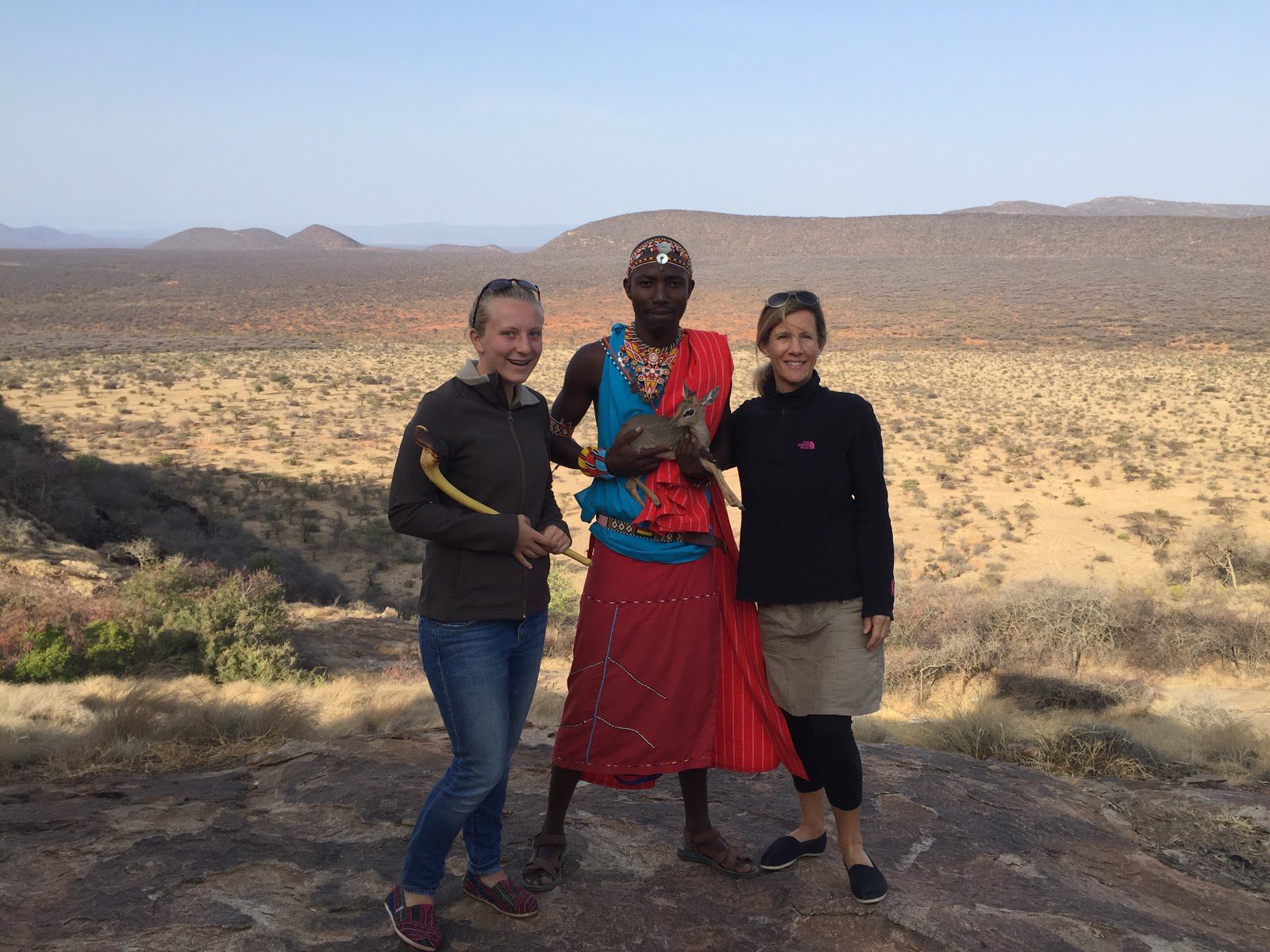 Some other favorite properties for kids include Elephant Pepper Camp, Rekero Camp, Cottar's 1920s Camp, House in the Wild, and Kicheche Mara Camp.
The landscapes and wildlife are certainly spectacular, but it's the people of Kenya and their incredible warmth that really sets the country apart. Years later, Lara still recalls this special moment for her own family:
"My daughter Elsa is chatting with our guide, a Maasai woman, about breakfast. Elsa thinks she must love to have breakfast in the camp, but our guide says no. She tells Elsa she misses her normal breakfasts at home. At home, her Maasai breakfast includes a mixture of cows blood and milk. Elsa asks all kinds of questions. How do you make that? How much do you drink? What does it taste like? And then the guide asks Elsa all about what we would normally eat at home in the morning. Such a super cool memory and totally unscripted!"
Botswana
While Botswana's Okavango Delta isn't a good choice for younger kids, it's a brilliant choice for curious older children. The Young Explorers program at Footsteps Camp is a perfect fit for kids who want to get their hands dirty, learn how to track wildlife, and learn how to build a fire in the bush. Here, you'll enjoy a private camp with six beds, a professional guide, personal chef, waiter, housekeeper, and dedicated Mokoro guides. It's not a fancy, luxurious experience, but it feels very real, and we love that.
For even more explorations throughout Botswana, Lara suggests combing a safari in the Delta with time in the Kalahari and at Victoria Falls.
Need even more inspiration? Lara took her daughter on safari in Botswana and absolutely adored the experience. You can read about it here: Why I Took My Daughter on Safari in Botswana. Or check out our sample itinerary: Botswana Family Safari in the Okavango Delta.
The Best Safaris for Kids in Their Late Teens and Twenties
For families with older teens (16+) and college-age kids, Lara loves combining Zambia's Lower Zambezi with Rwanda. This is an ideal destination for active, intrepid young travelers who don't mind a bit of walking.
Zambia
Lara recommends starting with a visit to Victoria Falls. From there, fly to the Lower Zambezi. It's beautiful and accessible, and the region plays host to a ton of different activities and ways to experience safari, including boating, walking, canoeing, motorboating, and game drives. The Lower Zambezi, in particular, is perfect for parents who are afraid their kids are going to get bored (confession: we're big fans of WiFi-free safaris). Lara recommends staying here for four nights before catching an easy flight north to Rwanda.
Pro tip: To experience even more of Zambia with your older children, consider including a safari in South Luangwa National Park before continuing to Rwanda.
Rwanda
Volcanoes National Park
One of Rwanda's major draws is gorilla trekking. Again, this is a fantastic choice for energetic young adults, ages 15 and over, and the setting is a nice change of scenery from more traditional safaris. Here, you won't sit in a game drive vehicle for hours at a time. It's active and immersive, complete with walking safaris and treks through the jungle.
Lara's favorite property for her clients, including families, is Bisate Lodge in Volcanoes National Park. It's luxurious and the price point is higher than some other destinations, but the setting and the gorilla trekking experiences are truly once-in-a-lifetime.
For more on Bisate, check out this firsthand account from first-time safari-goer Howard Hahn: Commitment to Community: Why You'll be Amazed by Bisate.
Kigali
Lara traveled to Rwanda in fall 2019, and was delighted to discover that the capital city of Kigali offers remarkable cultural experiences. Here's how she described it:
"Kigali is a vibey, fun city that I think younger people would really be interested in. It's an up-and-coming city with a lot happening. The nightlife scene is safe, and it's a cool place. If you've got kids in college that are traveling, I would spend a couple nights in Kigali doing cultural stuff and going out to dinner in some great restaurants."
Tanzania
Another fantastic option for older children is an itinerary that includes the remote regions of the Selous and Ruaha in Tanzania's Southern Circuit, as well as Greystoke Mahale in Mahale Mountains National Park. This combination works wonderfully because it offers variety in terms of geography, and the experience can be very-hands on.
Lara traveled to the Selous with her husband and two children (read all about it here) and recommends staying three nights in the Selous, three nights in Ruaha, and three nights at Greystoke Mahale.
For more on the Southern Circuit, check out this post from EJ Safari Specialist Emily Cottingham and this one about Greystoke Mahale.
Walking Safaris
Each of these destinations involves walking safaris. Many countries place a minimum age restriction on walking safaris, so to have the most options for a walking safari, it's best to wait until you kids are older.
Lara took her son on their very first safari when he was seven, and he walked everywhere, but it really depends on your destination and whether your child can be quiet and follow directions well.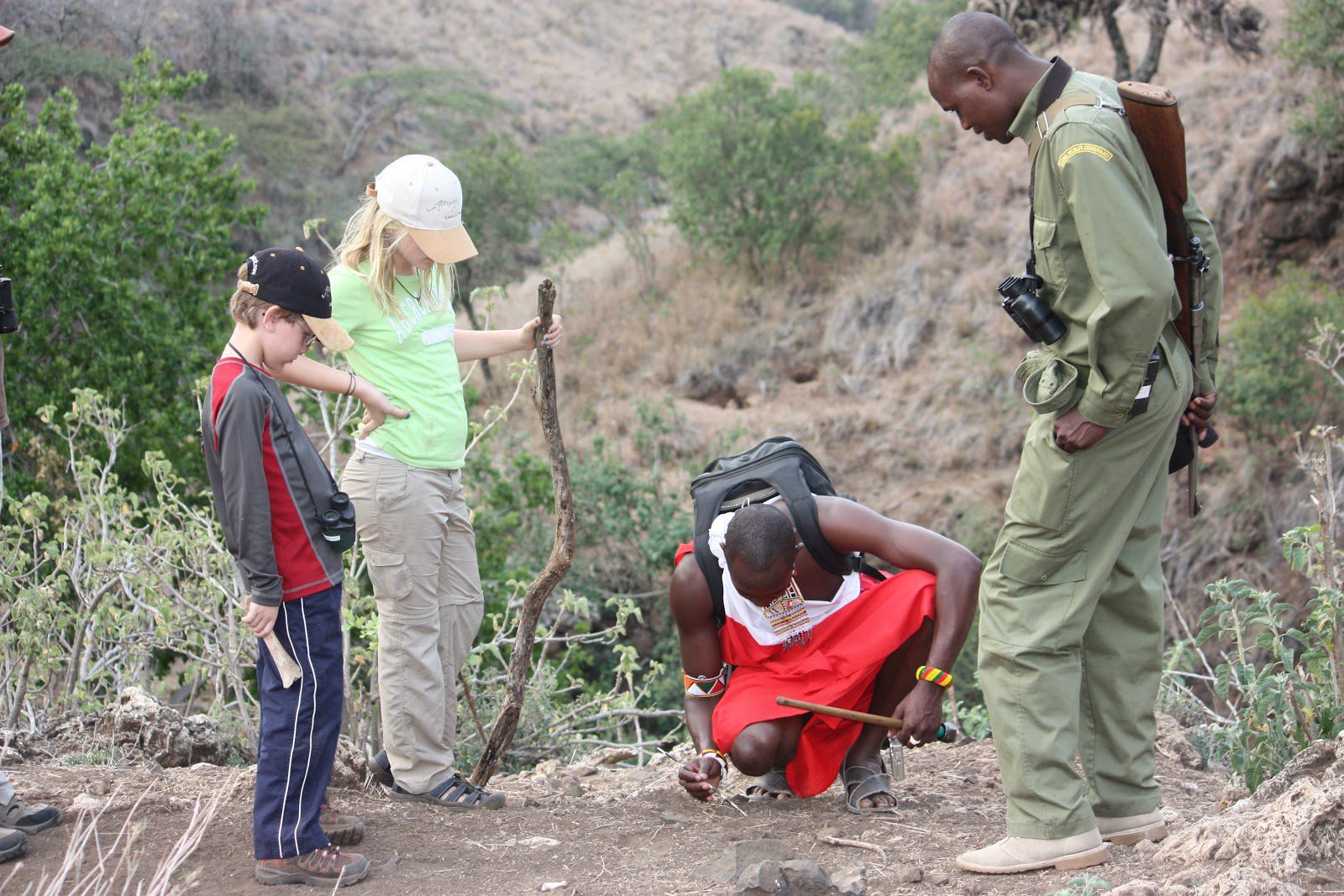 Lara's Favorite Family Adventure: Fishing & Diving in The Seychelles
We asked Lara to share about one of her most memorable safari experiences: traveling to the Seychelles with her family. Here's what she had to say, in her own words, about the stunning, remote island destination.
"Epic is the word to describe our family vacation on Alphonse Island! We were welcomed with smiles and cold drinks at the airstrip, and the hosting was consistently warm, welcoming, and wonderful every step of the way.
The lodge manager, Jess, did an amazing, hands-on job making sure our family was looked after and went out of her way to create special moments, including a pop-up picnic lunch and a romantic dinner by the water with fairy lights. She even led the kids on a bike adventure to find giant tortoises on the island!
Our rooms were spacious and comfortable, but we really enjoyed hanging out in the main areas where there was always an iced coffee or a cold beer waiting for us.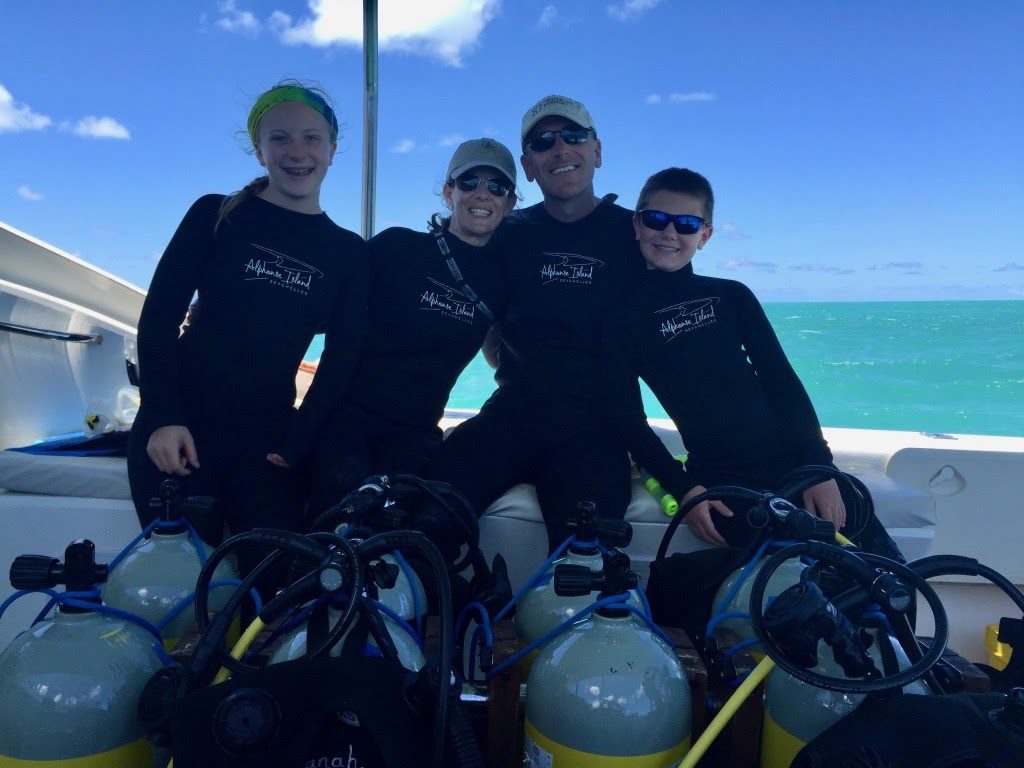 But the real reason we went to Alphonse was to experience the water sports and boy, oh boy they did not disappoint! With world-class fly-fishing and the very finest guides in the business, our fishing manager, Kyle, set us up with an array of amazing fishing experiences.
I'll never forget the look on our kids' faces, catching their first bone fish, lines tight, fish running like crazy, and the calm voice of our guide, Gary, just taking each of them through the best way to land the fish and manage their line.
On full fishing days, a highlight is the amazing flats lunch set out with chairs and tables in the water on a sandbar, a bit of shade, and tasty lunch all waiting for us after a hard morning of fishing!
We all enjoy diving, so we spent just as much time under the water as on top, and the dive team on Alphonse was incredibly professional. They truly took such care of us, especially the kids. This part of the world is so remote and untouched, it's a rare privilege to dive in an area like this, complete with the mega fauna you'd expect.
Another incredible moment came when we were heading back from a dive and our dive master, Hinton, noticed splashing in the distance. We checked it out, and it was a huge school of enormous manta rays! We grabbed our snorkels and masks and jumped in, beautiful creatures feeding and gliding past us—truly a memorable family experience, unscripted adventures with world class guiding and hosting!"
Read more about Lara's experience here: A Family Fishing Adventure in the Seychelles.
Quick Recap
For kids under 10, we recommend safaris in South Africa and Tanzania
For kids and teens ages 10-15, we recommend safaris in Botswana
For kids 16 and up, we recommend safaris in Zambia, Rwanda, and Tanzania
Walking safaris are fantastic but may not be available depending on your destination and the age of your children
Your Family Safari Starts Here
If Lara's travels and expertise have inspired you to plan a safari for your family, we'd love to hear from you! Remember, we customize every journey for our clients. No two families are ever the same, and no two trips are ever the same!
Want to know what other parents are saying about their family safaris? Experience it through one mom's firsthand account of her family's safari here: This Family's Amazing Safari Will Make You Want to Plan Your Own.
Got questions? Check out this FAQ piece: Family Safari: Expert Answers to the Top 24 Questions About Africa.
Discover Your Perfect Family Safari
Ready to start planning your own incredible African adventure? We make the process stress-free and enjoyable. Call or email us today to explore your best options for a family safari you and your kids will never forget!
Then, start packing that suitcase because we've got all the details covered.