Singita Faru Faru
Situated in the Singita Grumeti, just north of the Serengeti's Western Corridor, Singita's Faru Faru River Lodge is an amazing game-viewing experience, perfect for viewing the Great Migration during the months of May and June. Even outside these peak migration months, the Grumeti Reserve still boasts amazing game-viewing, superior to that of the Serengeti's Western Corridor.
Singita properties are the cream of the crop in terms of boutique luxury, and Faru Faru is no exception. Elegant stone and thatch rooms are decorated in a contemporary style, incorporating the sweeping views over the reserve into their comfortable and spacious rooms. Plunge pools and day beds invite relaxation during the heat of the day and a quiet moment to reflect in the evenings. Faru Faru's main areas include viewing decks and a lodge pool. Resident game frequents the nearby watering hole which you can observe from the elevated points of the camp.
Expert guiding ensures you have a carefully planned and executed safari experience. Singita guides are well-organized, always communicating with the other guides to help locate the best wildlife sightings. This does not mean you will be competing with other guests, as only 3 vehicles are allowed at a wildlife sighting at any given time.
This is an intimate and stylish property, where you will be assured of 5-star luxury and service in addition to great game viewing. It caters to both couples and families and is sure to leave no guest unimpressed. The other properties on Singita's Grumet Reserve, such as Sabora, Sasakwa and Serengeti House are equally stunning.
Summary
Room Type
Safari Lodge (9)
Child Policy
Children of all ages
Facilities
24-hour Security, Bar, Barbeque Facilities, Communal Dining, Eco Friendly, Gym, Internet Access (Complimentary), Laundry Service (Complimentary), Library, Pool, Restaurant, Spa, TV Room
Activities
Bush Walks & Walking Safaris, Game Drives, Horseback Safari, Biking, Food and Wine, Visit a Non-Profit or Social Business, Great Wildebeest Migration
Itineraries Featuring Singita Faru Faru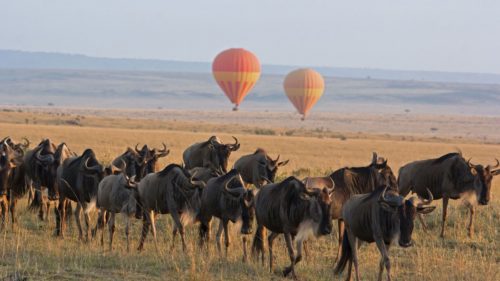 Luxury in the Serengeti and Maasai Mara to see the great migration throughout the year
11 Days | $19,200 per person
Our Favorite Serengeti Accommodation on a Map