Sangha Lodge
Sangha Lodge is at the central heart of the African continent 5 kilometers outside of the Dzanga-Sangha Special Reserve. Discover wildlife as you have never seen it before at Dzanga Baï and explore ancient forests of untamed majesty. The river, birding, wildlife, research and forest experiences are dynamic and engaging as are the cultural opportunities to spend time with the Ba'Aka people.
Seven chalets, with an eighth being constructed, offer a simple, comfortable stay with en-suite bathroom, mosquito net, European power points overlooking the river or forest. The dining room offers simple delicious fare as well as a well-stocked bar with a spacious deck overlooking the Sangha River and protected region.
New 10 and 11-night journeys were launched connecting Odzala-Kokoua National Park with the Dzanga-Sangha Special Reserve through a new access route to Central African Republic by way of an airstrip at Kabo in Republic of the Congo and a boat journey up the Sangha River to Sangha Lodge. Remote areas in Africa are under threat and need to be commercially viable in order to be protected. This is the vision of Congo Conservation Company.
Our Favorite Odzala Accommodation on a Map
Itineraries Featuring Sangha Lodge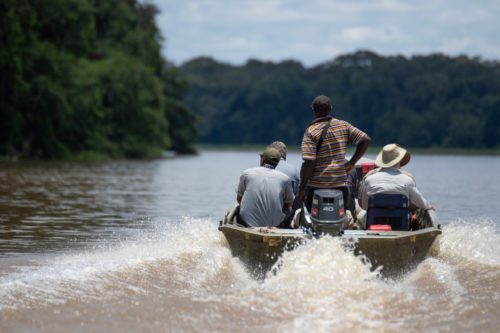 Gorilla tracking and outdoor adventure
13 Days | $17,300 per person
Plan your Trip
Ready to start planning your own incredible adventure? We make the process stress-free and enjoyable.