Los Colibris Casitas
Los Colibris Casitas, was made for nature lovers seeking beauty and tranquility. We offer the services and amenities of a boutique hotel, combined with the privacy and comfort of a vacation home. Los Colibris is the proud recipient of Desplastifícate's 5 Turtle Rating, which means we have eliminated single use plastics, and that we compost and recycle.
Each of our casas and casitas has magnificent views of the Pacific ocean, a freshwater estuary and a palm grove oasis to the front, and the Sierra de la Laguna mountains to the side and back. From your casa you can watch the fishermen cast their nets on the beach in the early morning light, wait for the green flash of a magnificent Baja sunset in the late afternoon, and enjoy the vast expanse of a star-filled sky at night. Los Colibris is just a 15-minute walk to 70 miles of pristine, virtually empty beach, and a 5-minute drive to the delightful restaurants, artists' galleries and shops of Todos Santos.
Itineraries featuring Los Colibris Casitas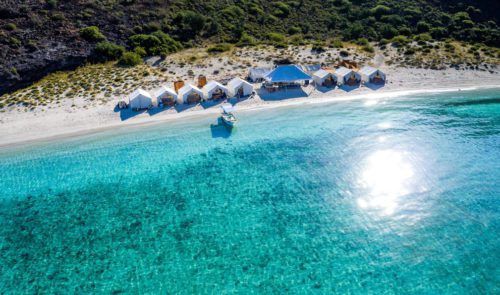 Rugged Sierra mountains, glamping on an uninhabited island in the Sea of Cortez, and charming Todos…
8 Days
Our favorite Baja Accommodation on a Map
Plan your Trip
Ready to start planning your own incredible adventure? We make the process stress-free and enjoyable.