Greystoke Mahale
Greystoke Mahale is located in the Mahale Mountain National Park on the shores of Lake Tanganyika in Western Tanzania. With the largest remaining chimpanzee population in the world and countless other species of wildlife, this is a truly special place for animal lovers. You'll feel as if you're in Tarzan's lost world of lush mountains and crystal clear pools and waterfalls.
Greystoke Mahale is nestled into the greenery on the shores of the lake; it is both romantic and inspiring. Open-fronted thatch and wood structures are positioned overlooking the beach with views of the lake from the terraces and upstairs lounges. The rustic interiors are fashioned using local dhow timber.
Activities include tracking habituated chimpanzees, kayaking, swimming, and snorkeling. You can also simply soak up the beauty of this wild and exotic place in your comfortable villa.
After flying into the Mahale Airstrip you are transferred by dhow boat to Greystoke – a 90-minute trip. We love Greystoke for its remoteness, but it is expensive to access and tricky to access due to flights on specific days of the week. We think that with careful planning, these off-the-beaten-path destinations are worth the effort!
Team members Jamie Mehrotra and Jenna visited on separate occasions. Both loved it and share their insights with you here.
As the plane descends over the lush Mahale Mountains the vast waters of Lake Tanganyika open to view, alongside a small airstrip built just for this remote journey. This is just the first step of the journey into Africa's majestic interior—dense with foliage and wildlife, far from the beaten path, without wifi or roads for a hundred miles.
After another hour or more on the pristine lake bordered by majestic green mountains aboard a vintage fishing dhow, Greystoke Mahale comes into view: a barefoot luxury beachfront lodge, nestled into the lush green vegetation with just 6 thatched bandas and a world of adventure. Wading ashore one may see endemic cichlid fish through crystalline lake water. Looking up, smiling Greystoke staff offer a warm welcome, setting the tone for the perfect getaway. Greystoke Mahale is all about letting go, sinking in, and savoring the fresh air, open skies, and outstanding natural surrounds.
Our safari specialist Jenna Stockman described staying at Greystoke Mahale as having the whole world at your fingertips—except that it is really there, instead of on a screen. This one little property is big on unique experience, and an endless array of excursions while you're here.
Going Chimp Trekking at Greystoke Mahale is a highlight
No question, most people come for the habituated chimpanzees that reside deep inside the forest. Tracking chimps in Mahale is a uniquely personalized experience, and no one knows what a given day may bring. Trackers report to the lodge's guides each morning about chimp activities and locations; depending on the day, you may have to wait a few hours before you're able to venture into the mountains with your guide in search of chimps, or you might get lucky and head out right away. Once on the trail, it may be a long walk or you may find them right away. When Jenna went out on a casual forest walk with her guide they unexpectedly heard chimps nearby in the foliage; unwilling to miss an amazing opportunity, they followed them for a few minutes of impromptu chimp viewing before leaving the animals on their own.
During formal chimp treks, expect to spend an hour with your chimp group once you find them, which could take anywhere from 30 minutes to hours of trekking in the mountains. These interactions are always described as life-changing and truly humbling. Greystoke's guides are a key ingredient. Their exceptional knowledge and sense of ease while guiding and trekking makes for a rich experience. It's clear that Greystoke's chimp research team and guides are deeply connected to the animals and nature—they have a deep sense of the chimp group's history going generations back, their social dynamics, individual personalities, and behaviors. Whether you encounter four or 40 chimps in the wild, your guides can easily recognize each one and tell you all about him/her. Their comfort around the chimps puts everyone else at ease, too, and soon you all feel part of the same family
But Jenna has reminded us that wild animals don't appear on command, and that's part of the adventure. Flexibility is key whether you're in search of mountain chimps or lounging alongside the lake. Each day has a magic and rhythm of its own. Let go and see where it takes you.
Why Lake Tanganyika is a Dream Come True
Lake Tanganyika is the second deepest freshwater lake in the world, but its waters are crystal clear and perfect for diving right on in.
Jenna loved spending a sunny, blue sky afternoon on an enormous vintage dhow, once used for lake trading and fishing. From the sandy shores of the lodge straight on into the middle of the lake, she soaked in the sounds and uninterrupted views of the wilderness all around—huge granite boulders poking out from tropical palm trees on the beach melding into dense rainforest growing up the towering mountains. Looking across the lake she could see the border of the Congo on the distant shore. When you've found the perfect lake spot, follow the example of our Sales Director Jamie Mehrotra, who dove right in to get better views of the colorful cichlid fish that we harbor in home aquariums as they swam past her in their native water. Nothing else to do. Nowhere else to be. Just relax.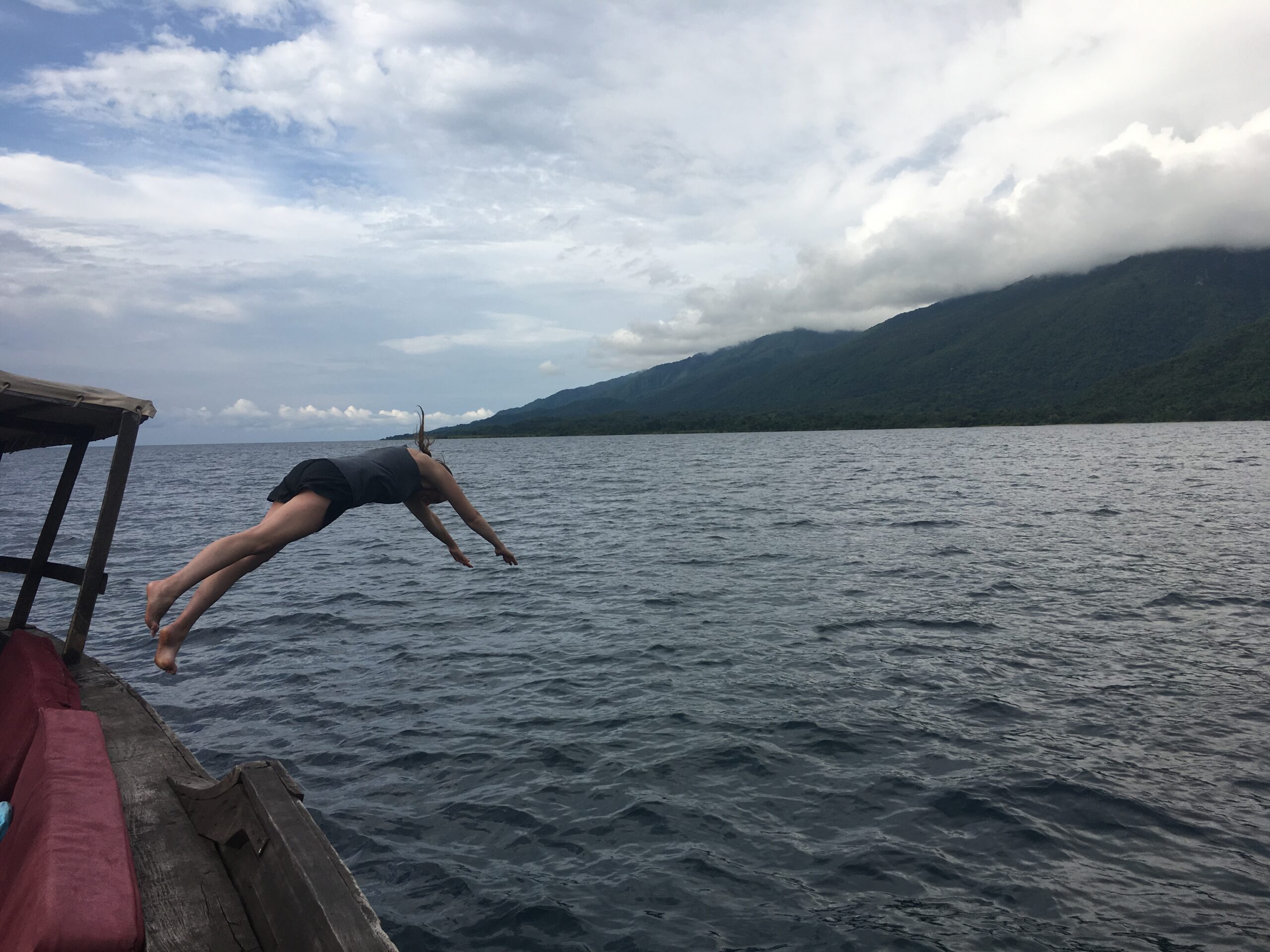 This is the kind of true unplugged joy that Greystoke Mahale epitomizes.
Later on Jamie enjoyed venturing out on a kayak along the lake's edge on her own, catching a glimpse of kids playing hide-n-seek at the village of Katumbi, and Jenna loved getting emersed in the mountain greenery as she learned about the other primates (like the red-tailed monkey) who call the forest home or the wealth of medicinal plants found here.
They both agree that however long you decide to stay, you definitely won't want to leave.
Getting to Greystoke Mahale
Nomad operates a shared charter service every Monday and Thursday (except mid March to end of May when Greystoke and Chada Katavi are closed).
Activities
When to Visit Greystoke
June/early July: This is the most challenging time for trekking to see the chimps. Their food source is high up in the mountains so trekking can be tough and long.
July/August: Chimps move back towards camp and numbers of the group can be seen congregating in areas an easy hour and a half walk from camp to eat figs and lemons in the area. It is this time of the year that they also tend to supplement their diet with a bit of hard protein in the form of Red Colobus monkeys and seeing a hunt is very exciting.
September/October: This is one of the best times to see the chimps and trekking can be relatively easy. The chimps rarely head high to the eastern hills but often spend days in the northern reaches of their home range seeking out the wild nutmeg and Kasolyo Granite Garcinia and Buhono fruits. They can from time to time head for odd days into the almost impenetrable steep southern hills but rarely spend more than a day or two there before returning to the lowlands.
November: The onset of the rains coincides with less abundant fruit and the chimps diet is comprised mainly of leaves and pith of plants such as the wild ginger. The group generally spreads more thinly in search of food, but are still often found in larger groups generally in the lower reaches of the mountains and trekking is not too difficult.
December to March: It's a photographer's dream, as the haze which is often prevalent during other times of the year, is gone, leaving the air clear and bright. The chimps continue to feed mainly on grasses, leaves and whatever fruit they can find, though the lowland Ilombo vine fruit comes into its own in December attracting big chimp parties. Their daytime siestas tend to take place in tree nests rather than on the ground and the meetings between group members are theatrical and impressive. The lake is clearest in these months often with breathtaking views of the mountains of the Congo in the distance. February can be especially hard to locate the chimps as they follow their primary food source into the higher reaches and thicker parts of the forest so be prepared for more challenging trekking.
April/May: This time tends to be wet and the camp closes during this time as it does rain quite a bit each day, making trekking difficult. However, the staff who remain in camp during this time, are often treated to groups of chimps attending loud and cheerful 'banquets' in nearby trees, as the fruit of the Mkibu tree comes into its own attracting large groups who hang about in them.
Plan your Trip
Ready to start planning your own incredible adventure? We make the process stress-free and enjoyable.